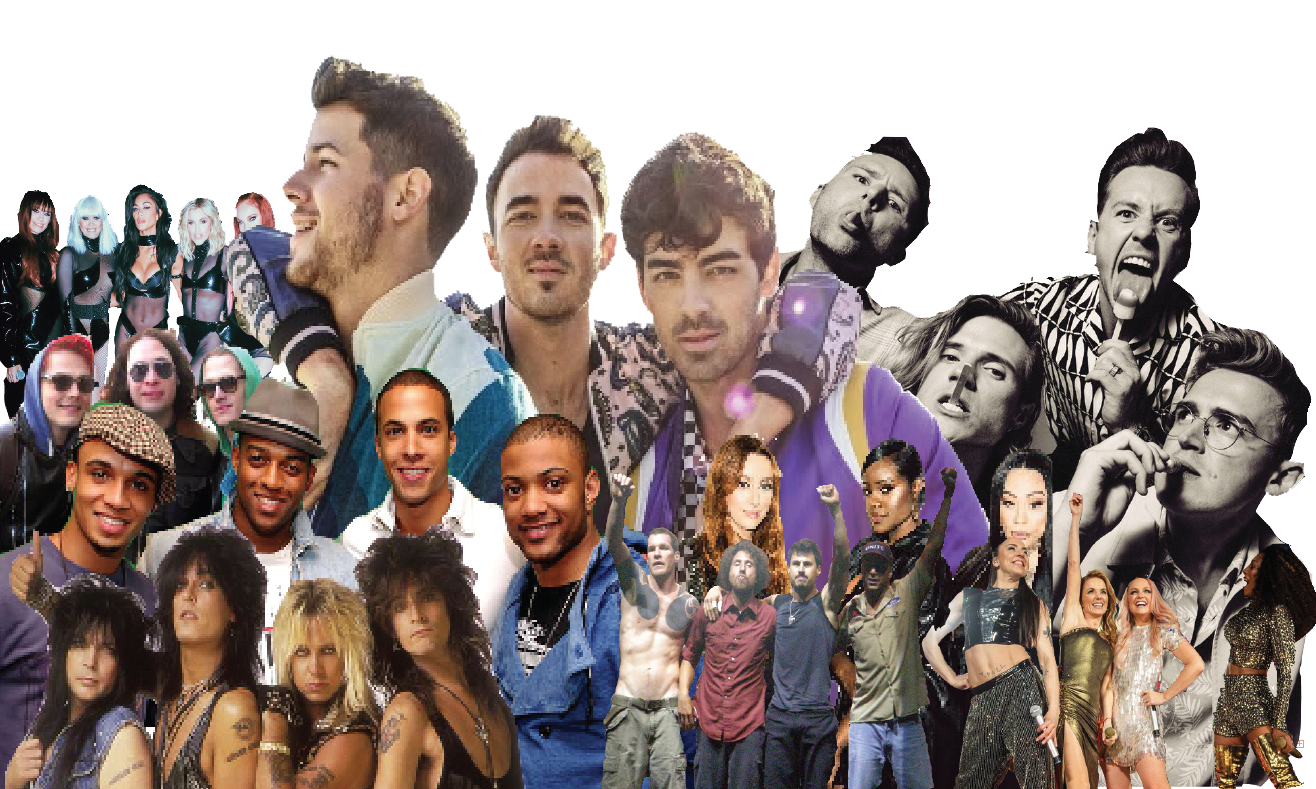 Music Critic Bethany-Jo O'Neill talks us through the many bands that have reunited this year, and considers why this may be the case
2019 has been a pretty bleak year for lots of people with the ever-looming presence of the B word, extreme weather signalling the speed of climate change and the growing fear that Kanye could actually run for president. How on earth have we lasted through the year I hear you ask? My answer; The Jonas Brothers. Well, not just The Jonas Brothers but the sheer amount of band revivals this year has helped keep the emotions of the world leaning towards the cheerful side of the scales. 
---
Spice Girls
The year began with anticipation for the newly reunited Spice Girls' UK tour; we all secretly wanted to see if it would be a flop or whether 'Spice Fever' could once again infect the nation. It didn't quite have  the success that was hoped for, either because of technical issues with sound or purely because they were missing the indispensable vocal talents of Posh Spice. Either way, the videos that emerged of Adele living her best life at the sold-out Wembley date made all the negative press fade from memory. 
Jonas Brothers
February 28th saw the unexpected but very welcome announcement that the world's favourite brothers (sorry Hanson fans) were 'getting the band back together'. The Jonas Brothers released the potential song of the year 'Sucker' which appealed to their original fanbase , now in their 20s, as it was clear their music style had also matured. The Jonas Brothers celebrated the reunion with a weeklong residency on The Late Late Show. James Cordon did a sketch where he revealed a fake plot to kidnap Nick, Joe and Kevin and force them to reunite as 'a symbol of peace and harmony for all mankind', because since they broke up in 2013, the world has admittedly seemed to get worse and worse. Although this was said in jest, it seems to be a common theme in all the band reunions: they are getting back together to spread some joy in the world at a difficult time for everyone.
Sugababes
The Spice Girls weren't the only girl group to steal this summer, a Sugababes reunion was also on the cards with the release of their cover of Sweet Female Attitude's summertime garage anthem 'Flowers' with DJ Spoony. The line-up was comprised of the original trio, Keisha Buchannan, Siobhán Donaghy and Mutya Buena after they won the battle to perform under the name 'Sugababes' after years of line-up changes caused some controversy. With the disputes of the past firmly behind them, Buchannan confirmed on Series 2 Episode 5 of quiz show Don't Hate the Playaz that the original trio are in fact 'working on something' so hopefully 2020 will see new music from the noughties pop icons. 
McFly
Fast forward to 10th September and there is another boyband coming out of hiding after a longer than anticipated hiatus. The nations sweethearts, McFly announced a massive comeback show at London's O2, somewhere they have never played before as a band. The show sold out within minutes and proved that love for the band is still as strong as ever. To reward their fans, the band released a previously unheard track every week leading up to the show from their Lost Songs collection. The concert took place on Wednesday 20th November and did not disappoint. Drummer, Harry Judd took to Instagram to write, 'We have such an amazing connection with our fans and that's why shows like last night are so special. At one point the whole of the O2 was singing along to a B side that we released 15 years ago and that says it all […] can't wait to do it all again … forever'. It definitely seems like Harry, Tom, Dougie and Danny are back for good and it doesn't seem like anyone is complaining. 
My Chemical Romance
Halloween 2019 was less spooks and more thrills as emo heartthrobs My Chemical Romance announced a comeback show for December in LA called 'Return'. Gerard Way was quoted as saying "I don't know if it would've happened if it wasn't now". With members of the band having various side projects such as Way's comic book series 'The Umbrella Academy' and Frank Lero's solo material there was the worry that the members could have become too detached from their MCR past. Some have said that this present reunion seems like the first reunion-sized gap their schedules allowed after their 2013 split. But, in MCR's defence, the band's last album Danger Days was set in 2019 so it seems only right that this would be the year they finally got back together. 
Rage Against the Machine
Although not quite in time for another shock Christmas Number One, Rage Against the Machine announced on November 1st that they were to reunite for a 2020 tour. With lots of fake tour dates making the rounds on the internet, it is hard to be certain which will be happening however it is very strongly rumoured that they will be taking a coveted slot in next year's Coachella festival. Perhaps the strongest hint at the reunion is that their side project, Prophets of Rage, ended in November allowing for Rage Against the Machine to perform again together for the first time in nine years. Although eager for this reunion to be true, fans will have to wait and see what the new year brings.
The Pussycat Dolls
Rumours of a Pussycat Dolls reunion have been circling the internet for a while now but on Monday 25th November, Louis Walsh of all people confirmed on ITV's Lorraine that the band would be performing at the final of The Celebrity X-Factor. The UK are now not only aware of Scherzinger after being properly introduced to Melody Thornton on Celebs Go Dating and Ashley Roberts on nearly every game show ITV has to offer. This new-found fame could mean The Pussycat Dolls have even greater levels of success than before. It has been said that Simon Cowell has 'told Nicole to pull out all the stops to make sure their routine gets people talking' therefore the performance will definitely be one to look out for. 
Mötley Crüe
Mötley Crüe contentiously announced their reunion on November 18th after their farewell tour in 2015. Fans would usually be ecstatic to see their favourite band get back and perform with each other again however some fans are feeling hard done by after spending lots of money on the farewell tour thinking it would be the last opportunity they would have to see them live. The band have justified this however by explaining the success of The Dirt (a Netflix biopic made about them featuring Machine Gun Kelly) meant 'a whole new generation of crüeheads are demanding for the band to come back together'. This new generation of fans should get to see the old-school metal rockers whilst they can still do what they do best as after all, they are 'the band best known for breaking the rules'.
JLS
'Let's just get back together, we should've never broke up'. Although nothing has been officially confirmed by the band, rumours of a JLS reunion are rife. Heart radio reported that an insider claimed 'The time is finally right for a comeback, now that everyone has had the chance to try out other things and fulfil some personal goals'. The quartet have flourished since their break up, with Marvin becoming a presenter on the voice as well as husband to the incredible Rochelle, whilst JB has started a farm and Aston testing a solo career and becoming a father. If the reunion shows are as huge as have been rumoured, fans could be in for a big treat in the not too distant future. 
This unprecedented number of band revivals has not only kept happiness alive in 2019 but also increased hope and excitement for what 2020 could bring. Maybe there is still hope for Oasis yet…