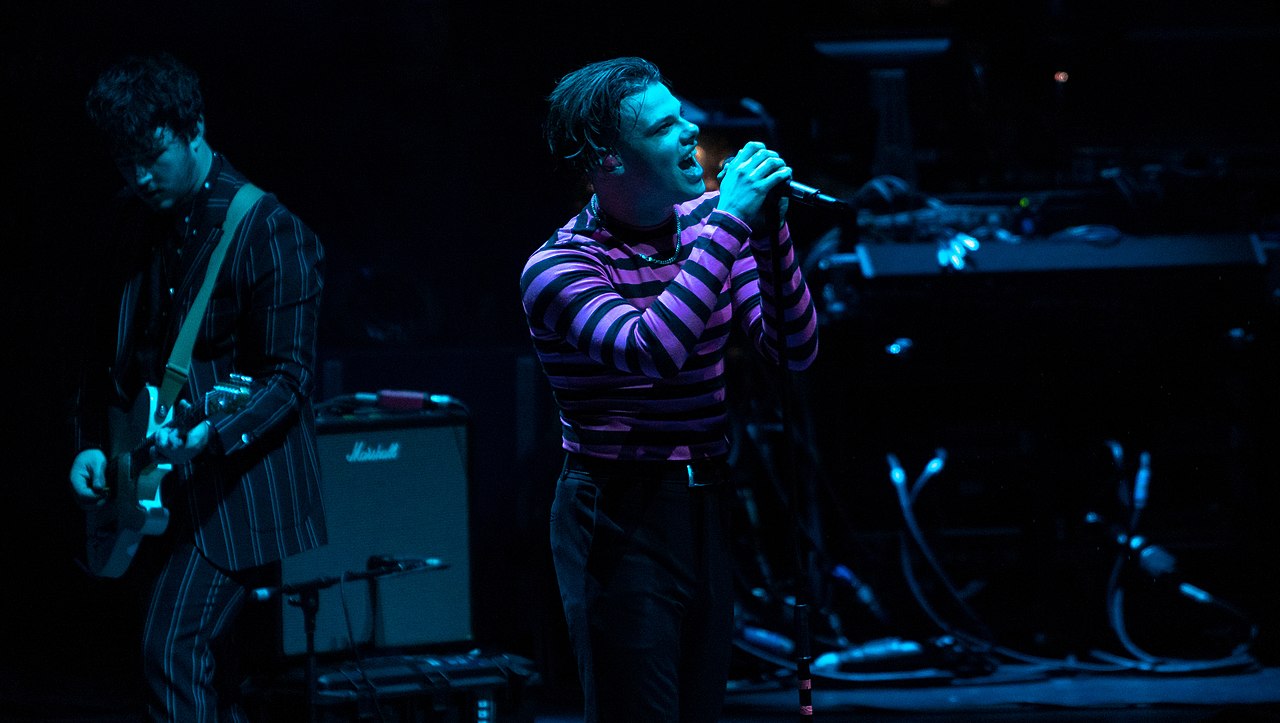 Music Critic Ellie Harris attends and reports on a Press Conference for YUNGBLUD's new album weird! commenting on his tremendous energy and his inclusive message
As anybody who has ever read my reviews would know, I am a self-proclaimed massive YUNGBLUD fan, so I was understandably extremely excited to be given the opportunity to attend an online press conference with him. The aim was to promote his new album, weird!, which comes out on the 4th December. Hosted by Interscope Records and °1824, I was looking forward to hearing what he had to say about the album and his inspirations behind it. YUNGBLUD, real name Dominic 'Dom' Harrison, was hugely energetic from the moment he joined the zoom call. Sat on the floor, (because he had moved house and had no furniture), he periodically stopped to drink straight out of a bottle of prosecco, which he had been given earlier that day.
Before the conference began, we were treated to a listen of one of the unreleased tracks off the new album, 'Mars.' Without spoiling anything, I can say confidently that fans of the Yorkshire-born musician will not be disappointed. The song has all the hallmarks of a YUNGBLUD classic, bringing his signature energy and passion to the song, whilst promoting his message of inclusion and equality. Described by Harrison as a 'neat whisky story about life,' he emphasised the importance of making young people feel like they belong through his music. This was a theme that recurred throughout the conference, and indeed is present in most, if not all, of YUNGBLUD's discography. 
When asked about his goals for the new album, Harrison frankly confessed that he wants to expand his fanbase, in order to reach new people and 'be part of someone's existence.' This, however, is less about the fame and more about sharing the message of YUNGBLUD; he feels like he would fail the people whose stories he is telling if he is not heard by 'millions.' He stressed that in the confusing world of 2020, we are all 'going into things together' and that weird! will be a celebration of the strangest time of our lives, rejecting the anger present in his first album, 21st Century Liability. His goal is to connect with people and change perspectives, letting the fans know that it is okay to be different: 'Why do you want to be like everyone else?' 
When asked about individual tracks on the album, Harrison was only too happy to oblige. He highlighted 'Freak Show' as the most difficult song to finish, citing the 'million different sections' and the experimental nature of the track as the reasons why. As a product of his influences, he promised that it will be a mix of 'Eminem meets Panic! At The Disco, meets Queen, meets My Chemical Romance,' with the song created for the fanbase. Harrison also discussed 'Love Song,' a track which explores something the musician has never sung about before – love. He admitted that he found singing about his emotions scary, but that he wanted to share his experience of love and heartbreak. His aim is to 'reset the idea of what love means,' describing it as like 'getting hit in the face,' after meeting someone who changed his perception of love, despite the subsequent well-publicised breakup. He then touched on one of the album's singles, 'Cotton Candy,' describing it as a flamboyant celebration of sexual liberation and an embrace of sexuality. It shouldn't make you 'ashamed' or feel 'pressured,' Harrison argued, 'our generation is gonna be the ones to change it.'
Over the course of the conference, Harrison emphasised again and again that YUNGBLUD is not just about the music, it is about the message. He mentioned his new podcast, The YUNGBLUD Podcast, and his comic book, The Twisted Tales of the Ritalin Club, as examples of how he is branching out, in order to 'spread the word' to as many people as possible. He then moved onto The YUNGBLUD Show, which Harrison described as a 'punk-rock Jimmy Kimmel' style livestream to connect with fans over lockdown, and explained his thoughts behind the album art for weird!. Inspired by the film This Is England, he wanted to create a piece of art that shows 'a million things at once' and the acceptance of different facets of identity. Laughing, he teased his manager, Gavin Gottlich, who dressed up in a green morph suit for the photoshoot: 'I had to snog Gavin and Gavin loved it.'
Describing what Punk means to him, Harrison highlighted the importance of coming together and talking about important issues in order to 'get to the next stage.' Fundamentally, this is what weird! is about for him – feeling connected to his audience and telling their stories. He also stressed the importance of telling the truth through his music, wanting to start a conversation with the fans and uplift the people who come to his shows: 'If you're supposed to understand it, you will.'
weird! comes out on the 4th December, and I for one cannot wait to hear it.
weird! will be available from the 4th December via Interscope Records
---
You Might Also Like
Album Review: Kylie Minogue – DISCO
Single Review: Dua Lipa & Angèle – Fever
Album Review: Bring Me The Horizon – POST HUMAN: SURVIVAL HORROR