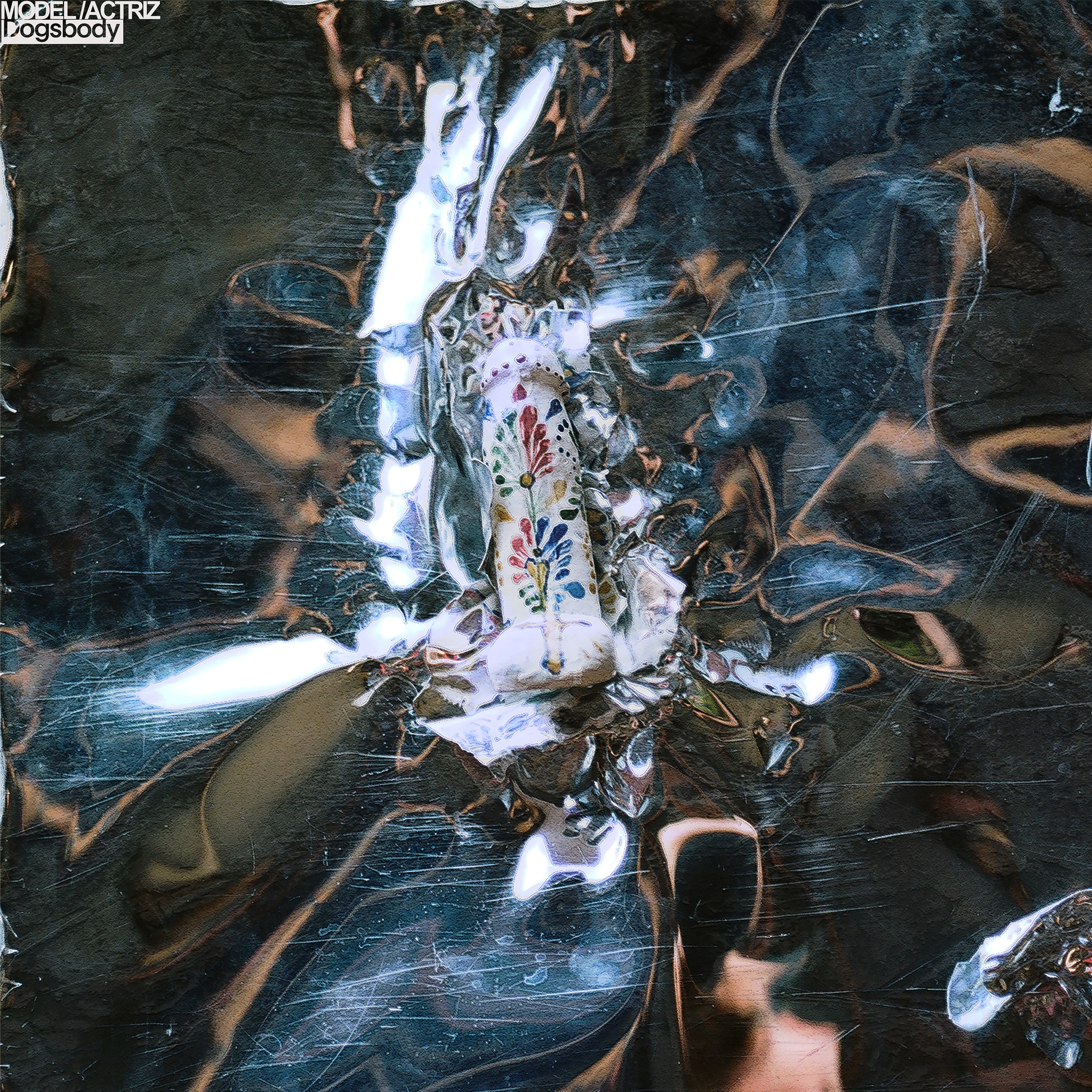 Music Critic Devin Birse reviews Model/Actriz's debut album Dogsbody, which has a tender heart amidst the noisiness.
There's a moment on the first track of Model/Actriz's debut album Dogsbody, the appropriately bizarre 'Donkey Show', which lays out the bands style of noise rock perfectly. It's nearly a minute in when lead singer Cole Haden breaks away from his musings on city nights into just repeating 'yes' as the instruments burst out of their initial ambient drone into the sounds of a nightmare groove. The lyrics turn sour Haden's vocals blistering and burning with equal parts fear and desire before climaxing in the mantra 'all night me and my wretched device' being repeated over and over as the guitar wails over the oppressive dancefloor rhythm of the bass and drums before finally, the song seems to collapse in on itself in pure ecstasy.
Dogsbody is an album built around tension, both musical and otherwise. After years of making a name for themselves with the occasional drops of eps and singles and live shows across New York, Model/Actriz have finally birthed a debut record, one with a scintillating mix of dancefloor rhythm and industrial nightmare that defined their sound. The band's influences are clearly wide, though they can in part be boiled down to two parts of New York music history. On one hand, the jagged pop grooves of the 2000s dance-punk movements led by LCD Soundsystem and their now iconic label DFA, whilst on the other, the harsh guitars and psycho-preacher vocals of the late 70's lower east side no wave groups, which provide an industrial edge.
The band's rhythm section holds down steady grooves via the pulsating bass work of Aaron Shapiro and the Neu-style motorik drumming of Ruben Raudlauer. Yet on the other side stands the screeching noise guitar of Jack Weltmore with indie sleaze roots, which are then glazed over by Haden's vocal work, appearing at once terrified and seductive. This interplay of terror and seduction is key to the band's music. On the lead single 'Mosquito', the catchy rhythm section creates an incredible push and pull against the wailing guitar and Haden's increasingly manic vocals, as he chants 'With a body count higher than a mosquito' across the chorus, his vocals interrupted by rapid short breaths. His intent is simultaneously sexual and homicidal.
Sexuality is key to Dogsbody. In live performances Haden's glamorous outfits create an intensely queer image that doesn't soften the grooves of this noise machine but rather intensifies them. Haden writes about queerness and sexuality with a mix of fear and joy that dramatises the moments between dusk and dawn into a full-blown cabaret. This style climaxes on the track 'Maria', with the rapid drums and Haden's off-tempo vocals captures the sensation of being rejected by a lover in a way that turns a mere romantic tragedy into an apocalypse. This is all helped by the raw poeticism of Haden. His description of how he collects 'the dew falling from his chest' and 'all the thorns wrapped around his quietness' transforms his subject matter into the sort of scintillating objects of urban unease that their music is built to play over.
Despite all the noisiness, there's a tender heart pulsating deep inside Dogsbody. The track 'Divers' that follows immediately after the combined noise ecstasy of 'Crossing Guard' and 'Slate', sees Haden's vocals attaining a new level of tenderness as he sings 'I seem to find it, but not within myself'. The beautiful yet melancholic soundscape created by the guitars alongside Haden's crooning, calls upon queer, experimental icons Xiu Xiu and their mix of synth-driven horrors and tender ballads. This interplay between the abrasive and tender is what gives Model/Actriz their beating heart, preventing them from pure noise rock inaccessibility. Yet it also highlights those moments of sonic violence even more. The brief respite is like a safe moment in a slasher before the killer appears out of nowhere.
If there is one flaw of the album it is how reliant it is on this interplay. For as great as the band are at both no-wave electroclash and guitar shriek croons, Dogsbody still leaves you feeling as though they're capable of even more. In that aspect as a debut album, it is perfect; it introduces the band and what they're capable of incredibly well. But as an album separated from its context, it leaves you hungering for more. Perhaps that's the best thing a debut album can be, at once an immensely demonstrative piece of work yet also a promise of even greater things to come.
Rating – 9/10
Enjoyed this? You might also enjoy:
Essential Album: The Chameleons – Strange Times