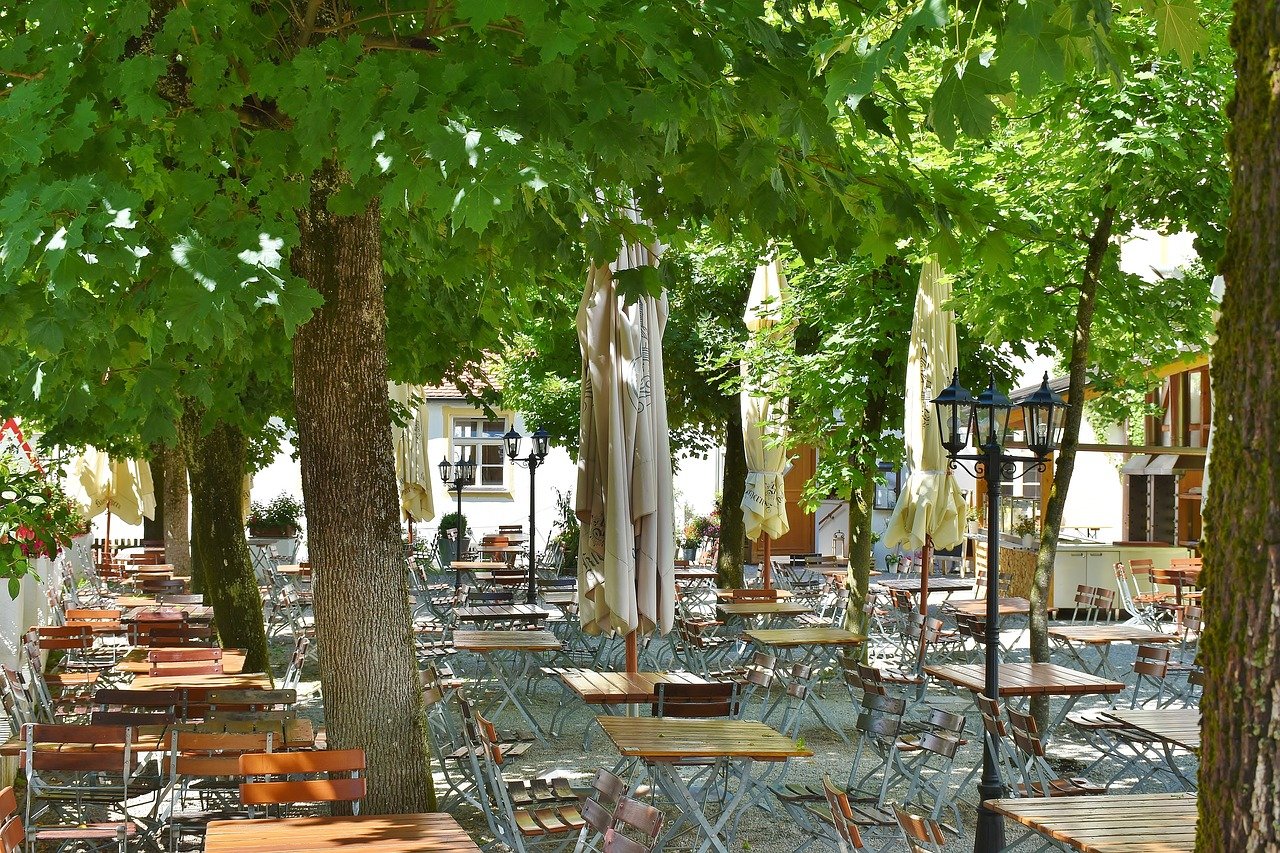 Food&Drink Writers Jasmine Sandhar and Cara Scott share their favourite places to soak up the sun and enjoy the reopening of outdoor eateries
With the recent easing of lockdown measures, most of Birmingham's best eateries have reopened with new and improved outdoor facilities. Listed below are our top six favourite restaurants, bars and pubs to visit if you are looking for a delicious bite to eat or a cheeky cocktail to drink up:
Jasmine's Top Three Recommendations
The High Field (£££ – ££££)
Whether you are looking for breakfast, lunch, dinner or a Sunday roast, The High Field has got you covered. With a rustic, farmhouse-inspired decor, this gastropub has opened up a heated stretch tent in its spacious garden for a luxurious alfresco experience. The menus are extensive, ranging from unbeatable British classics, like fish and chips or a steak and ale pie, to more exotic delights, such as the coconut Malay curry or wasabi-cured salmon. Furthermore, vegetarian, vegan and gluten-free needs are all well-catered for. The only problem is the price: main dishes begin from £15 upwards, and on top of that, it is impossible to resist treating yourself to a slice of banoffee cheesecake; the booze prices are above average, especially in comparison to a Spoon's pitcher; and there are no student deals or daily discounts whatsoever. However, first-years can make up for this by not splashing out on an Uber ride, as the restaurant is a mere ten-minute walk away from the Vale. Plus, even though this is quite a swanky place, the staff are super friendly, creating a warm and welcoming atmosphere that will take your mind off any pending exams or coursework… A personal stand-out for me is the £12 Full English – the panacea to any strain of hangover after a long night out!
Open Monday – Sunday / www.highfieldedgbaston.co.uk / @_thehighfield
Gusto (££- £££)
Situated right in the city centre on the prestigious Colmore Row is one of the most lavish Italian restaurants in Birmingham: Gusto. Whilst the inside is renowned for its swirling olive tree adorned with fairy lights, the outside seating area has always been a staple feature with a front-row view of St. Philip's Cathedral. All of the traditional dishes are available, including crispy calamari and creamy carbonara, but if you can't decide between pizza and pasta, the burger is a failsafe option. Unfortunately, the choices for vegetarians and vegans are limited to tomato pizza, tomato pasta or tomato risotto; however, the meat alternatives in the meatballs and burger are decent. The real winner is the drinks list, which has everything from a sweet 'Passion Fruit Cheesecake' martini to a fruity 'Bombay Bramble' gin and tonic. Despite its prime location and high-quality food, the menu prices are fairly reasonable. You can get a main meal and a cocktail for around £20 on a normal day, or two courses for £20 on a Sunday between 12-6pm. Personally, I would recommend the latter, as not only do you get your money's worth, but a homemade, secret-recipe tiramisu is a great way to finish off any feast. 
Open Monday – Sunday / www.gustorestaurants.uk.com/restaurants/birmingham / @gustorestaurants
Luna Springs (£ – ££)
Digbeth has always been known as a cultural hotspot with some of the best bars in Brum and the newly added Luna Springs is no exception to this. Sitting on top of the River Rea, the area is supposedly filled with a mythical 'creative spirit.' Whilst it is difficult to ascertain whether this backstory is completely true, I can definitively say that there is a unique aura engulfing Luna that cannot be found anywhere else. Every time I have been there, everyone has been absolutely smashed, singing along to indie rock classics and dancing on top of tables or around poles (before being chastised by the bouncers, of course) – the vibes are immaculate! Illuminated by multicoloured neon lights and surrounded by graffiti-plastered walls, it is the perfect Instagram post opportunity. The drinks do fall on the more expensive side with cocktails costing between £9-10 and shots at around £5-6, so I would recommend pre-drinks if you are not prepared to splash out, and food options are limited to burgers (with a vegetarian and vegan alternative), pizzas and fries. If you fancy some day-drinking, then it would be best to go for one of the bottomless brunches, where you can get a one-course meal and unlimited prosecco or beer for an hour. The only downside is that there are no outdoor heaters and the hard benches are unsympathetic to buttocks; however, both of these issues are slightly mitigated by the complimentary blankets handed out by staff throughout the evening. Be sure to check out the Moonlight Cinema, which is set to open May 19th and is an absolute steal with tickets currently selling for only £5!
Open Monday – Sunday / www.lunasprings.co.uk / @luna_springs_digbeth
Cara's Top Three Recommendations 
202 Kitchen (£££ – ££££)
If you like the colour pink, this is the place for you. Hidden at the end of a road near the cemetery in the Jewellery Quarter, it is not the location you'd imagine for such a picturesque restaurant to be placed. But behold, 202 kitchen. Only launched last summer, this is a fairly new restaurant in Birmingham with an 'instagrammable backdrop.' Mostly all of the restaurant is pink, with flowers and neon signs around the restaurant as well. It is the perfect place to go out with your friends. The outside area has a shelter as well, which is perfect for any weather. The food menu is rather limited, this being because it mainly just has trap boxes (food of a meal piled into a box) on the menu. I would recommend the vegan box, which contains mushroom tofu, spicy cauliflower, corn on the cob and chips – the chips were definitely the best part of the meal. The array of cocktails and mocktails on the menu is really good, I would personally recommend the Goody Two Shoes mocktail. The downfall to this beautiful place is the prices and limited food options. Whilst the drinks are your usual cocktail prices, the meal boxes range from £15-£20, which for me felt a bit too expensive for what you get. However, if you are willing to spend a bit more for the experience, and you like the look of one of the trap boxes on the menu, then I would say it is worth it. I would encourage everyone to visit this restaurant at least once whilst living in Birmingham just for the experience. Plus, there is a set-up upstairs of a Barbie box, throne, a sofa and other props to take lots of memorable photos and have fun with some friends whilst you wait for your meal. Just make sure you book a week or two in advance as it is extremely popular.
Open Monday – Sunday / https://202kitchen.com / @202kitchen
The Canal House (££ – £££)
Located by the canal, this is the perfect place to enjoy some food and drink with some lovely views of the canal area. The menu is quite small, but there is a range of food options from pie, to burgers and to their famous hanging kebabs which you can choose from chicken, pork, chicken and chorizo, lamb kofta and crispy halloumi (all served with fries). They also sell all the classic cocktails. The prices are reasonable for what you get and this is just such a nice place to go to when the sun is shining down, with either friends, family or your partner.
Open Monday – Sunday / https://thecanalhouse.uk.com / @thecanalhouseuk
Slug and Lettuce (£ – ££)
Where do I begin? Slug and Lettuce has to be my favourite restaurant with its delicious cocktails and equally delightful food. It was my first time visiting The Slug and Lettuce in Harborne when things re-opened and the outside area was lovely, it was quiet and luckily at the back of the restaurant, so away from the road noise, and there weren't too many tables so it felt rather intimate with plenty of shelter for bad weather too. The cocktail menu has so much choice – I would recommend the Pina Colada because it comes in a Golden pineapple glass, and all cocktails are 2-for-1! They have expanded their menu from when I last went to a slug and lettuce, so there is plenty of choices from burgers, lasagne, wraps, fish, and plenty of veggie options such as Halloumi and fries as well as the veggie Louisiana Chicken burger (both a personal favourite). The food is really affordable; most meals are around £10 or slightly over. I'd recommend Slug and Lettuce (in any location, not just Birmingham) to everyone.
Open Monday – Sunday / https://www.slugandlettuce.co.uk/harborne-birmingham / @slugharborne
Wherever you choose to go, whether it's one of the above recommendations or not, make sure to book well in advance, because free tables have become needles in haystacks!
---
Read more from Food&Drink:
Review: That Viral TikTok Pasta Dish