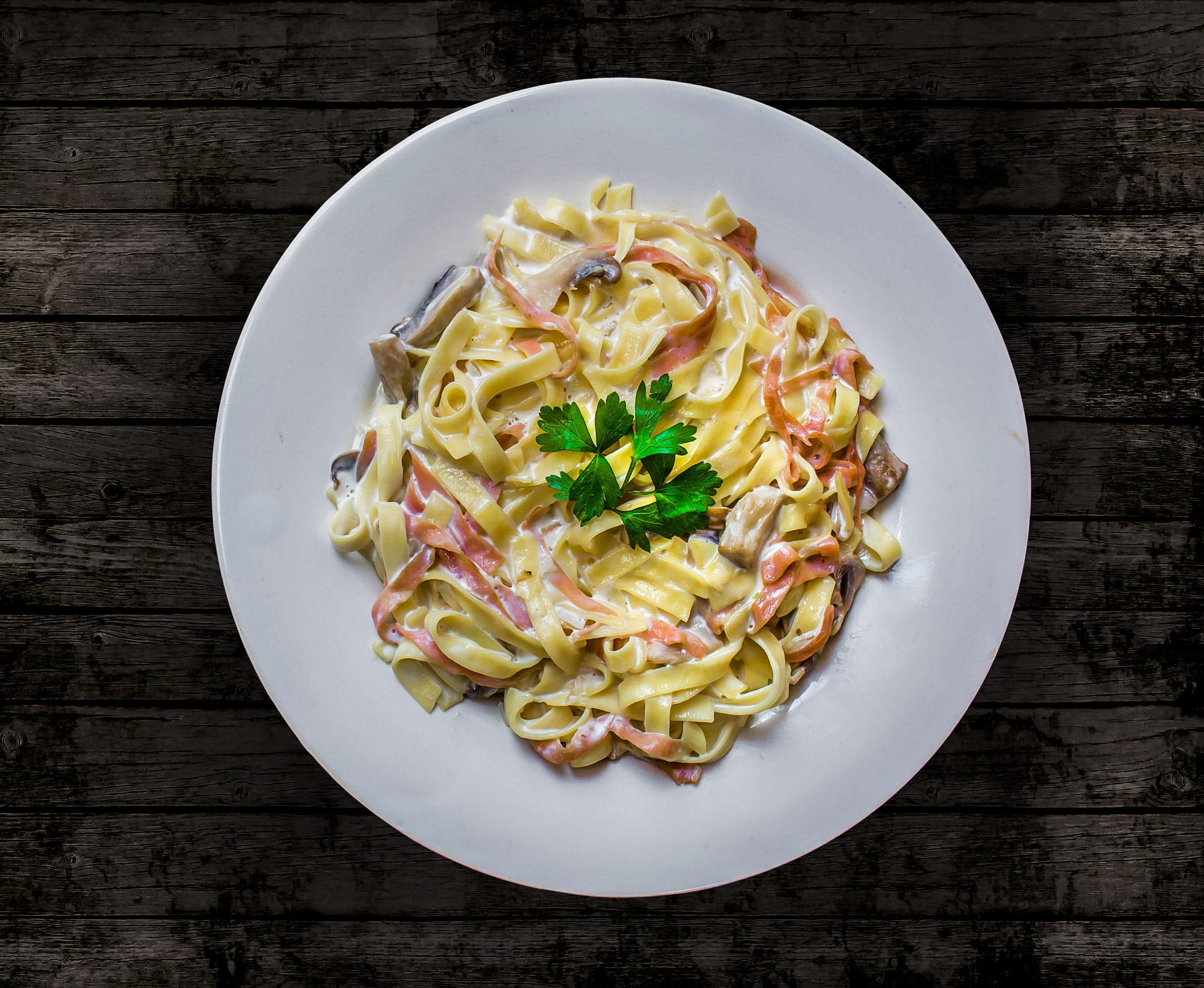 Food&Drink's Budget Bites show us why you don't have to break the bank for a mouth-watering carbonara that can be adapted to suit different dietary needs
Carbonara is one of everyone's go to comfort meals. However, many people don't know that there are several ways to make it! We don't want to offend any Italians here, but we enjoy getting creative in the kitchen and trying out different pasta recipes, to experience traditional meals as well as more experimental ones. 
These recipes are both budget friendly, especially if you team up with a friend when buying your more expensive ingredients, such as pancetta and parmesan.
So here are our two ways of cooking Carbonara on a student budget:
Recipe 1 – Traditional Carbonara
Ingredients:
As much spaghetti as you would like

One or two eggs (depending on how much spaghetti you have cooked)

Diced unsmoked pancetta

Lots of parmesan (for your egg sauce and for the top)

A clove of garlic

Salt and pepper to taste

Oil/butter

Optional: one onion 

Optional: pasta water
Method:
Bring water to the boil and add a fistful of spaghetti (or more if you would like a bigger portion, or are looking to batch cook). Add a small amount of salt to your pasta water so that it doesn't stick to the pan!

Crush your clove of garlic under a knife, and add it to a pan with either some oil or butter, and the pancetta

At this point, you could also add onion

Whilst this is sizzling, you can start preparing your egg sauce: crack your eggs into a jug, whisk, and add grated parmesan. There is no specific amount of parmesan, but I normally grate enough to make a sauce with a medium-thick consistency

Add salt and pepper to the sauce

Whilst you are making the sauce, don't forget to keep stirring your pancetta/garlic/onion – you want this to be really browned, but be careful not to burn it.

Scoop out your garlic clove once cooked

Drain the spaghetti, but save a little of the water in case you want to add it to the sauce

Add your spaghetti to the pan, coating it in the juices of the pancetta

Take the pan off the heat, and stir your egg sauce through, being careful not to scramble it. This shouldn't happen as long as the pan is off the heat, and you are stirring the sauce quickly and continuously

The heat of the pasta will cook the egg

If it is not saucy enough for you (particularly if you only used 1 egg), add some pasta water

Serve and sprinkle with more parmesan, salt, and pepper

Enjoy!
Recipe 2- If you suffer from an egg allergy then this is the recipe for you! 
Ingredients:
Oil 

One onion

Diced pancetta 

Spaghetti (as much as you desire)

Mushrooms

Half a pot of Creme Fraiche

Parmesan

One tsp of salt 

Broccoli
Method:
Once again, begin to boil your spaghetti in salted water

Add your broccoli to the spaghetti pan with ten minutes before it is fully cooked

Whilst your spaghetti and broccoli is cooking, heat a tablespoon of oil in a small pan 

Dice your onion with five or six mushrooms and add to the pan along with the pre-diced pancetta. This will probably be ready before your pasta, so take it off the heat until the spaghetti is done

Once the spaghetti & broccoli are cooked, drain the water and put them back in the pan 

Turn down the heat on the hob and add the pancetta and onion to the pan with the spaghetti and broccoli 

Fold in half of the pot of creme fraiche. It is important that you fold the creme fraiche in gently instead of stirring it, as otherwise it will not mix in properly

Grate in around a tablespoon of parmesan – if you prefer a cheesier dish, add two or three tablespoons

Enjoy!
We hope you enjoy getting creative with your carbonara!
---
Still wanting more? Check out some other recipes from Food&Drink: 
Budget Bites: Homemade Chinese Night
Food of the Fortnight: Bao Buns with Sticky Pork Belly and Aubergine Satay