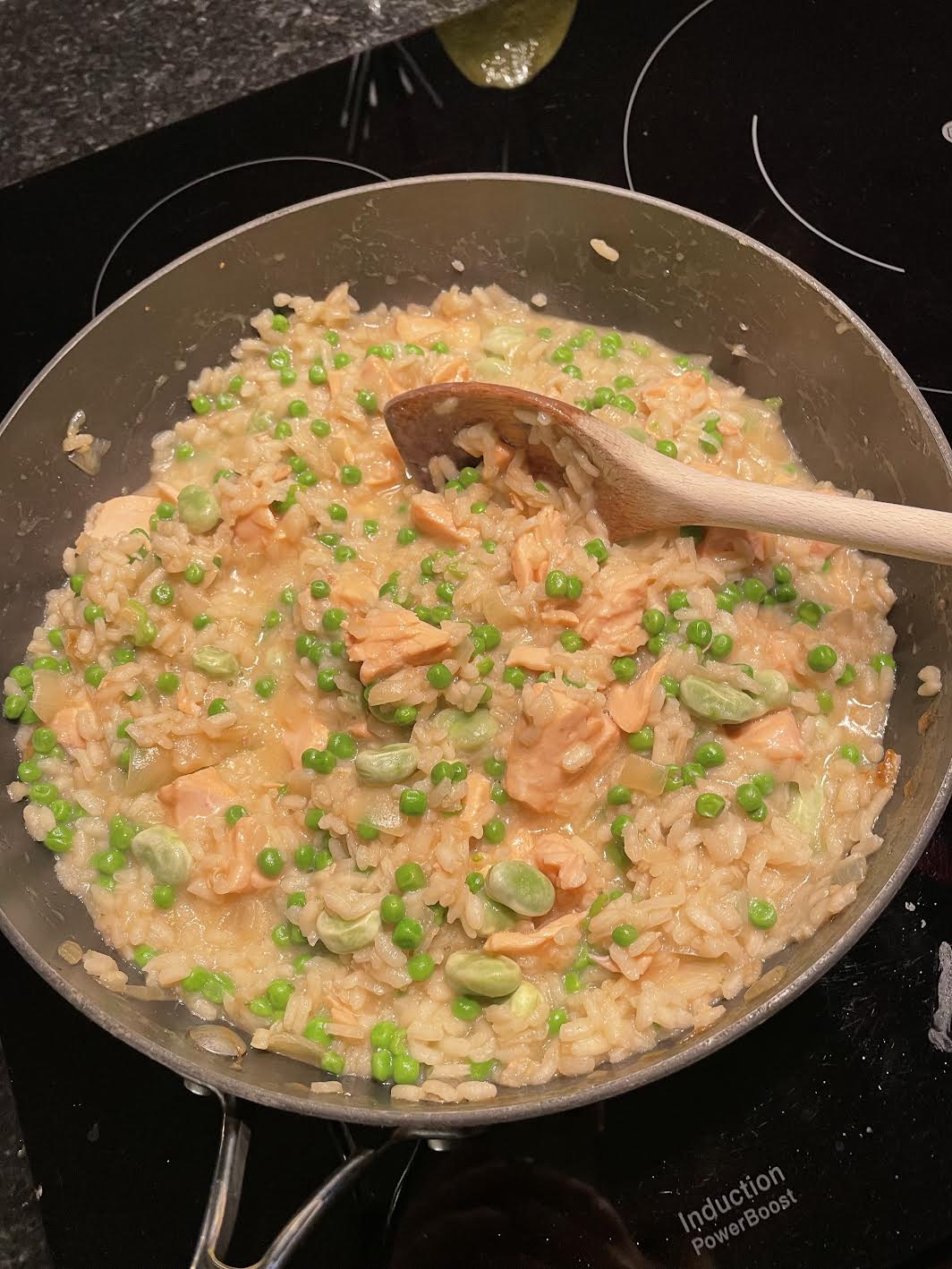 Food&Drink Writer Saffi Breakwell shares her hearty Salmon Risotto comfort meal, a perfect warming winter dish
This dish is the epitome of comfort eating. With soft, tender salmon, velvety rice, and rich, tangy cheese, this risotto will always remind me of hearty home cooking and winter nights with my family. This is a firm childhood favourite for me and ignited my love of rich, seasonal foods, delivering on taste and nostalgia in equal measure. Filling and flavoursome, this is a simple and comforting recipe that does not disappoint.
Serves 3  
Ingredients:
1 glug of olive oil

225g of Arborio Rice
Salted Butter
1 onion (finely chopped)
1 clove of garlic (crushed)
Parmesan cheese (roughly three handfuls, grated)
750 ml vegetable stock (made using vegetable OXO and boiling water)
Splash of white wine (optional)
2 pieces of salmon (

approximately 240g,

cut into small chunks)

Peas (however many you would like)
Salt and pepper to taste
Method:
1. Add the olive oil to a frying pan and place this to a medium heat. Once the oil is heated through, add your chopped onion and crushed garlic and fry until soft and aromatic.
2. Add the arborio rice and gently fry until the edges of the rice are transparent, making sure not to burn the rice on the heat.
3. Gradually pour the vegetable stock into the pan, stirring consistently and adding more once it has been absorbed by the rice.
4. Once all the vegetable stock is fully absorbed, add the peas. The peas add a sweet crunch and compliment the flavour of the salmon. Add as many or as few as you would prefer!
5. Once the peas have been stirred through, add the splash of white wine. This is entirely optional but adds a warm richness of flavour to the dish.
6. Just before the rice is fully cooked, place the chunks of salmon in the frying pan. The rice should be firm, nutty and translucent. Stir the salmon through the rice and peas, until it is opaque and light pink.
7. Add the grated parmesan cheese and stir through until completely melted.
8. Season to taste and serve. Enjoy!
---
Wanting more delicious recipes? Check out these:
Recipe: Tomato, Pesto and Mozzarella Gnocchi
World Food Day: Vegan Indian Curry