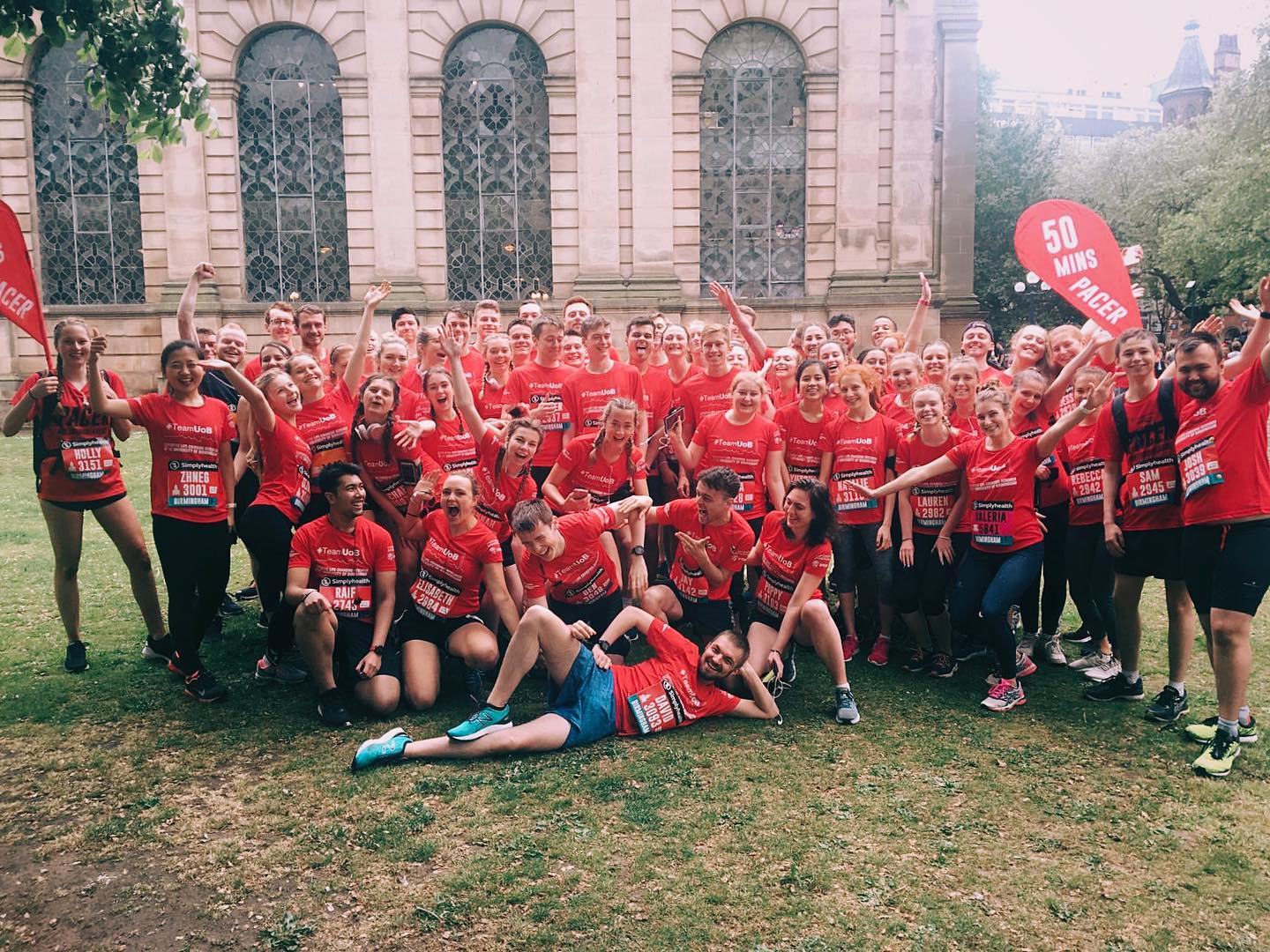 Kit Shepard provides the inside track on Cool Runnings and Athletics, the latest Sports Club of the Fortnight
Cool Runnings, the biggest sports club at UoB, gives students the opportunity to keep fit and compete in a friendly, inclusive environment. Members have plenty of opportunities to put their endurance to the test, and the club have taken 15 runners to the Great Birmingham Run on 13th October. As always after an external run, members were rewarded for their efforts by being taken for some well-deserved food and drink afterwards!
There are plenty more chances to compete this academic year, with notable events including the Warwick Relays and Winter Warmer at Sutton Coldfield. These outings build-up to the highlight of the year, the Great Birmingham 10k on 31st May. Working with UB Sport, Cool Runnings were able to take over 700 UoB students to the event last year and are hopeful of expanding even further this time around.
However, the club is by no means exclusively for those seeking to run competitively. This is demonstrated by their 'Couch to 5k' programme, which helps even those who blanche at the mere thought putting on a pair of trainers discover the simplistic joys that running can bring. The campaign debuted last year, culminating in 32 members completing their 'Parkrun graduation,' receiving a medal for their dedication and the inspiration to progress to 10k.
Unusually for a UoB sports club. Cool Runnings do not employ external coaches to lead their sessions. These are instead filled by students, with the club having dedicated coach and assistant coach committee positions. All coaches are LiRF (Leadership in Running and Fitness) trained, meaning they are licenced to lead top-quality running sessions nationwide. Occasionally, a qualified athletics coach may make a guest appearance, providing introductory sessions on events such as steeplechase and long jump.
There is still time to get involved with the reigning UoB Sports Club of the Year. The £36 membership offers four weekly training sessions, which range from group runs to circuit sessions. New for the 2019-20 season, students can also try the trail session. Above all, members will experience the elation that comes with challenging yourself alongside others, and the benefits that running has on one's physical and mental health.
A Note from the Sports Officer
Both on and off the track the Athletics Club have had a crazily busy couple of weeks. In association with British Athletics, BUAC worked immensely hard to host a 'Street2Stadium' event at our track, engaging with future Olympic and Paralympic stars from the region. They also had 40 volunteers helping out at the Birmingham Half Marathon last Sunday as well as lots of runners, and the Cool Runnings committee attended their Leadership in Running Fitness (LiRF) qualification, highlighting their commitment to providing their members with the best possible experience. To top it all off, two of their Alumni, Sarah McDonald and Chris McAllister, competed in the Wolrd Championships in Doha earlier this month. This is certainly a club that goes above and beyond – keep up the good work!