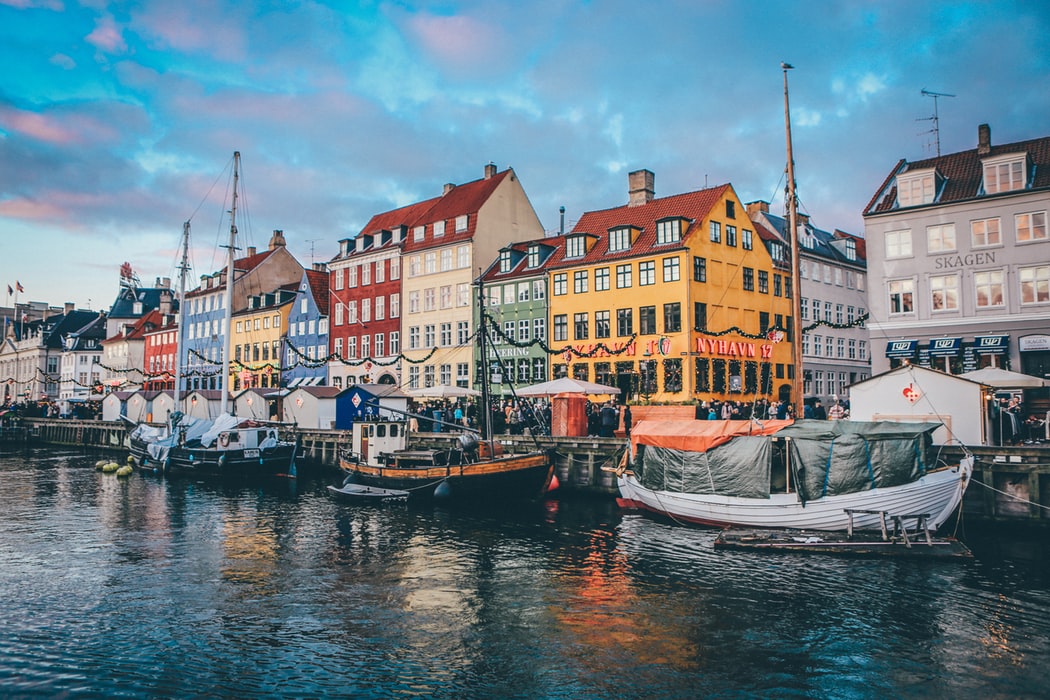 Travel writers Kelsey Baxter-Sibley and Anna-Sophie Christensen describe their experiences of Copenhagen as a tourist and as a local.
Tivoli 
As a local…
Tivoli is probably one of the most iconic things to see when you are in Copenhagen because of its history and beauty. Tivoli is not just a tourist attraction since many Copenhageners like to visit the nice theme park. Especially in the summertime it can get a bit crowded on the weekends because you are able to go to great concerts for the same price as the entry every Friday during the whole summer. Christmas is also a very popular time to visit. Lots of families have a tradition visiting the park, which is absolutely beautiful with all the lights around Christmas. Personally this is my favourite time to go there even though it can be a bit packed. A lot of people also have an annual card so they can experience all the things and concerts happening in Tivoli during the year. 
As a tourist…
Tivoli was one of the highlights of my time in Copenhagen, and it was one of the absolutely non-negotiable things we had planned to do on our trip. It was nice as, although there were definitely a lot of tourists around, there were also clearly a lot of locals. The experience wasn't especially cheap (though nothing in Copenhagen is!) and it felt authentic – definitely not solely for tourists! The theme park was absolutely magical, especially visiting in December when its all lit up for Christmas and I would unquestionably go back if I'm ever in Copenhagen again. 
The Little Mermaid 
As a local…
This attraction is probably one of Copenhagen's most disappointing ones. I almost think it is some kind of joke amongst locals that people actually make the effort to go all the way out to see her, because compared to other landmarks such as London Eye, the Eiffel Tower or the Statue of Liberty, the Little Mermaid is so tiny. I have only seen it once on a boat trip, where we passed it, but most of my friends have never seen it. The funny thing is, that this statue still is one of the things we are most proud of in Denmark, because it reminds people from the outside that H.C Andersen was from Denmark and it somehow puts us on the world map.
As a tourist…
The Little Mermaid was another attraction we planned to visit in advance – but definitely for purely tourist reasons this time. We knew that it was a lot smaller than people expected and arguably not worth visiting, but we also felt that it was one of the things you had to see if you were visiting Copenhagen – similar to the London Eye or Statue of Liberty, just on a much smaller scale! As well as being underwhelming, it's a bit of an odd tourist attraction to visit as it's a decent walk out of the city centre. Even so, it was fairly busy when we went on a cold December day, but only with tourists – I don't think there was a single person that looked like they were a local!
Nyhavn 
As a local…
When you say Nyhavn the first thing that will pop into a local person's head is the picture of tourists. People living in Copenhagen usually stay away from Nyhavn because the place is so packed with tourists and the cafes reflect this, which means they aren't that good and very overpriced. If the sun for once is out you will maybe be able to hear some Danish around in Nyhavn, but they will probably be sitting on the dock drinking their own brought bottled beer. 
As a tourist…
Nyhavn was the final place we had on our must-see list – how could anyone go to Copenhagen and not get a photo at one of the most instantly recognisable rows of buildings in the world? It definitely lived up to the photos, but it felt like quite a touristy areas, with a small Christmas market and several souvenir shops, as well as almost everyone constantly taking photos. Just by going a couple of streets away, however, you felt like you were back in 'locals territory' – or at least, a less explicitly touristy area. 
Strøget 
As a local…
This is the main shopping street in Copenhagen, but it doesn't really contain anything else than high street chains and souvenir shops. Of course people from Copenhagen go to Strøget too, but that is only if you need to get something from Zara or H&M. If you want to experience all the great clothes Danish fashions has to offer, you should work your way of Strøget to the streets leading away from there. If you want something different places like Vesterbro and Nørrebro have a lot of nice different shops and even the smaller streets next to Strøget have nice small independent shops.
As a tourist…
We stumbled across Strøget, the main shopping street, one afternoon when wandering around the city with nowhere in particular in mind. As a fairly standard shopping area, it didn't feel particularly touristy, but it was home to several brands that aren't commonplace in the UK and the kinds of shops that might specifically draw tourists in – the Lego Store, for example. 
Christiansborg 
As a local…
This is the place where the Danish government is based. The building is beautiful and very old, but most Danish people only visit it on school trips and not as an attraction. On top of Christiansborg is a tower that you can visit, and it gives you a great view of Copenhagen, but I don't think a lot of people living in Copenhagen have ever visited the tower even though it is for free. Usually the only time that it is packed with people from Copenhagen is when a demonstration is taking place. 
As a tourist…
The main reason we visited Christiansborg was to get a panoramic view of Copenhagen for free. Although the views were stunning, it wasn't very busy with either locals or tourists, and there didn't really seem to be any reason for locals to visit it unless they specifically wanted a good view of the city. 
Amalienborg 
As a local…
This is The Queen of Denmark's residence. The place is usually packed with tourists hoping to get a glimpse of the queen (if the flag is up on her building she is home), but the palace is also a popular place for Danish fashion Instagrammers who uses the palace as the setting for their pictures. You will often be able to see people hurrying through the square in the middle of the palace since Amalienborg is placed in a neighbourhood where you will find a lot of embassies and lawyer offices. 
As a tourist…
Much like Londoners never go to Buckingham Palace, Amalienborg was definitely just full of tourists, especially when we visited for the Changing of the Guards. Similarly to most other tourist attractions in Copenhagen, however, it didn't feel like it was in a particularly touristy area and was surrounded by fairly standard buildings and offices. 
Kødbyen (The Meatpacking District)
As a local…
This is a popular place for local people! Especially younger people make this place a crowded one to visit in the summertime. You have a lot of different food choices and on top of that the food is great! Of course it is a little pricey but in the capital of Denmark nothing is cheap. It is also a very popular place for going out and getting drinks especially because it is very close to the city centre but still not too close to the touristy places.
As a tourist…
We went to Kødbyen on our last night in Copenhagen for dinner, on the recommendation of several travel guides and blogs. The area had an edgy, industrial vibe to it with several restaurants and bars to choose from, all of which were busy. The restaurant we went to, Mother, didn't feel as though it was particularly aimed at tourists and being slightly out of the city centre, eating there felt like a fairly authentic Copenhagen experience. 
Our overall thoughts
As a tourist, I felt that although Copenhagen definitely had some clear tourist attractions, there wasn't a specifically delineated touristy area like Times Square in New York, for example. The city felt welcoming to tourists and I would love to go back again – but maybe in summer this time!
Copenhagen was actually named 'Best city in travel' by Lonely Planet this year, and I think that has increased the tourism. A couple of years ago you never really saw anyone carrying their suitcases around in the city because Copenhagen was overlooked by other European cities such as Paris or Rome. But at the moment tourism is blossoming in the capital of Denmark. A thing you may have in mind when going to Copenhagen is, that the people of Denmark in general are very shy and private. So if you are standing on the street looking completely lost and no one stops to help you, don't be mad. Danish people will be thrilled to help you if you ask, but we are not very likely to make the first move. And please be aware of the bicycles! Because the will not stop for you and they will yell if you get in their way….