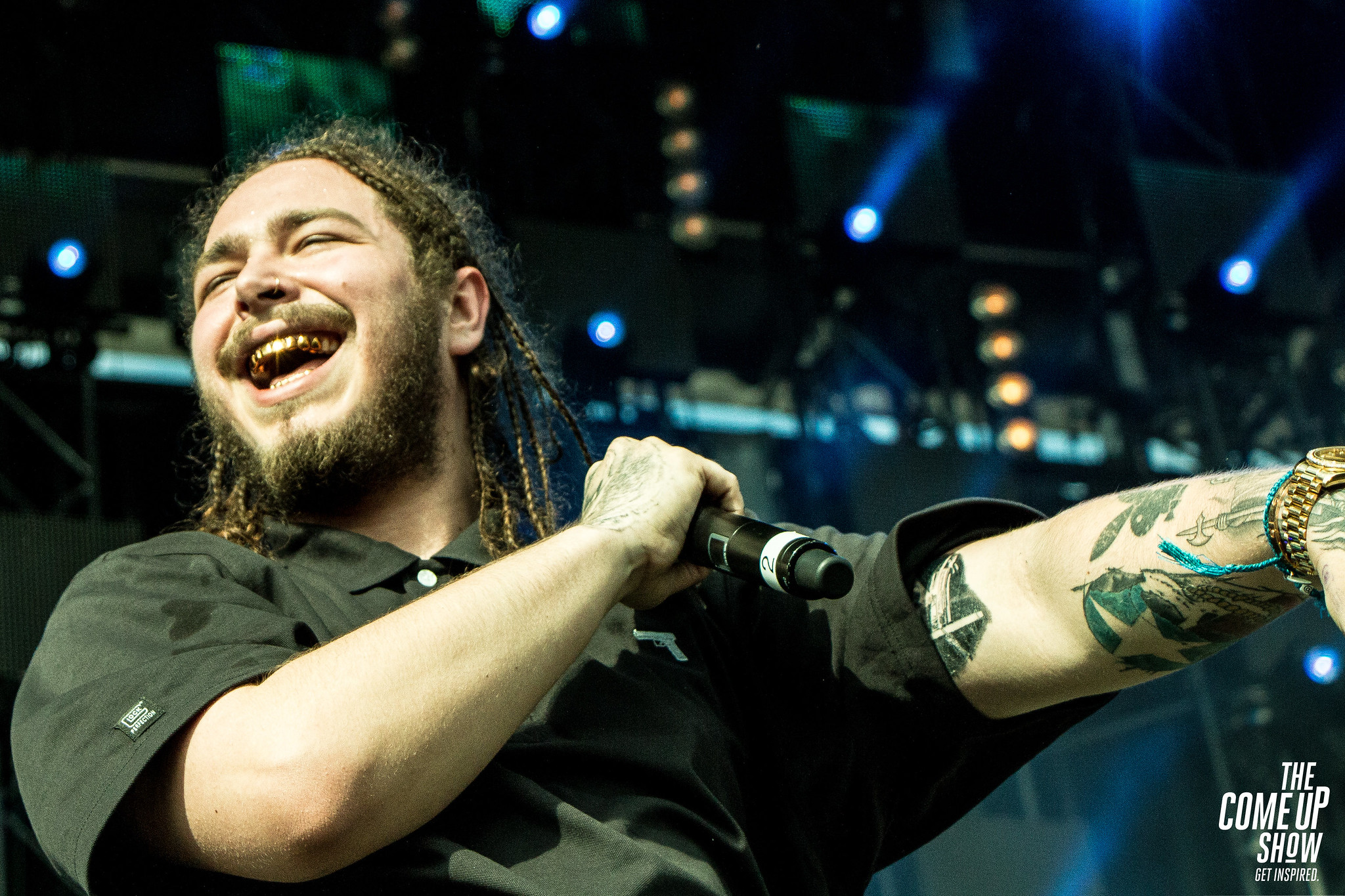 Comment Writer Georgina Tait discusses the recent comments about Post Malone's alleged 'intoxication' on stage, questioning whether fans really have a right to comment on celebrities' lives
Content warning: contains references to drug and alcohol abuse.
A video has recently gone viral of Post Malone looking intoxicated on stage. The American artist was performing at the FedEx Forum on the 6th of March, when fans spotted him rolling his eyes, seemingly forgetting his own lyrics and stumbling around on stage. The video went viral across TikTok and Twitter, with fans questioning whether he was under the influence during his performance. 
The 24-year-old's huge number of fans became apparent when several TikTok and Twitter users revealed concerns for his health. One Twitter user, @Btsarmy2190, highlighted how 'we can't lose another artist', who is likely referring to other popular artists that unfortunately passed away from alcohol or drug-related issues, such as Amy Winehouse. 
This creates the debate as to whether we, as fans, have a right to intervene or comment on celebrities' lives. Some celebrities may want to have their privacy respected, but when it comes to particular health issues that they themselves may not be able to identify, who is responsible to get them the appropriate help? On the one hand, fans could be responsible, as celebrities are likely to listen to their fans, since they will want to please their fans in order to keep up their professional reputation.
Some fans can become very involved and immersed in a celebrity's life, sometimes creating fan pages on social media sites, and keeping track of their key events. Therefore, it would be very easy for a fan to identify some specific health conditions at an early stage.
On the other hand, the responsibility may lie with the celebrities' managers or personal assistants, as these people will have more control and authority over the celebrity. Whilst a manager may want to push ticket sales, song downloads and music video views as much as possible, they also have a duty of care to ensure that the celebrities are able to cope with all the demands and pressures. Particularly in the case of Post Malone, who has over 21.1 million followers on Instagram, it is important to avoid encouraging any alcohol or drug-related issues, as there are so many people worldwide who idolise him. 
Despite the huge concern displayed across TikTok and Twitter, the musician actually denied any drug or alcohol use during his performance. He stated, 'I appreciate the love, but I feel f****** fantastic, and I'm not doing drugs'. His manager, Dre London, also commented, pointing out that he was only falling whilst performing the song, 'I Fall Apart'. The implication here is that his unusual behaviour was simply part of his act, and he was in fact sober. 
To some fans, this was obvious from the start. Amongst the tweets expressing concern, there were also some tweets expressing shock at the amount of concern there was, when some fans saw that he was just trying to dramatize the song. Although most fans would hope that this is the truth rather than the alternative, it is still massively important to keep an eye out for any similar behaviour.
It is unfortunately very easy to believe the more positive version of the story, and then fail to see any other warning signs in the future before it's too late. 
Despite this, from what we can see, it appears that Post Malone is doing very well for himself, and the drug concerns were hopefully a false alarm. Back in September 2019, he released his latest album, Hollywood's Bleeding, which has proved very successful. He has also appeared in Netflix's new film, Spenser Confidential, playing the character 'Squeeb', an inmate. This has also turned out to be very successful, reaching the Top 10 films on Netflix.