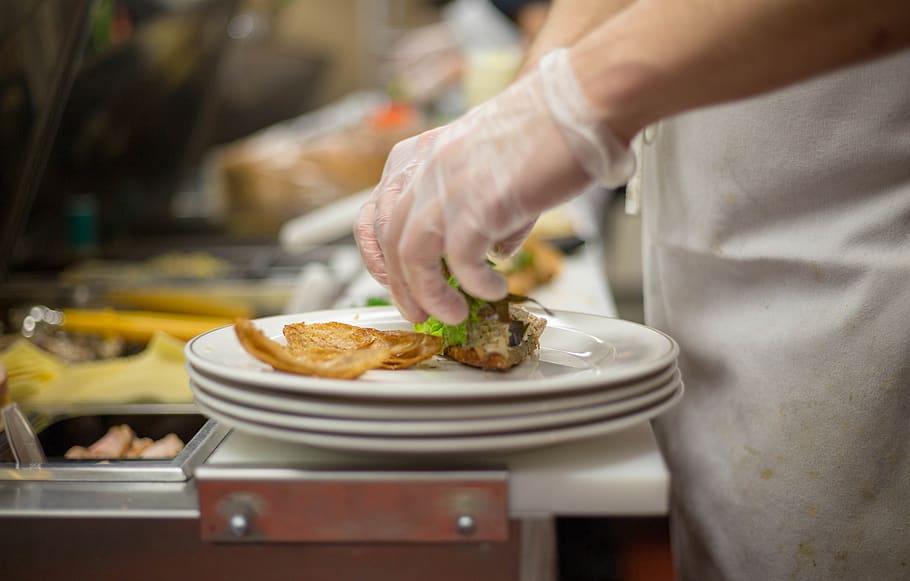 Food&Drink Editor Gabrielle Taylor-Dowson gives her definitive list of Britain's best TV chefs and why you should love them too
The T.V chef is a modern day icon. They are more than just celebrities, they are one-person empires. It's almost as if they no longer need the qualifier 'chef' – they are celebrities, plain and simple. There have always been famous cooks. Take, for example, Marie-Antoine Carême and her elaborate dishes that had Europe's 19th Century aristocracy in awe. But this early starlet came nowhere close to the global renown of today's celebrity chefs, which can be attributed not only to the multiple restaurants and cleverly crafted personas (Gordan Ramsey, anyone?) but also to channels like Food Network. 
Food Network, which originally started in the US but has a thriving UK counterpart, was without a doubt a cultural game changer. It arguably sparked 'foodie' culture as we know it; artisan markets, instagrammable restaurants and cafes and everyone's obsession with brunch wouldn't exist without the pivotal stepping-stone that food television gave the industry. It has launched the careers of countless culinary personalities and been the trigger for copious food trends. 
But not all T.V chef's are created equal. The increased demand for cooking on the small screen has meant a huge number of chefs have been brought up to play with the big boys before their time, whisking eggs and garnishing dishes on camera with shaky hands and eyes that scream help. It's now far more a case of quality over quantity, and it seems like anyone with a trendy eatery and a cookbook can fill the screen. Therefore, this article is a comprehensive list of the 3 best chefs British telly has to offer (in no particular order), from the retired to the new, the out-of-the-box to the strictly conventional. 
Keith Floyd
It's been a decade since the kooky, beloved chef passed away at age 65, but his legacy lives on. Keith's warm chat and cooking genius made for a combination that no one has been able to recreate since.  The fourth-wall ceased to exist during his shows, with Keith making a great deal out of the fact that he was surrounded by a camera crew. He bosses the camera man about and jokes that his director does drugs. The resulting unpredictability (and that little bit of tension) makes you extremely confused but thoroughly entertained. 
Of course, you can't talk about Keith without mentioning his on-air drinking. He became known for his mid-meal drink pauses, ranging from a tipple to enough to turn his cheeks ruddy and be absolutely tanked. Yes, there were health concerns, but it was a part of his charm! Keith never presented himself as a clean-cut figure there to lecture people on how to prepare their food. Food was his overriding passion, and make no mistake he was a knowledgeable chef, penning more than 30 cookbooks in his lifetime. The British public took to him like a duck to water and was the first in the new breed of TV chef. 
Nadiya Hussain 
Nadiya's 2015 GBBO win moved a nation to tears. When Mary Berry gently wiped away Nadiya's tears and described her as 'sheer perfection,' she was absolutely right. Nadiya broke her own glass ceiling; black and Asian women face even more challenges than their white counterparts to be successful in their careers, and Nadiya's admittance before the show that she was worried that 'people would look at me, a Muslim in a headscarf, and wonder if I could bake' is a testament to the obstacles she faced during the competition that most of the other contestants did not. 
Since becoming the quietly brilliant girl next door that everyone wants a piece of, Nadiya has gone from strength to strength. The author of cookbooks and presenter or co-presenter of several programmes, Nadiya's charm is as palatable as ever. She treats the camera and seemingly every viewer beyond it as a friend she hasn't met yet, and this is felt in her food too. Everything she creates on screen has at its heart that Nadiya warmth, each dish laboured over as if it were one of her own children. Nadiya's genuineness and wholeheartedness, as well as her culinary talents, are what will ensure her a presence on screen for years to come. 
Hugh Fearnley-Whittingstall 
Hugh Fearnley-Whittingstall has been criticised for near enough everything, starting with his apparently too basic approach to cooking, to his pompous double-barrel surname. But no matter if you love him or hate him, Hugh's River Cottage series is undeniably iconic. 2019 marks the 20th anniversary of the series, which consists of a whopping 16 chapters and saw the chef start it all by moving to a quaint farm in Dorset in the hunt for 'the good life'. 
What's most striking about the series is how it is now more relevant than ever. Hugh's pursuit of self-sufficiency triggered a national conversation that has only grown more urgent over the years as environmental concerns increase. Waste, food provenance, eating locally and seasonally for the sake of our own wellbeing and that of the planet; they are all issues Hugh explored in depth throughout the series, and are now the big questions being asked of the food industry as a whole. The series is one of those that you'll always find on the telly, constant reruns that never grow tiresome, partly because of the timeless topics it deals with as aforementioned, but also because of Hugh's authenticity and passion. He genuinely cares about his mission, and if the fact that he actually did live in the River Cottage from the get-go despite what the naysayers said doesn't appeal to you, then maybe the chef bashfully winning first prize for his cake at a village fair will.