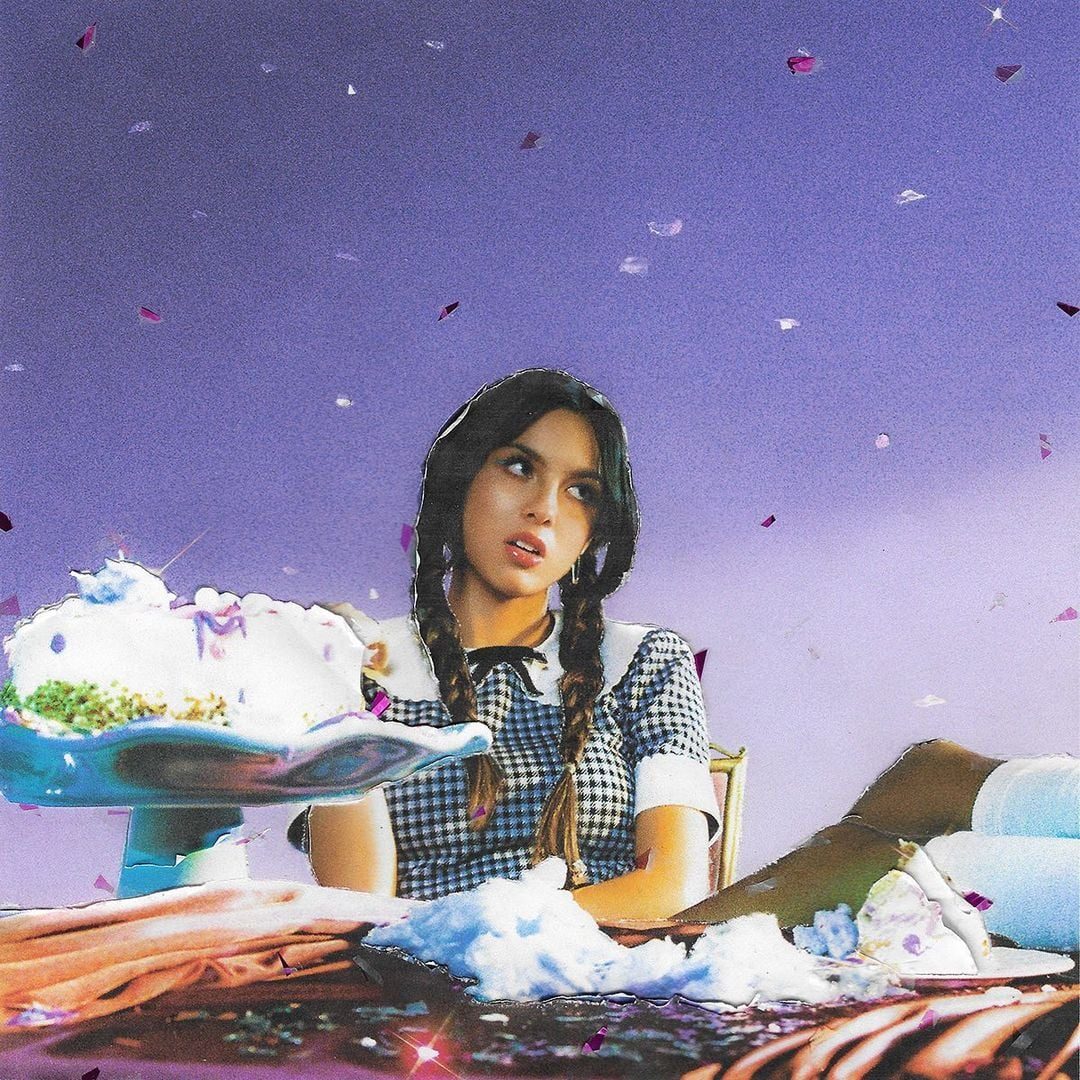 Culture Editor Halima Ahad explores Olivia Rodrigo's debut album SOUR, explaining why it is an essential album.
Olivia Rodrigo's debut album Sour showcases the teenage pop sensation to be a megastar. It is hard not to fall in love with her talent and musical personality as she relays her feelings towards modern society as well as being a relatable person for much of Generation Z. Rodrigo jumps from one genre to another effortlessly and this is seen in the tracklist of the album. This album should be labelled as essential because much of it is so relatable to the audience and Rodrigo sings so effortlessly and beautifully in every track whilst also experimenting with her own sound.
The album first begins with 'brutal' and this sums up every angsty teenager in their late adolescence. It is the singer's take on generational trauma. Rodrigo tells NME of her inspiration from the women of '90s alt-rock. The wiry guitar tune paired with the 'urgent' singing tune of Rodrigo places the song to be a must listen to for the audience. I love how relatable the lyrics are, 'If someone tells me one more time / 'Enjoy your youth', I'm gonna cry', it is pretty hard not to scream out the lyrics and dance around to the punk rock tune of the song.
The second track on the album is 'traitor' which deeply contrasts the first one, mirroring the singer's anger but dropping the tempo massively and pairing Rodrigo's dreamy vocals with an acoustic guitar. The singer mainly reflects what went wrong in her past relationship, many in the audience speculate it is about her former Disney Channel flame Joshua Bassett, and missing what they both had while her ex is moving onto someone new. Many songs in the album follow suit to the second track, including the famous 'driver's license' as well as 'enough for you'.
The debut single for Rodrigo, and the third track on Sour, is 'driver's license' which started off the speculation about her past relationship with former flame Joshua Bassett. It can be argued that the singer set the standards for the rest of her album with this debut single. It is unapologetically authentic whilst also being true to Rodrigo's sound. The song lyrics were originally derived from an excerpt of the singer's diary, 'I got my driver's license last week' was written in her diary and the song begun from there. As Rodrigo elaborates in an interview with Vogue, 'When I got home, I sat down at the piano — and I love songs that feel like a diary entry and are confessional — so I took some lyrics from my diary and went from there.'
The next track on the album, and another one of Rodrigo's famous singles, is 'deja vu'. Compared to 'driver's license', where Rodrigo was in the first stage of her grief and heartbreak after her past relationship, 'deja vu' places the singer in the second stage of her heartbreak. It can be argued that Rodrigo is now moving on from her ex but questioning her ex's new flame and how unique their new relationship really is. The song has a more upbeat melody compared to other tracks on the album. The singer was also inspired by her musical best friend Taylor Swift as well as impersonating (and crediting) 'Cruel Summer' with the lyric and melody being musically similar.
The final stage of grief and heartbreak, and the last of Rodrigo's singles, is 'good 4 u'. In this single, Rodrigo addresses her former flame, with an air of wit and sarcasm, for quickly moving on from the relationship. The singer experiments musically with drums and a guitar to emphasise her anger building up towards her ex. The angsty, pop-rock sound is reminiscent of 200os pop-rock artists like Avril Lavigne. The music video is also reminiscent of classic 2000 films, with a direct reference to Jennifer's Body when the singer submerges herself in a lake with glowing red eyes.
Much of Sour explores explicit feelings many young women feel in society today but are told to hide away. 'enough for you' showcases what it is like to be a young female in the 21st century, changing yourself to fit into someone's perception of perfection of the version of you they have in their mind. 'If I looked like the prom queens / I know you loved before' which is particularly reminiscent of an unreleased song of Rodrigo's 'Never Be Like Her'. There is also '1 step forward, 3 steps back' which is about the ups and downs of life and navigating your way through this with an inconsistent partner. Every time she takes a step forward towards her lover, she feels pushed back from her goals. Rodrigo was once again inspired by Taylor Swift and has praises for her, as she said in an interview with Nylon Magazine, 'Obviously, I think she's the best songwriter of all time, but she's so business-savvy and she really cares about her career in that regard, too. That's been really inspiring for me to watch somebody take control of her career life like that.'
The album is clearly directed at Rodrigo's former flame Joshua Bassett. The whole concept of Sour centres on the loss of a lover. 'happier', one of the final tracks on the album, is when Rodrigo wishes the best for her former flame and their relationship but hopes to be the best or significant memory that happened in their ex's life.
One of my favourite tracks, 'jealousy jealousy' finishes off the album perfectly. This track is about the unrealistic standards society has set for young women, particularly through the use of social media. Rodrigo sings about the constant comparison and self-hatred that being addicted to social media leads to. The lyrics immediately reflect this, 'I kinda wanna throw my phone across the room / 'Cause all I see are girls too good to be true'. This shows that the perfect lives we see on social media, whether that be Instagram or Twitter, are not all that they seem.
Rodrigo's debut album is truly the singer's time to shine. There are numerous influences which have shaped the singer and who she is today, but throughout Sour the singer stays true to her authentic and original sound. Listeners are able to see who the true version of Olivia Rodrigo is whilst also staying true to themselves and delving deeper into their own feelings.
---
Enjoyed this? You also might enjoy: