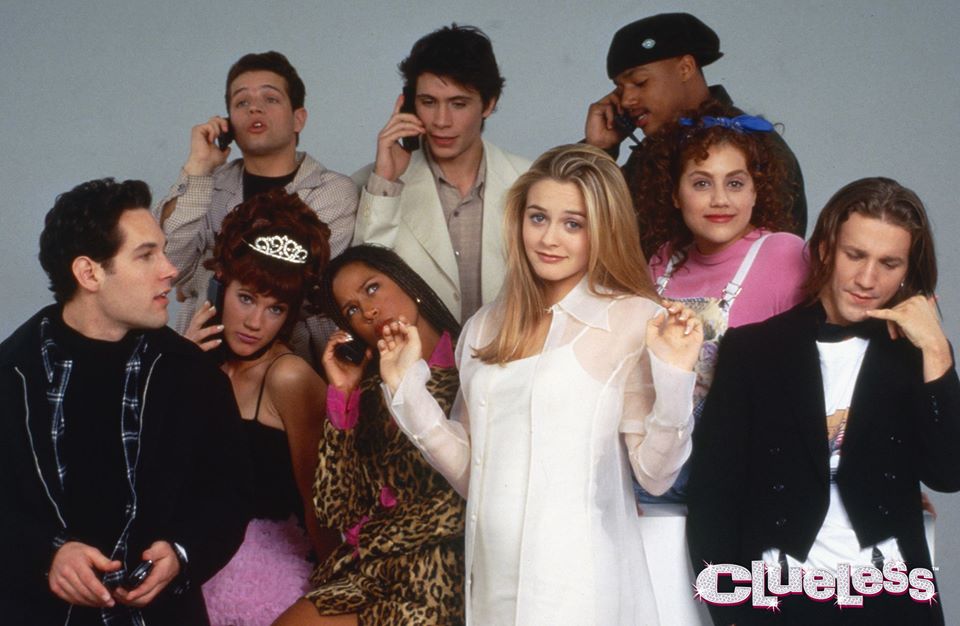 Life&Style discuss their favourite fashion moments in cinema from Audrey Hepburn's 1950s glamour to the other-worldly styles of Star Wars
Lucy Perrior – Breakfast at Tiffany's (1961)
When you think of Breakfast at Tiffany's it's likely that you will first imagine Audrey Hepburn as Holly Golightly standing at the window of Tiffany & Co. in a black Givenchy dress, pearls and diamonds draped around her neck, and sunglasses shielding her eyes from the early morning sun. Or, you will think of Hepburn reluctantly answering the door of her apartment in a slightly wrinkled white men's shirt, turquoise eye mask, and purple earplugs. I think that these two iconic looks solidify Breakfast at Tiffany's universal fashion aesthetics: we aim to be Hepburn in her custom Givenchy evening gown, but most of us can identify more with the barely awake and probably hungover look, although with slightly messier hair.
Throughout the film, Hepburn wears custom Givenchy dresses, Burberry trench coats and accessorises with Oliver Goldsmith sunglasses. Yet, it is the simplicity of Hepburn's outfits that really stands out. While the custom outfits are fabulous, Hepburn shows that a jumper and a pair of cigarette trousers can be just as stylish, provided that you wear a good pair of sunglasses.
Frankie Rhodes – The Breakfast Club (1985)
This 80s classic studies a group of five teenagers, each from a different high school social group, as they are forced together for Saturday detention. The iconic looks of the group are instantly recognisable at any fancy-dress party – each embodying a different aspect of young adult life. Claire is glamorous in a rosy pink blouse and belted brown skirt, while her male social counterpart Andrew is the high school jock complete with baseball jacket. John is gorgeously intimidating in his red flannel shirt, leather gloves and combat boots, while the studious Brian sports a simple jumper and chinos. And Allison, of course, embodies kooky fashion with her full fringe and ankle-length skirt.
But who could forget Allison's transformation from grungy teen to pink princess? Whilst Claire's makeover washes her with a lighter palette and sweeps her dark hair back behind an alice-band, her style remains distinctly playful and creative. This is a film that celebrates a range of aesthetics, from goth to angel, and suggests that these styles (and the characters behind them), can complement each other, rather than clash.
Samantha Andrews – Pretty in Pink (1986)
The film Pretty in Pink thrives in its bold and eclectic 80's fashion aesthetics. What is so brilliant about its fashion is that it is a central part to these teenagers' coming of age narratives. While the rich kids stroll through the school in chic, white suits, the poorer characters stand out as they confidently experiment with styles and aesthetics. Duckie's circle glasses and hat have become such an iconic look, clearly inspired by his love of music and Iona is a visual transportation through every imaginable time period. Her style is influenced by everyone from Madonna to Siouzsie Sioux to Audrey Hepburn.
The lead character Andie sews and designs her entire wardrobe. Every single one of her outfits has an accent of pink, and she is not afraid to combine clashing patterns with bold accessories. Yet the standout fashion moment of the film is her homemade prom dress. The chiffon pink polka dot puffball gown is a glowing testament to Andie's individuality. The fashion in Pretty in Pink is bold, but it is a key aspect to the development of these characters, and you can't help but love what Andie calls, the 'volcanic ensembles.'
Izzy Frost – Ferris Bueller's Day Off (1986)
With its events set over a single day, the characters of Ferris Bueller's Day Off are limited to one main outfit each – outfits which have contributed to this film's iconic status in the cinematic world. Having Marilyn Vance as costume designer (also responsible for the likes of The Breakfast Club), it is no surprise that Ferris, Sloane and Cameron's outfits perfectly mix effortlessness and straight-up coolness.
Cameron's skinny suspenders and Detroit Redwings hockey jersey provide the most understated look of the three protagonists, in keeping with his endearingly cautious persona. Sloane, however, exemplifies the epitome of the 80s American popular girl. Her fringed white leather jacket, matching white boots, and oversized shorts seal her painlessly stylish status, making her the perfect girl for funky Ferris.
It's hard to decide what the most iconic element of Ferris' outfit is – his garishly patterned vest that takes centre stage in the unforgettable 'Twist and Shout' parade scene, or his quirky grey, black and white leather jacket that sold for $30,000 in 2012. This staggering number alone confirms the revered status of Ferris' fashion. Looking back over their outfits, it's clear that these teens would still be the coolest kids in school today.
Romana Essop – Can't Buy Me Love (1987)
Hiding in the shadows of the most celebrated 80s teen movies from John Hughes, is another of the era's greatest cinematic triumphs: Can't Buy Me Love. Whilst the 1987 teen comedy is largely overlooked by modern viewers against its higher-grossing alternatives, I believe that Steve Rash's production is worthy of much more attention and praise, particularly for its representation of the decade's most enduring and attainable looks. Lead by Patrick Dempsey long before his stint as Grey's Anatomy's 'McDreamy', Can't Buy Me Love pioneers the sleeveless shirt as well as the louder printed shirt that is somewhat more in keeping with the era's defining style characteristics. Meanwhile, the film's female lead, Amanda Peterson, sports everything from baggy t-shirts to a costly white suede outfit that is key to the story. This movie covers every 80s base except for colour-block windbreakers and shell suits which, frankly, I think are best left out of things.
Lily Cratchley – Pretty Woman (1990)
'Pretty Woman', follows the charming narrative of a down on her luck woman, saved by a handsome, 'suited and booted' businessman from the seedy streets of Hollywood Boulevard. Central character, Vivian, undergoes a Pygmalion-style transformation, from 'hooker' to heroine, prostitute to princess, a change undeniably facilitated by her clothing.
Replacing skin-tight, miniskirts and iconic thigh-high boots with polka dot cocktail dresses, subtle heels and an array of expensive accessories, Vivian enters a new life, tied to a new persona. Adorned in this wardrobe, she is propelled into a higher societal standing, exposed to its preconceptions and pretences, looking down on the people who inhabit her sleazy former life. This change is demonstrative of the power in clothing, alongside the prejudice.
Vivian's red pantsuit in a closing scene is a personal favourite and a turning point in her journey. The trouser leg is symbolic of a divergence away from gendered stereotypes, the scarlet colour emblematic of her fiery defiance and the outfit's middling length evoking a rejection of social extremes.
The outfit aesthetics in the film are more than something to just look at; they allow the progression of the plot itself, supplying the leading lady with status, power and confidence.
Elizabeth Winter – Dazed and Confused (1993)
It's summer of 1976 and a group of suburban high school students have just broken up for summer. As the teens cruise around in their Chevrolets, the film's laidback dreaminess and ready-for-anything mood is reflected in their outfits, emblematising their loose sprawl of directionless possibility in their equally loose silhouettes of 70s fashion – born out of the hippie era. Dazed and Confused is renowned for its iconic stoner looks as the wardrobe offers a variety of fit and flared denim, Western influences and bohemian dresses which have seen a revival in recent years.
Designed by Katherine Dover, the film depicts an eclectic mix of the era's teen aesthetics from lovable stoners in baggy jeans and loose-fitting sun bleached t-shirts, to cheerleaders in cropped tops worn true to their name, as well as a young Matthew McConaughey in jeans so tight they had to be zipped using pliers. Whilst all of these looks had audiences from the 90s onwards loving the 70s era of fashion, it was guitar-strumming, joint-smoking Michelle Burroughs played by Milla Jovovich who stole everyone's hearts and made 70s fashion so stylish in her long cognac tanned leather vest, tube top and jeans, illuminating how the spiritual freedom of the era was reflected in its clothing.
Catrin Osborne – Clueless (1995)
Clueless is the quintessential 90s film with the wardrobe to match. It set the blueprint for the trends that we have returned to – certain TikTok girls owe their scrunchies, hair clips and skimpy plaid skirts to Clueless. It is hard not to envy Cher Horowitz as she tries on a range of outfits using a virtual simulator. From this opening scene, fashion dominates Clueless, down to its dialogue, such as Cher proclaiming: 'You see how picky I am about my shoes and they just go on my feet.'
Clothing provides much more than just the aesthetics for Clueless. As a modern version of Jane Austen's Emma, Cher transforms new student Tai into an "it girl." Parading around in heels and a cropped sweater, Tai's makeover demonstrates the performativity of social hierarchy in secondary schools. The characters' immaculate wardrobes showcase their shallow lifestyle, which begins to unravel as the plot develops. Throughout the film, Cher's style is juxtaposed with Josh's shirts and baggy jeans, an excellent visualisation of how he offers an antidote to this materialism. Even though we know the fashion is a façade, Clueless' clothing remains desirable 25 years on – look no further than Iggy Azalea's 'Fancy' music video or go online for a guide on how to replicate the style.
Abi Tate – The Star Wars Prequels (1999 – 2005)
Deputing a whole new era in the film series, the Star Wars prequels had the task of creating fashion looks that were other-worldly. Designed by Trisha Biggar, she imitated the past to create looks for the future taking influences from 'every culture, country, civilisation and period, mixing them up to shape new fashions'.
 These inspirations are clear in the gowns worn by Natalie Portman as she played Padmé Amidala clearly conveying this world of outer space opulence yet reminiscent of traditional Japanese garments and Art Nouveau. The craft and mastery that went into these designs was recognised by photographer Irving Penn, going on to shoot these dresses for his Vogue editorial titled 'Star Wars couture'. These dresses are also viewed as art pieces, one even being displayed in the V&A Dundee museum. Whilst they are not traditionally wearable, Trisha Briggar crafted futuristic haute couture looks seen as products of high fashion, regardless of their origins in science fiction, ultimately playing a key part in the entire history of the films.
Katie Norris – Legally Blonde (2001)
Elle Woods' style is defined by her signature pink, so the fact costume designer Sophie de Rakoff was originally put off by the colour could have made for a very different film aesthetic. Rakoff steered away from more toned-down options after visiting sororities before production, settling on hot pink in a decision that only enhances Elle's vibrant femininity. Possibly the most iconic outfit, amongst many contenders, is the hot pink leather driving suit Elle wears when she arrives at Harvard. Not only is the co-ord unique amongst her peers, set against a background of muted earth tones, but it is polished through the details. This is a look that is only made through the upturned collar, the bright pink lenses of her glasses, and the matching sweater worn by her dog.
Where Rakoff was originally put off by pink as a choice, because "it's so feminine", the performativity of Elle's hyperbolic femininity throughout the film only serves to prove that her appreciation of fashion is not equal to the stereotype of the typical 'dumb blonde'. This is cemented by the film's famous courtroom scene, in which Elle stands out both intellectually and aesthetically.
Heidi Linton – The Great Gatsby (2013) 
Strings of pearls, cloche hats, camisoles and bobbed hair; The Great Gatsby transports the fashion clichés of 100 years ago into the present. While the film, set in the 1920's, has been criticised for historical inaccuracy, Baz Luhrmann's fashion choices have greater cultural and social significance than first meets the eye.
The film reciprocates female liberation through fashion, infamous in the 1920's since women had finally gained the right to vote. Daisy Buchanan rejects the tight corsets of her past, instead reflecting freedom through her high-hemlines, loose-fitting camisoles and boyish bob.
Clothing likewise symbolises the economic status of the male characters. Tom Buchanan is dressed as a gentleman in the more traditional sense, reflecting his blue-blooded connection with old money. His blue suit and car appear drastically bare when placed in comparison with Gatsby's own yellow car and famous pink suit; new and unconventional trends which imitate his daring character and new money.
With the glimmering sequins, feather headpieces, and champagne flutes, is it any wonder viewers are left desperate to party like Gatsby? Luhrmann has certainly embellished Fitzgerald's traditional novel through fashion, bringing the Roaring Twenties into the 21st Century with exhilarating extravagance.
Charlotte Whittle – Captain Fantastic (2016)
The outfits in Captain Fantastic are bold, colourful, and joyous. A key theme in this film is the absence of materialism, with the children dressed in hand-me-downs for most of the film, however, the outfits they wear to the funeral are funky and fun. The New York Times called their outfits a mix for 'Homespun Hippie' and 'Backwoods Gucci'. Viggo Mortensen shows up in a candy red suit (something Harry Styles would certainly wear and look incredible in, at one of his concerts). His two daughters who have the most incredible red hair, which they have put flowers and feathers in, match their dad in brightness.
Vespyr wears a crocheted, vivid, lime green dress, and Kielyr wears a lavender jumper with some jazzy patterned shorts with flowers in her hair also. One of the young children is wearing a boiler suit and a gas mask, and the other younger child is wearing a whale, barnacles and all, onesie with the hood up. Comfort. Is. Everything. The orchestra of colour and texture would not be complete without a patchwork vest and a touch of 70s with a chocolate brown jacket, matched with a stripy shirt. I personally love this film's outfit aesthetics because it is soulful, proud, and nostalgic.
You might like: