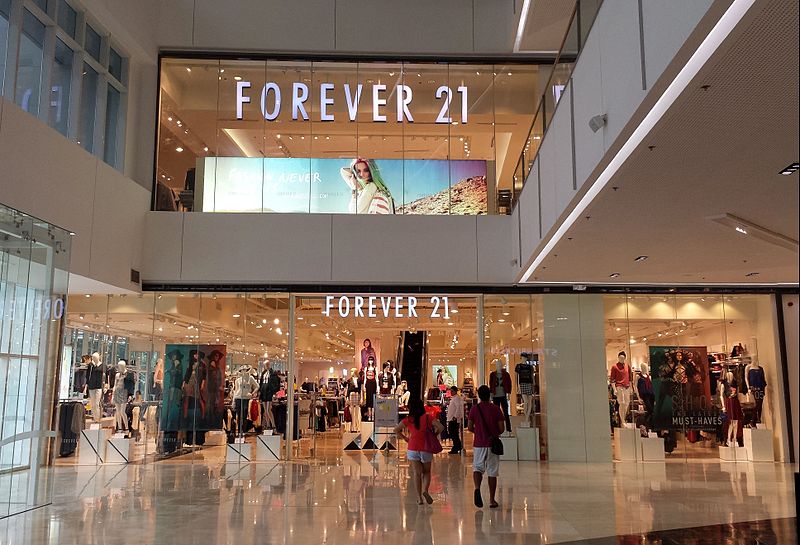 Life&Style Writer Lucy Perrior discusses whether the demise of Forever 21 implies a move away from fast fashion
Fast fashion means the swift mass-production of clothing based on what is on trend, often based on cheap reproductions of designer and celebrity outfits. In recent years brands such as Forever 21, H&M, and Zara have dominated the high street by regularly updating their stock in order to satisfy the rapidly changing desires of consumers. But does the announcement last week that Forever 21 is set to file for bankruptcy and will cease operations in 40 countries, suggest that the demand for disposable clothing based on short-term trends is decreasing? The majority of Forever 21 stores are based in the USA and while there are some located in the UK they are certainly not as popular over here. There are only four remaining UK stores which are all now under review, and they have already closed their flagship store in Glasgow.
So, is the uncertain future of Forever 21 due to consumers moving away from fast fashion? Other leading retailers that have typically been associated with this market such as Zara and H&M have begun to change their business models towards sustainably-produced clothing, and to address their customers' environmental concerns. Zara has set a target of using only renewable energy sources by 2025, and H&M has focused on using more naturally 'conscious' materials, claiming to want to eliminate all chemical usage in their products by 2020. In an increasingly environmentally-concerned landscape, these archetypal fast fashion giants seem to be evolving in response to their customers' priorities, whereas for Forever 21 mass-production of low-cost clothes has always been their biggest concern, and perhaps has now led to their downfall.
With the prevalence of plastic waste and climate change issues in the news, perhaps young people are making more informed decisions about their fashion purchases rather than purely following short-term trends. After all it is our generation that will have to live with the radical environmental changes affecting our planet.
While there seems to be an effort from large clothing brands to address the present concern about climate change and produce more environmentally friendly clothing, this does not necessarily mean that fast fashion is a thing of the past. For many young people, their clothes shopping is now predominantly based online rather than in high-street stores. Who hasn't seen pastel pink Pretty Little Thing and Boohoo parcels lined-up outside rows of doors in our university halls? Online sites allow shoppers to search through thousands of clothes, shoes and accessories from their bedrooms and their purchases can be delivered to their door within a few hours. In terms of the company-to-consumer time frame, this literally is getting your fashion fast! And in terms of production and cost, many of these items can be purchased for less than £30, and some tops only cost £2. The specialist online retailers have become the dominant force in mass-production of low-cost clothes for rapid shopper consumption.
Therefore, it is naïve to believe that the closure of stores such as Forever 21 or the new sustainability agenda of H&M and Zara herald the demise of fast fashion. The apparent rejection of fast fashion is illusory. The mass-market clothing business is transferring to online purchasing, and fast fashion is not being abandoned, it is merely disguised within pretty packaging that is delivered right to shoppers' doors. Hopefully, the efforts made by high street stores to produce more environmentally conscious clothing will transfer into the dominant online retailers, but it is clear that for now consumers' priorities are still aligned with low-cost disposable fashion.