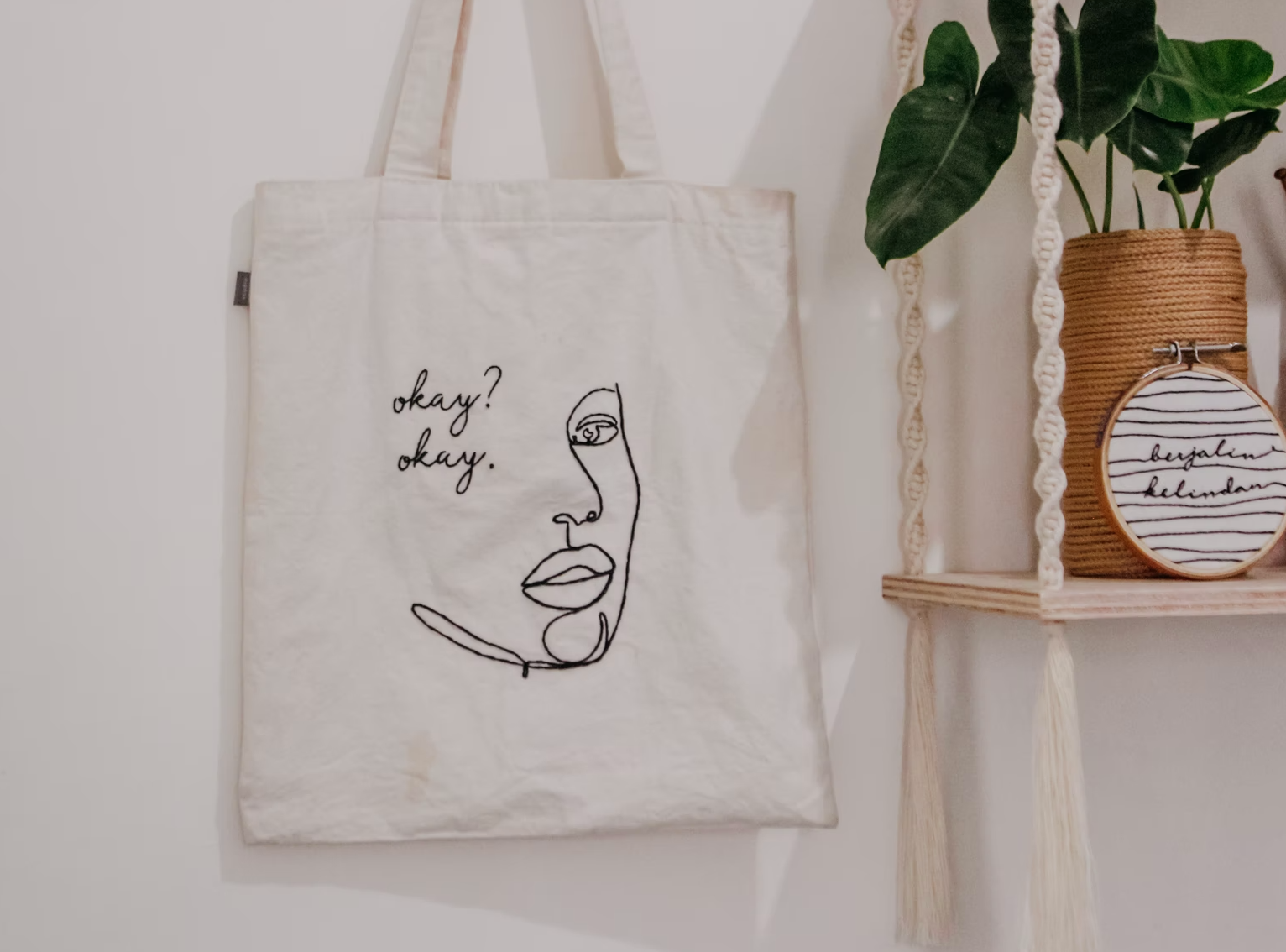 Food&Drink Editor Cara-Louise Scott guides us through the different types of Tote Bags and reflects on the plentiful reasons as to why they are a worthwhile purchase
In the past couple of years, we have seen an abundance of tote bags being used out and about, especially in shopping centres and throughout campus. Since plastic bags now have a charge to them and the world is finally getting some sense on the climate issue, people are more keen to switch to using sustainable fabric bags to carry their personal belongings.
Different Types of Totes:
Cotton Totes
These are better for the environment because of the natural source of the fabric, which in turn also makes them better for your skin. They have a smooth texture and are extremely durable. Similar are canvas totes made of sturdier cotton blends that has the potential to carry heavier items and last longer than the cotton version.
Work Totes
These are for work, and are usually made out of leather so they are sturdy enough to carry your laptop and work belongings in.
Picnic Totes
As suggested by its title, these bags have a sole purpose for picnics. They are usually made of polyester with adjustable straps so they are durable enough for carrying lots of picnic items on a warm summer's day.
Boat Totes
These are called a boat tote because the bottom of the bag is shaped like a boat. They are usually made from canvas but can sometimes be made from cloth or nylon. They tend to look more like a bag than a tote.
Market Totes
These are usually made of a sturdy cloth with leader handles, with a slot in the bag too. These are best used for carrying your groceries from the shop.
Travel Totes
This is a large bag with lots of slots for storing your travel essentials, and are made out of leather.
Beach Totes
This is usually a large bag, often made out of cloth, jute or straw. This can store all of your beach essentials perfectly.
The Benefits of Owning a Tote Bag:
A most obvious benefit to using tote bags is that it is better for the environment because it reduces the amount of plastic we are using. Instead of buying a new plastic bag every time you go to the supermarket, tote bags can be used to carry shopping and used as a substitute for plastic bags in general.
It is good to choose tote bags that are made out of 100% environmentally friendly cotton as the fabric will be natural and come from environmentally friendly circumstances where no other chemical substances have been used.
Another strong benefit is you will save money in the long run. Tote bags tend to be fairly cheap to purchase, sometimes you can pick them up for a £1-£3, especially from places such as Poundland. Even if you buy yours online or from a more expensive shop, I would say £10 would be the maximum you would have to pay for one. Because they last for so many years, they are worth the money and it means you can avoid having to pay for plastic bags, which are becoming increasingly expensive. It also makes you more prepared when you go into a shop as you have your bag ready with you to pack things in.
Plastic bags will not last as long as fabric ones so tote bags can help guarantee long-term (or even life-long) durable use and they can hold more things in them than a plastic bag as it takes a lot to rip them. This means that you could carry around shopping in them all day.
Tote bags are extremely fashionable at the moment, and hold a lot of characteristics and aesthetics to them. Most of them have a different style and you can choose a design that reflects your personality or something you love.
Tote bags are also great gifts for a friend, as they are useful and personal, especially if you choose one with an authentic, meaningful design on it.
They help with allergies because many people can often find themselves with skin related problems after using plastic bags for a long time.
You can carry a lot of things in them, such as your personal belongings like a phone, purse, keys, but if you are going shopping you can use them for your shopping items too. If you are on campus all day, they work super well as storage for your laptop and notebooks, as well as fitting in your lunch and a drink. If you are just using them for shopping, you can fold them up and fit them in your pocket if they are not needed yet.
It is also easier to access your belongings compared to a rucksack as you do not need to take the bag off your shoulder to grab what you need. They may not be great in rainy weather but if you have an umbrella, the bag should not get wet.
Etsy is a really good place to find personalised tote bags so I would recommend checking that out.
---
Enjoy this Guide To? You'll love these: