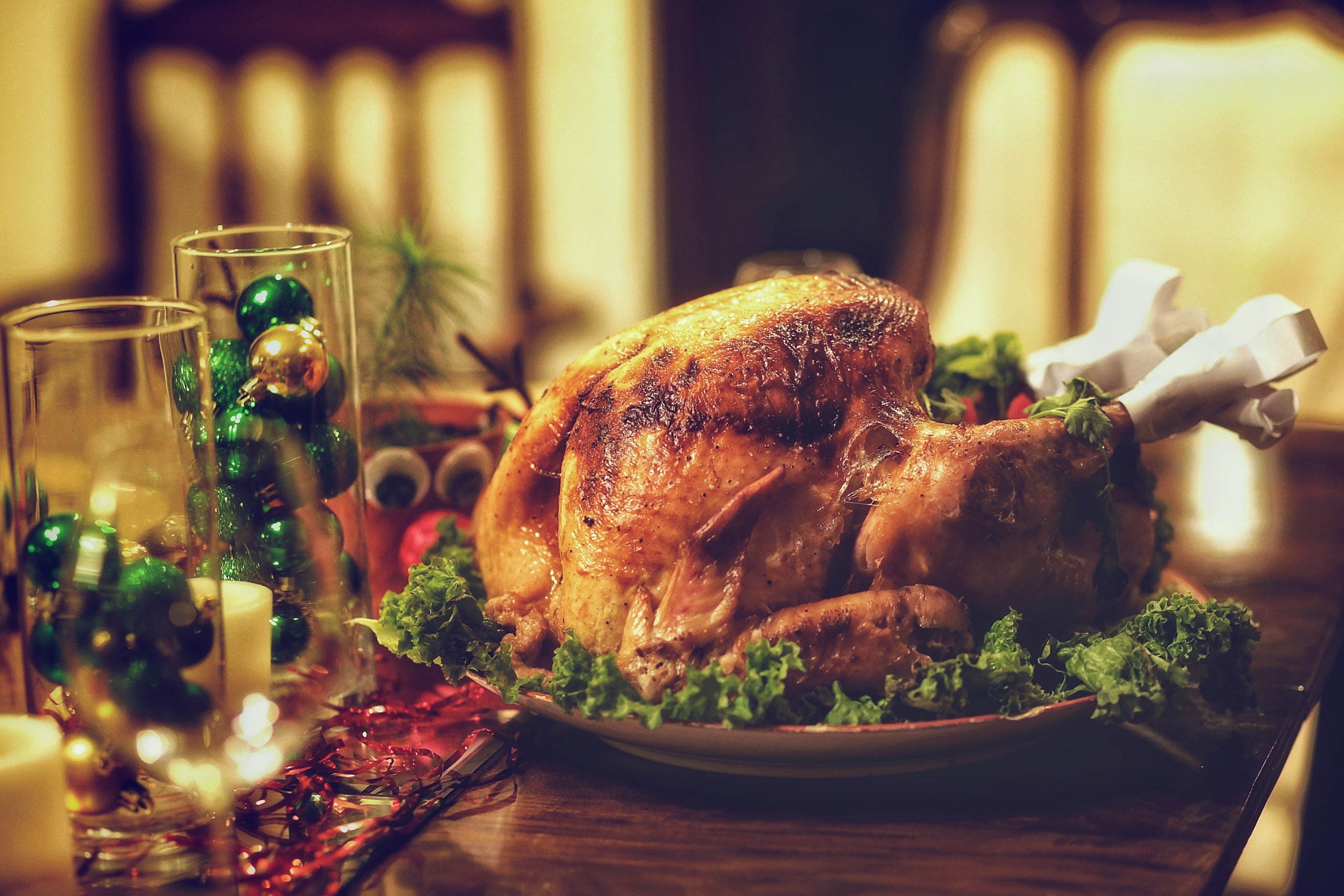 Food&Drink give us Christmas ideas for creating both the best and most budget-friendly university Christmas dinner to share amongst friends, complete with all the trimmings
Christmas is coming, and Redbrick are getting very excited. Food is one of the most prominent aspects of the festive season because it brings everyone together. Flats, houses and groups of friends from coursemates to sports teams will want to host a Christmas dinner before term ends, but some of you may have no idea where to start! Food&Drink's writers have put together a fool-proof guide to the key aspects of this important meal, and even included a cheat-sheet for those of you who don't think you have the culinary skills to manage these scrumptious feats. Merry Christmas!
By Harriet Laban and Gabrielle Taylor-Dowson
---
Centrepiece – Phoebe Holdsworth
Nut roasts have a bad rep. They're either too dry, too bland, or just too dull to even be considered for a Christmas centrepiece. Well, not anymore! This recipe repels the dreary, reinventing the humble nut roast as a delicious and exciting filling for an impressive Christmas wellington.
For too long, vegans and vegetarians have begrudgingly accepted a Christmas dinner of solely veggies and stuffing, and this is just not good enough. This nut roast will wow even the most carnivorous of relatives, with the festive sweetness of the potatoes giving a Christmassy twist to the robust mushroom flavour. With the delicious filling encased in the buttery puff pastry, what's not to love?
Ingredients:
130g walnuts
2 sweet potatoes, peeled and chopped
2 finely diced onions
2 finely diced cloves of garlic
½ stick of celery, finely chopped
¾ tray of button mushrooms, finely chopped
½ tsp oregano
½ tsp turmeric
1 tsp cumin
2-3 tsp garlic powder
½ tsp dried basil
Salt and pepper to taste
Slice of bread
2 knobs of butter or non-dairy butter
1 tbsp plain flour
Approximately 1 cup of milk or non-dairy milk alternative
Puff pastry of choice (Jus-Rol pastry is often dairy free)
Method:
1. Preheat oven to 200C fan.
2. Place the walnuts on a baking tray and sprinkle with salt. Roast them for approximately 10 minutes, or until slightly charred. When they're done, break them into small chunks.
3. Peel and roughly chop the sweet potatoes. In a large saucepan cover them with water and bring them to boil for roughly 15 minutes, or until they're soft. Drain the water and roughly mash them with a fork, adding a knob of butter and salt and pepper to taste.
4. While the sweet potatoes are boiling, heat two teaspoons of olive oil on a medium heat, and add finely chopped onions and garlic. When they become fragrant, add the roughly chopped celery and mushrooms. Mix in the spices and allow this to fry for around seven minutes, or until the mushrooms are soft, stirring constantly.
5. Take your slice of bread and blend it until it becomes breadcrumbs.
6. Mix the sweet potato mash, the walnuts, the mushroom mixture and bread crumbs in a large bowl, adding a knob of butter if needed. Season to taste.
7. To make the béchamel sauce, heat one tablespoon of butter in a saucepan on a low heat until soft. Then add one tablespoon of plain flour and mix until it becomes a paste. Then, slowly add around a cup of milk, or a non-dairy milk alternative, whisking constantly until the mixture reaches your desired thickness. Season with salt, pepper and garlic powder to taste.
8. Take your puff pastry (preferably pre-rolled) and place your filling lengthways along one half. Brush one half of the pastry's edges with non-dairy milk and fold the other half over the filling. Crimp together the edges of the filled pastry with a fork and pierce the top with some air holes to allow for steam. Feel free to use excess pastry to create a Christmassy design!
9. Place the wellington on a baking tray and bake for around 20 minutes, or until golden brown. Serve with your favourite Christmas veggies and gravy.
---
Roast Potatoes – Toby Fenton
For me, a roast dinner, let alone a Christmas meal, is not complete without roast potatoes. They are a key part; they're crispy yet soft in the middle and they soak up the gorgeous gravy. Usually, I would cook my roast potatoes in rapeseed or vegetable oil, but at Christmas I go all out and cook them in duck or goose fat to be extra indulgent. Christmas is all about enjoying good food with family and friends, after all!
My method for making roast potatoes is as follows:
1. Preheat your oven to 200C.
2. Peel and cut your potatoes in half (allow 2-3 potatoes per person).
3. Par-boil your potatoes for about 10 minutes until just cooked, then drain and shake the potatoes to create those ruffled edges.
4. Add goose fat or veg oil to a roasting tray with a few sprigs of rosemary and thyme, as well as 4 garlic cloves, squashed slightly under the back of a knife. Heat up your choice of fat for 10-15 minutes.
5. Carefully add your potatoes to your fat. Roast until crispy for about 50 minutes to an hour, turning the potatoes over halfway through.
6. Serve warm with the rest of your roast or Christmas meal!
---
Veggies – Katie Norris
Despite my grandfather constantly proclaiming that potatoes are the only 'vegetables' necessary for Christmas dinner, I disagree – a hearty selection of seasonal British veg is essential on Christmas day. To offset the saltiness of gravy, stuffing, and roasties, most families opt for a variety of veggies. Think red cabbage made with festive spices, glazed parsnips, and buttery carrots. However, nothing is more suited to a Christmas family gathering than Brussels sprouts, a vegetable that divides most people – providing yet another good old family row on the day.
You can convert the most stubborn Brussels sprout haters with this recipe, which pairs the detested veg with crisp pancetta, parsley, and roasted chestnuts. To make this more affordable the pancetta can be switched out for bacon – and it's just as tasty. For the veggies, Sainsbury's sell 'Vivera Veggie Bacon Pieces' which are a perfect replacement for the pancetta/bacon aspect.
Posh Brussel Sprouts (serves 6):
Ingredients:
500g Brussel sprouts
125g pancetta/bacon (remove rind and cut into small cubes)
½ tbsp vegetable oil
240g chestnuts (the vacuum-packed ones – they are pre-cooked and peeled)
30g butter
1tbsp light brown sugar
Black pepper
A bunch of chopped fresh parsley – as much as you see fit.
Method:
1. Trim the bottoms off the sprouts and cut a cross into the bottom of each. Discard of any wilted or discoloured leaves.
2. Steam them over a pan of boiling water for about five minutes, depending on size, until just tender. Make sure they retain a bite – there's nothing worse than soggy vegetables! Pop these in a bowl on the side when finished.
3. Meanwhile, cut the rind off the pancetta/bacon, and cut them roughly into 1cm cubed pieces, using either scissors or a knife. Keep the rind/fat to the side for later.
4. Put the cubes of pancetta/bacon into a frying pan with the vegetable oil. Stir these with a spatula and as the pieces become golden, scatter on the sugar. Continue to cook these until crisp (not dry!) then remove into a separate bowl.
5. Add the butter and the chestnuts to a pan big enough to fit all the ingredients.
6. Using a spatula, press on the chestnuts to break them up gently. When they're warmed through, and the butter has melted, turn up the heat and add the pancetta/bacon fat so that a savoury syrup forms.
7. Add the steamed sprouts, pancetta/bacon, and parsley, mixing them well so they're covered in the savoury goodness. Give a good grinding of black pepper on top – you shouldn't need salt, given the pancetta/bacon.
8. Spoon into a warmed dish and watch everyone's perception of their least favourite vegetable change!
---
Stuffing – Emma Woodhouse
Get stuffed with this stuffing! It is easy, it makes the kitchen smell bloody phenomenal and so scrumptious that I could easily sit down and eat a bowl of it on its own while watching awful Hallmark Christmas movies.
Ingredients:
180g roasted chestnuts
445g sausage meat
100g bacon lardons
1 large onion – diced
1 bramley apple
50g bread crumbs
1 tsp sage
1 tsp parsley
1 tsp thyme
1 tbsp butter
Salt and pepper
Method:
1. Preheat the oven to 180C.
2. Rub the chestnuts into a large mixing bowl. They don't have to be even, crumbs and large or chunky bits are fine as they are incredibly soft.
3. Add the sausage meat, herbs and seasoning.
4. On a medium heat, fry the onion in butter until soft. Once soft, add to the mixing bowl.
5. On a medium/high heat, fry the bacon lardons. Once cooked, add to the mixing bowl.
6. Grate the apple directly into the bowl, skin on.
7. Add about 40g of bread crumbs and give all the ingredients a really good mix.
8. Spread out the mix into a rectangle or square oven dish. I personally use a shallow square dish as a like to have more of a crunch around the edges.
9. Pour the remaining bread crumbs evenly over the top and add a bit more seasoning if needed.
10. Place in the oven, on the top shelf, for about 40 minutes.
11. If you want the topping to be a little crispier, place under grill after the oven for around five minutes.
12. Once out of the oven, serve immediately with lashings of hot gravy, or leave to cool and refrigerate for later stuffing-based boxing day sandwiches.
---
Condiments – Emily Calder
Cranberry sauce is, in my opinion, the true unsung hero of the Christmas dinner. A delicacy borrowed from our American friends and their traditional Thanksgiving spread, Brits adopted it pretty quickly as a partner for turkey. I think, however, that cranberry sauce is complementary to just about anything on your plate.
As a vegetarian, it remains one of my favourite parts of Christmas dinner, and it definitely doesn't need the turkey to make it special! The tartness it adds to the meal really enhances the flavours of the stuffing and veg on my plate, and the bright red colour it brings to a dish quite often overpowered by beige potatoes and parsnips (and heaps of gravy, of course) is just delightful.
It is so easy to make from scratch, and is one of my favourite things to prepare every year alongside my Grandma – as soon as the smell of fruit and spices fills her kitchen, I am more than ready for the festivities. Whether you prefer to buy it in a jar or make this sauce yourself, I think it's a true staple to Christmas dinner, and definitely has an important role on our plates.
---
Dessert – Toby Fenton
With regards to dessert at Christmas, we traditionally reach for Christmas pudding, Christmas cake or even mince pies. However, I feel that the first two desserts in particular are past their time and are now rather boring options – as exciting as burning brandy over a Christmas pudding is. In my opinion, there are better, more interesting options. The dessert I wish to advocate here is the delicious sticky toffee pudding. It is perhaps my favourite dessert of all time, and I think it sits well as a finale to Christmas dinner. My recipe for sticky toffee pudding is rich and delicious, with extra toffee sauce, because you can never have enough of it.
Ingredients:
For the sponge:
175g dates
1 rounded tsp bicarbonate of soda
50g salted butter, plus extra for greasing
Pinch of salt
150g soft dark brown sugar
2 large eggs
175g self-raising flour
1tsp vanilla extract
For the sticky toffee sauce (to go on top of the sponge)
250ml double cream
80g butter
80g soft dark brown sugar
For the extra sauce:
300ml double cream
50g butter
50g soft dark brown sugar
Method:
1. Preheat the oven to 180C/Gas 4.
2. Place your dates into a mixing bowl and pour over 275ml boiling water, then allow to soak until the water is lukewarm (this takes about 10-15 minutes).
3. Meanwhile, measure out all your other ingredients, and put into a food processor. When the water has cooled, add the dates and the water to the other ingredients and blitz until nearly smooth and the dates are reduced to small specks. Alternatively, if you don't have a food processor or blender, finely chop your dates and then mix with the rest of the ingredients in a large mixing bowl.
4. Generously butter a baking dish, then pour in your sponge mixture. Bake for 40 minutes, or until firm to the touch.
5. Meanwhile you can make the sauce. Add the topping sauce ingredients to a pan and cook over a gentle heat until the mixture briefly boils. In a separate pan add the extra sauce ingredients and repeat the instructions of the other sauce. You can either make the two sauces in two separate pans or make one after the other.
6. Turn your oven up to 220C/Gas 6/moderate grill. Pour the topping sauce over the top of your sponge and place the sticky toffee pudding back into the oven, until the sauce is bubbling on top.
7. Serve up with cream, or even better, with a scoop of ice cream.
---
Low Effort, Low Cost Alternatives – Harriet Laban
The next few weeks of term will be full of people scrambling to fit in a Christmas dinner with their flats and friendship groups. However, what if you're terrible at cooking? What if you really don't have time? Well, most supermarkets will not only provide you with all the elements of a gourmet feast, but also those of a lazy person's dreams. I'm going to give you some ideas of how to make the best of the easy options supermarkets have, so you can still have a delicious meal.
Centrepiece
Whether this be a meat-lover's paradise or vegan heaven, the centrepiece is arguably crucial. However, buying a turkey can be pretty expensive, and likewise  might be buying meat-free alternatives. To beat the budget, go for a chicken instead; a bit smaller, more moist and definitely cheaper. To really add flavour, rub in and stuff with herbs and spices of your choice. Rubbing in a stock cube can do wonders to add flavour. As for the meatless option, you can't go far wrong with a homemade nut roast, which is easy to make and tastes wonderful. I will also put in a mention for pigs in blankets – buy them ready made! There are some weird and wonderful options out there that all mean that you don't have to spend hours wrapping them up by hand.
Potatoes
You might be a potato snob at home, but at uni there is little room to be picky if your culinary skills don't match those of whoever does the roasties at home. The perfect roast potato is hard to achieve, but buying them frozen is a good option. You can skip the hours of peeling and par-boiling, and you needn't fear the spitting oily pan. Just empty them onto a baking tray, whilst frozen, and follow the instructions on the packet. You may wish to sprinkle with a little rosemary to give them some extra pizzazz, but otherwise leave them be. They come out crispy on the outside and fluffy in the middle. Just remember, if they're not up to your standard, then you have still saved yourself a lot of time and energy.
Yorkshire Puddings
There are two options on the table here to substitute making them from scratch – either buy pre-made pancake mix (as this is also the same batter used to make Yorkshire puds), or feel free to buy frozen! Both options are great as they save the messy process of making batter, which is a massive relief in a student kitchen full of a semester's worth of washing up.
Vegetables
At all times of the year I am a firm believer in buying frozen veg. It saves time and storage space, and is far less expensive than buying fresh. Of course, certain things like Brussels sprouts do taste better in their fresh form, but compromising by adding in a frozen mixed veg medley won't do any harm when combined with other elements. If you do choose frozen, a drizzle of honey over parsnips and carrots, or a sprinkle of chilli flakes in your sprouts, can elevate your vegetables from plain to the talking point of the meal.
Gravy and Stuffing
My recommendation for these items are to use gravy granules and a packet mix. Sounding a little dull? Well, to improve your gravy, feel free to add a spoonful of cornflour, which instantly thickens the liquid. Also, a dash of gravy browning can do wonders for making the colour look richer and more appealing. As for stuffing, the trick is to make packet mix as normal, but then to add a chopped onion to bulk it out. Either red or brown onions work, but they make a little go a long way and add some much-needed flavour; a squeeze of lemon wouldn't go amiss either.
Dessert
There is a lot of pressure on puddings to wow guests, but for a student Christmas dinner, all you really want is something yummy and sweet. Raid the frozen section (a definite theme of a cheap Christmas) and discover an array of cheesecakes, oozy roulades and fruity crumbles just waiting to be warmed up. With the addition of fresh custard, and a mince pie or two, you can do no wrong.
By no means are these suggestions prescriptive, as what I aim to show you is that no matter what, you can make a shared meal fun and flavoursome on a very tight budget. The most important part of having a Christmas meal at uni is to spend the time with friends; even if your roast is a disaster, always keep this in mind.