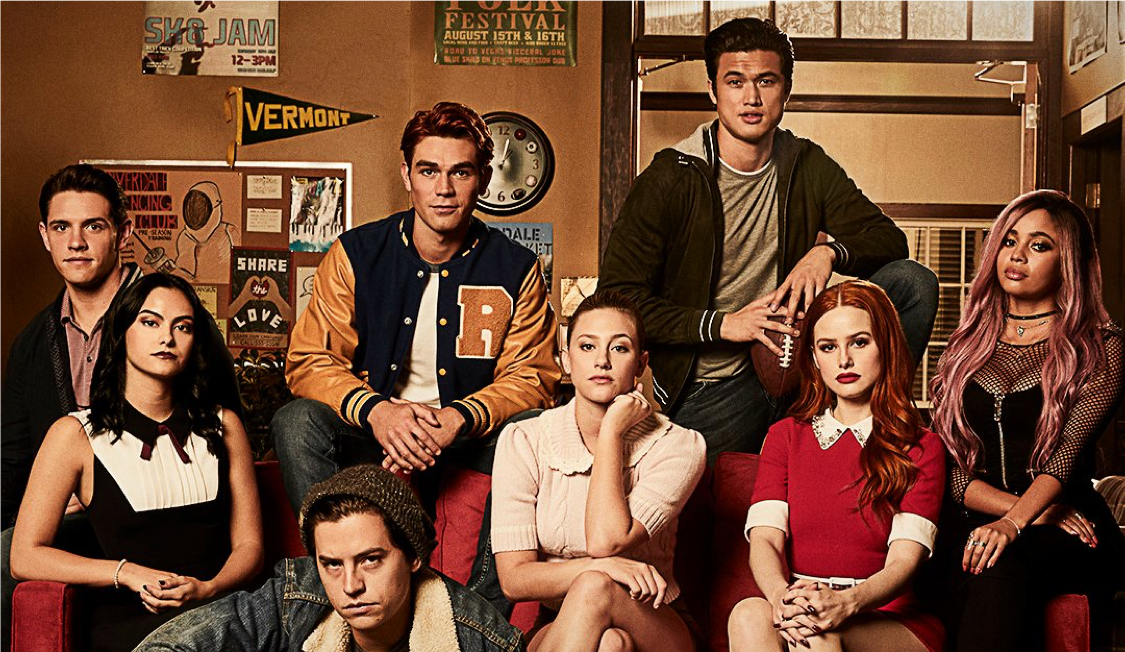 TV Critic Phoebe Geary makes a case for the 'best-worst' show on our TV screens today
With Riverdale returning to our screens this Thursday, fans are already busy tweeting away their predictions for what the next instalment has lined up. It's true that Riverdale has already covered most of its bases. From drug cartels to religious cults, bear attacks and paranormal dolls, Riverdale's four-season run has tackled everything from the creepy to the downright bizarre. With the current season teasing the murder of one of its main characters, it seems no storyline is off limits for this dark Archie comics adaption. 
Yet despite its position as one of Netflix's most watched shows, Riverdale's out-of-the-blue twists and sporadic plotlines have earned the series a reputation as one of the worst written shows on T.V. Indeed, it's hard to argue that the series hasn't produced some of the cringiest lines of dialogue in recent years. From Cheryl being 'coo-coo-bananas' about her girlfriend to Jughead's much-memed 'I'm a weirdo' monologue, the writing often seems transposed from a badly written Wattpad fanfiction. So how, with such universally accepted bad writing, does a show like Riverdale continue to garner so much attraction?
One thing most Riverdale-haters fail to acknowledge is how painfully self-aware the show is. Only halfway through the first episode, Riverdale already pokes fun at itself for its out-of-date gay best friend and shock-value girl-on-girl snog.
Even Riverdale's meta-references to characters' 'ship' names, often dismissed as instances of clunky writing, underscores the show's self-conscious grounding in online fandom. With random musical episodes, multiple murders and a constant rejigging of romantic pairings, Riverdale is perfectly suited to today's internet era of fan theory and wild speculation. Riverdale's very narrative demands and depends upon ironic viewing.
Riverdale also has other saving graces. As an homage to the vibrantly coloured Archie Comics, Riverdale's 50s aesthetic – brightly lit neon signs, vintage milkshake diners and all-American varsity jackets – is one of the most visually appealing. While the character relationships and storylines rarely line up, Riverdale's scenes – usually only a few minutes long – give off the narrative illusion that the show is composed of individual comic-book style instalments, all feeding into the main storyline. 
The randomness of Riverdale's plotlines also lends itself to the original comics. Even Jughead's 'stupid hat' is a homage to the iconic whoopee beanie he is never seen without in the comics.
Riverdale knows who its target audience is and has no issue appealing to fan service. It fills the void that opened when teenagers lost The Vampire Diaries, Teen Wolf and Pretty Little Liars in 2017 all at once. It's well aware that its fans aren't particularly interested in 'great writing' but thrilling plot-twists, aesthetic iconography and character 'ships'. Riverdale's writing is no worse than most other teen dramas but the show's ability to capitalise on its campiness and consciously exaggerate these elements is both ingenious and unique. In doing so, Riverdale sacrifices narrative cohesion in exchange for a whole lot of fun.
The paradox of Riverdale is that its so-called 'bad writing' is what makes it so great. All Riverdale's flaws are also its strengths: the terrible writing, absurd names, lack of cohesive narrative and random breaks into song all make Riverdale the best-worst show on T.V. today.