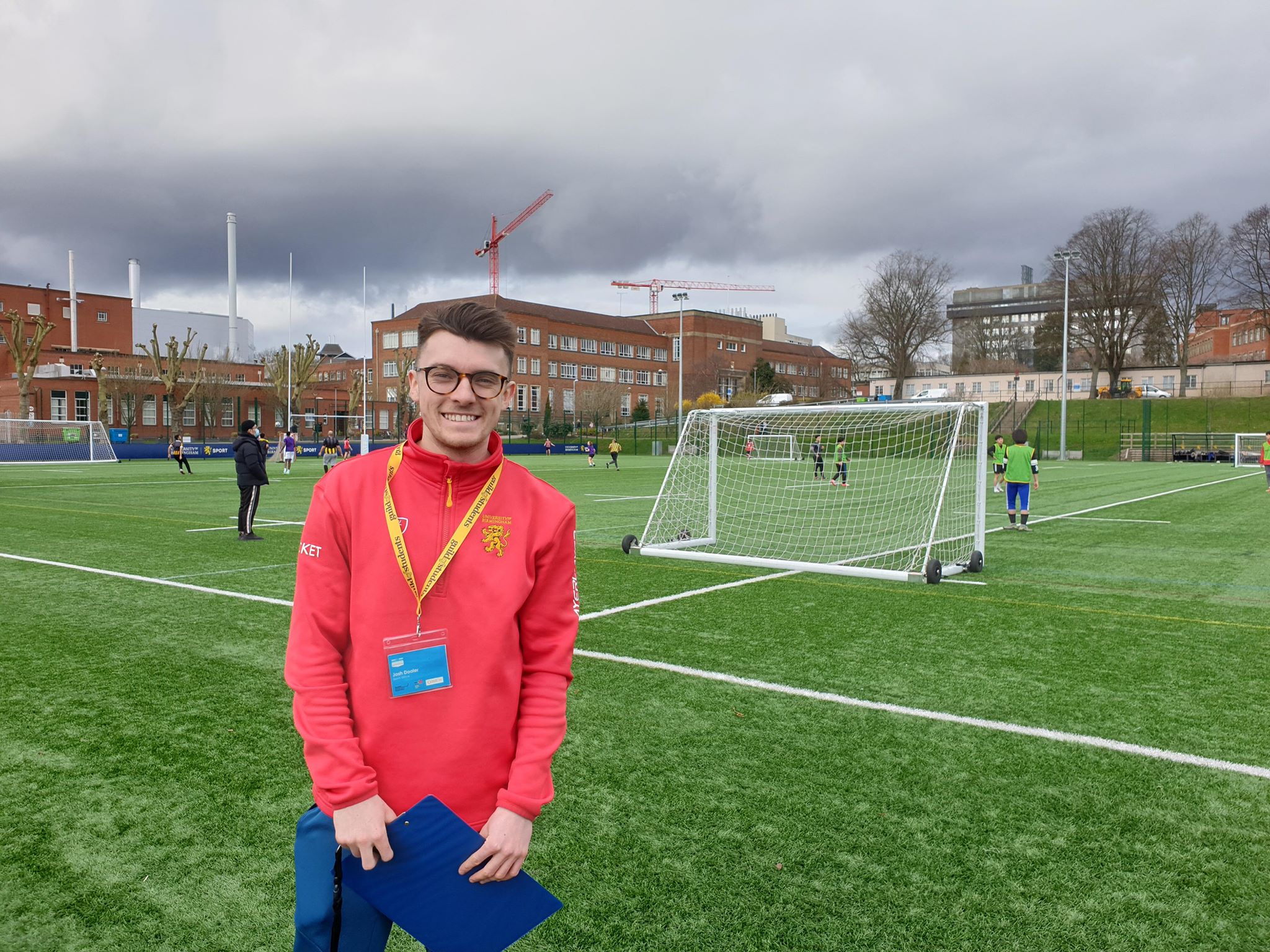 Sport Writer Jack Wooldridge talks to outgoing Guild Sports Officer Josh Dooler as he reflects on his busy year in the role
Josh Dooler's term as the Guild's Sports Officer has certainly been an eventful one. He has overseen new events, supported important campaigns, and worked around the UCU strikes and COVID-19 crisis.
Back in March 2019, under the catchy campaign slogan 'JD Sports,' Dooler stood on an ambitious manifesto that focused on encouraging more Birmingham students to get involved in sport – either through a sports club, the Campus Leagues or one-off events around the university. He also sought greater collaboration with the student media groups, in addition to promising a welfare officer on the committees of University of Birmingham (UB) Sport's 55 clubs.
Dooler's 'One World Cup' was one way in which he has delivered on his manifesto promise to increase involvement in sport. Working alongside the international officer, Joanne Park, a six-a-side football tournament took place on the Bournbrook pitches between various international societies. This was part of the One World Festival, which celebrated the variety of cultures on campus.
'It was good to see everyone come together,' said Dooler. 'It was one of the big things that got traditionally minority groups of students involved.'
Additionally, the 'Battle of the Halls' sports day took place in September, where 200 first-year students signed up for six different sports. This event was introduced by the previous officer, Simon Price, but its expansion in its second year reflects Dooler's willingness to build on his predecessor's work and help first-years immerse themselves in sport at the earliest opportunity.
'Each sport was available to play in the Campus League and there were pathways for students to create teams with the ones made in their halls,' Dooler explained.
Elsewhere, Dooler has looked at other ways to make sport more inclusive at the university. An example of this was the 'LGBT Within Sport Week' in November 2019. This involved a big social media campaign with Birmingham's own LGBT athletes, highlighting UB Sport's diversity. The week also coincided with lacrosse's showcase event, Uproar, where two games were played out in front of large crowds at the Bournbrook pitches.
'The players all wore rainbow laces and the LGBT Association came along, distributing flags, face paint and fliers to the spectators,' Dooler explained. 'We thought we would take it above and beyond the Rainbow Laces Campaign and increase awareness to try and improve diversity and equality in sport on campus, because I feel that is really important.'
Dooler has also worked closely with Alice Fowle, the disabled students' officer, and developments have been made to remove the barriers that prevent disabled students from participating in sport. For instance, the rowing club have now got machines with an adaptable seat for those with disabilities.
After early conversations with the media groups, the coverage of British Universities and Colleges Sports (BUCS) competitions has expanded. 'The sport is so good at UoB and it should be celebrated throughout campus,' said Dooler. BurnFM have got a BUCS updates segment, Guild TV have previewed some of the big events, and Redbrick have a dedicated BUCS page. Meanwhile, Dooler has taken to Facebook page Fab N Fresh to post fixtures, results, and other details.
Whilst there have been many positive developments, Dooler has also faced challenges in his attempts to fully deliver on his manifesto. He soon realised that his pledge for a welfare officer on the committee of every single sports team was unattainable. 'UB Sport and clubs chose not to have that welfare role as there might be quite a lot of pressure if many members had problems and especially if the person did not have the qualifications needed.' However, he did not give up the fight to improve welfare across university sport. Delivering welfare workshops at a Presidents Networking event, the feedback that Dooler received was given to UB Sport in terms of what they can work on regarding welfare.
Under Dooler, the BUCS showcase events – Xplosion, Engage, Intercept, Lockdown and Uproar – were integrated together for the first time as part of Birmingham's BUCS Super Series. The events have engaged the wider student community and demonstrated the sporting talent at the university. 'It has been such a good focus on university sport,' stated Dooler. This year, four sports teams reached their respective BUCS finals, which will not be played due to the coronavirus pandemic. Dooler, who chairs the BUCS West Midlands committee, has reassured the teams that they will receive some form of recognition from BUCS for their impressive achievements.
In light of the COVID-19 crisis, Dooler is now working from his home in Manchester. 'I have messaged each of the sports club's captains individually to check up on them, to see what they are been doing AGMs-wise and what they are doing to keep everyone engaged.' Many teams have encouraged their members to stay active by raising money for charity and their fundraising efforts have been outstanding.
Dooler also revealed plans are in the pipeline for a virtual club conference in June. Despite the difficulties of coordinating the large-scale event, Dooler has kept a close eye on other universities that have already carried theirs out to ensure Birmingham's equivalent runs smoothly.
Students have also been frustrated as the university have not yet refunded gym memberships since their closure as part of the government's lockdown measures. Dooler told Redbrick Sport that he has made significant progress lobbying the university and that there will be a 'big announcement' in the coming week.
There is no doubt that Dooler will leave the Guild with university sport in a much stronger place. Whilst notably achieving his target of greater student participation in sport, he also deserves credit for the leadership he has shown by guiding sports clubs and students through this difficult period.
Like this article? Please check out some other Sport articles below:
Beating the BUCS Blues with the Tri-solation Challenge
How UoB Sports Clubs are Keeping Spirits High