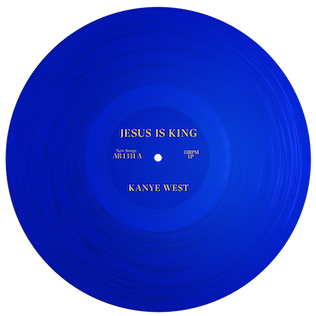 After months of delays, Kanye West has finally released Jesus is King yet Music Writer Seb Rolley finds the record lacking
A year ago, Kanye West promised us Yandhi, a follow up to the surprisingly great Ye. After weeks and weeks of delays and disappointments, it never came. However, following a year of exploring religion and music through his Sunday Services, he announced Jesus Is King. After weeks and weeks of delays and disappointments… it actually came.
It's here. Kanye West's new 'gospel' album. 
The first three tracks of the album establish the blend of christian teachings and modern hip hop that defines the sound of Jesus is King, moving from gospel sounds into chopped soul samples and driving beats. Unfortunately, often incredible elements within each song feel like they don't quite fulfil their potential at times. Despite the many superb instrumentals, Kanye's lyricism often feels heavy-handed, such as the wordplay on 'Selah.'
'Before the flood people judge, they did the same thing to Noah' isn't bad because of its overt religiousness, it's bad because it is simply clumsy wordplay. The majority of the conversation around the album seems to have been about whether people agree with the views expressed in his lyrics, and not the strength of those lyrics themselves. However, with Kanye's sometimes poor lyrical style comes his fantastic production, and that's impossible to ignore on this track. 
'Closed On Sunday' is by far the biggest misstep of the album, a meandering formless track. Repeating 'closed on Sunday, you're my chic-fil-a' Kanye takes the song nowhere, leaving it feeling unfinished. Easily the highlight of the track is Kanye shouting 'CHIC-FIL-A' as the track finishes, an odd but amusing ending to one of the worst tracks Kanye has ever released. 
Directly following this low point is the best track on the album, 'On God.' Featuring a fantastic beat co-produced by Pi'erre Bourne (known best for his work with Playboi Carti), Kanye raps about societal change through the lens of the bible and his faith. This track is everything that makes Kanye's best music great and it's a shame it's not surrounded by others of similar quality. 
Partially because of the sheer weirdness of their combination, 'Use This Gospel' featuring Clipse and Kenny G is an undeniable highlight. The kings of cocaine rap and the king of smooth jazz appearing on a song together is almost unbelievable. They do make for fitting features, No Malice (formerly known as Malice before his very public conversion to Christianity, predating Ye's by some years) and Pusha T's verses are as strong as to be expected of them, delivered with their signature cold flows. These verses pair well with the production and Kanye's vocals are also strong here. Kenny G's smooth sax outro doesn't necessarily fit with the rest of the song but doesn't ruin it either. For all its strangeness and unlikely conception, this is a pretty good song.
Jesus Is King is clearly not Kanye's best album but contains enough great moments to make it easily worth a listen. If you're already a fan check this out but if not, there are far better places to start.