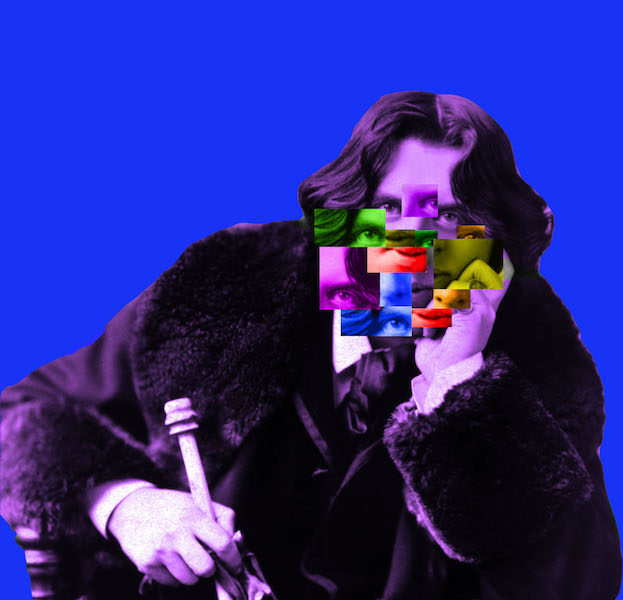 Culture Writers reflect on some influential figures and movements related to LGBTQ+ history
Katie Norris
David Hockney's work ranges from monumental paintings of swimming pools that depict an appreciation of the male form to drawings of flowers in vases on his iPad, from overly saturated landscapes to parred back pencil drawings, reinventing his art forms over and over whilst retaining a recognisability. The high saturation of these paintings, and performative movement in his swimming pools paintings have been previously associated with camp aesthetics, and this aesthetic is why Hockney's work is so eye-catching, drawing us into these landscapes. 
His own identification as a gay man played into his art, and this camp aesthetic is a testament to him being able to make what he called "propaganda" for queer love. By making his desire for men an important part of his art, he took the heterosexual narrative of the 'gay agenda' into his favour, normalising romance and queer attraction in a time when homosexual acts were still illegal. 
Two favourite pieces that incorporate this desire into imagery have to be 'Adhesiveness' and 'We Two Boys Together Clinging'. 'We Two Boys Together Clinging' takes a childlike sketch of two stickmen holding each other and kissing, with the blurred faces creating a liminal space within this intimacy, only a red smudge between the two faces suggesting a kiss. This piece contrasts this ambiguity with the words "we 2 boys together clinging" written around the two figures, making this explicit, and as these words come from a Walt Whitman poem, Hockney directly places himself within a legacy of queer art. 
The shapes and colours of this piece creates a continuity with 'Adhesiveness' which uses modernist imagery to create a scene of two scarlet figures penetrating each other. Hockney moves to portray a different form of explicitness, moving from an intimate portrayal to a more sexual one. By using modernism to present phallic images and bright colours, he effectively celebrates homosexual love by blurring the boundaries of real and imaginary to create a place for homosexual pleasure and actualised desire in the art world, at a time when this space was needed.
---
Nadia Sommella
The NAMES Project Aids Memorial Quilt
The Names Project, or AIDs Quilt, is one of the most powerful examples of LGBTQ+ creative activism and demonstrates the strength of collaboration in the queer community. The artwork, one of the biggest in queer history, was a collective project started in 1986, five years after the AIDs crisis began. The quilt consists of 3' by 6' panels sewn together into larger, square parts. Each panel commemorates one or more people killed by AIDs, naming them, in an effort to give faces to the statistics that were prevalent in the media. The artwork memorialises individuals lost to AIDs and allows those close to them to voice their grief. However, it also has a wider purpose. The quilt, which was performatively laid out in public spaces, illustrated the size and severity of the crisis at a time where the President, Ronald Reagan, refused to mention the AIDs crisis in public. Several times it was laid out in its entirety in Washington DC. Most famously in 1996 the quilt spread from the Capitol Building to the Washington Monument, a length that would take you half an hour to walk. Not only did this force the public and those in power to visualise the impact of the crisis on the queer community, it also allowed them to take up physical space at a time where the community was dismissed and blamed. David W. Dunlap of the New York Times described it as 'a carpet of grief' (3rd Oct 1996).
The artwork itself is beautiful, despite the collective trauma it represents. Each quilted panel is different, utilising various fabrics and embellishments, showcasing the diversity within the queer community. Personal mementos such as dog tags, teddy bears and baseball caps are sewn into the fabric, an emotional reminder of the people behind each name. The use of a quilt as the medium is notable. It fulfils the concept of individuals coming together to create change by literally stitching each individual patch into one unified whole. It is a decorative art medium that has been largely excluded from art history and traditional art spaces, much like LGBTQ+ people have been excluded from art historical narratives. It is also an object of comfort and warmth. The Names Project is a source of comfort for people, showing them that they are not alone and that their suffering will not be simply ignored. It is a celebration of sorts, of the creative resistance and support in the queer community. The NAMES Project was nominated for a Nobel Peace Prize in 1989.It is still being added to and now consists of over 50,000 individual panels, commemorating over 105,000 individual lives. 
---
Maddi Siobhan Simpson
Carmen Maria Machado is a contemporary queer American author and essayist, with her work being published in numerous magazines, including The New Yorker, Granta, and The Paris Review. As well as this, in 2017 her collection of short stories 'Her Body and Other Parties' was published, receiving the 2017 National Book Critics Circle Award John Leonard Prize and a finalist position in the National Book Award Fiction Prize. The corpus of Machado's work is a complex blend of science fiction, magic realism, eroticism and horror, that which draws upon a rich and cross-cultural literary history as an inspiration for her ground-breaking fiction. The second short story in 'Her Body and Other Parties', named 'Inventory', chronicles the speaker's sexual experiences with both men and women throughout their life from teenager to adult, and as the story progresses it is revealed that a viral epidemic is sweeping across North America. It is the most explicitly science fiction piece of Machado's but highlights her ability to incorporate multiple genres and styles of writing to explore complex themes, particularly of queer sexuality.
Her most recent literary publication 'In the Dream House' (2019), is a memoir that chronicles Machado's own experience with psychological inter-partner domestic abuse within a lesbian relationship. It is a ground most untouched in the cultural discussions and literary explorations into the inner horror of domestic abuse, that which occurs between women. The memoir is written in a second-person narrative style, with Machado referring to her own self as 'you'. She creates a separation between herself as author and herself as victim, and through this is able to explore the horror of domestic abuse with nuance, skill and imaginative flair. The memoir is organised into short vignettes, that often blend her characteristic poetic language with critical theory, with footnotes littered throughout. 'In The Dream House' is an insightful, beautiful, emotional and at points stomach-churning text, but it is one that tells a remarkably unheard narrative, and does so with her characteristically weird and wonderful writing style.
---
Ameek Gilhotra  
Oscar Wilde's genius is more widely known than his homosexuality – for he lived in a time in which people applauded his intelligence, but reproached his sexuality. Wilde's sexuality and behaviour  was seen as 'gross indecency,' and he was subjected to two years of hard labour. Indeed, his treatment as a prisoner was intensely heartbreaking resulting in a physical and mental decline in his health. 
Condemning Wilde to imprisonment was seen as 'just' according to the establishment of the time . Even so, his works were praised by society. Shamelessly, the man who was responsible for this utter ruin of Wilde, Lord Alfred Douglas, wanted to dedicate a volume of sonnets to him. Thankfully, this did not proceed as intended, for Wilde asked his most valued friend, Robert Ross, to write to Douglas to not do so. 
Wilde faced something that no one deserves. His sexual life rested on mutual consent from all parties concerned. Even after his sentence, society punished him with their judgmental ways. His career was stolen from him and his rise to fame was out of question. Laurence Housman applauded Wilde in his 1923 Echo de Paris – A Study of Life for his graceful behaviour after the despicable way in which he was treated.
'But what I admired most was the quiet, uncomplaining courage with which he accepted and ostracism against which, in his lifetime, there could be no appeal. To a man of his habits and temperament – conscious that the incentive to produce was gone with the popular applause which had been its recurrent stimulus – the outlook was utterly dark: life had already become a tomb' – Laurence Housman.
---
Antonio Miguel Aguila 
Birmingham's Gay Village 
Birmingham has a unique LGBT culture. Unless you're a fresher or you've been living under a rock you probably heard of, in particular, Birmingham's well-known Gay Village. This safe space has been historically around since the 70s. In 1997, Angels opened itself up as the first official site for the LGBT community. From this the heart of Gay Village flourished with new LGBT friendly locations, for instance, the famous Nightingales, urges for LGBT-related causes and became the site for Pride celebrations and marches. The Gay Village has opened itself up with open arms to people who have themselves said that they 'literally have nowhere else to go.'  Nightingales has become a frequently visited nightclub among university students, not as a niche but an open place promoting an open culture available for everyone to enjoy. However, there is resistance to this idea of acceptance. At Parkfield Community School a same-sex education programme was launched and protested against. On the other hand, there are noble attempts to fix the disadvantages this group faces.
For example, Birmingham Pride awarding local charities with £20, 000 to help combat LGBT homelessness. Yet, there still seems to be bigger mountain to move. Eden's Bar: one of Gay Village's earliest is being threatened by urban development plans. This physical space where people are able to properly express and be who they are may be taken away, unless the Birmingham City Council acknowledge the Gay Village as a cultural heritage site. Although, I am cynical in this specific case I am hopeful for the future. What makes Gay Village is not its services but its people who promote a sense of belonging. This community's messages echo outside the Gay Village. There are still things to be done, but Birmingham should still be praised with its progress for the queer community. Like the butterfly effect, small actions lead to bigger consequences. In '97 a bar telling the public it was going to do something different fluttered across time to make what should be considered now a cultural heritage sight.