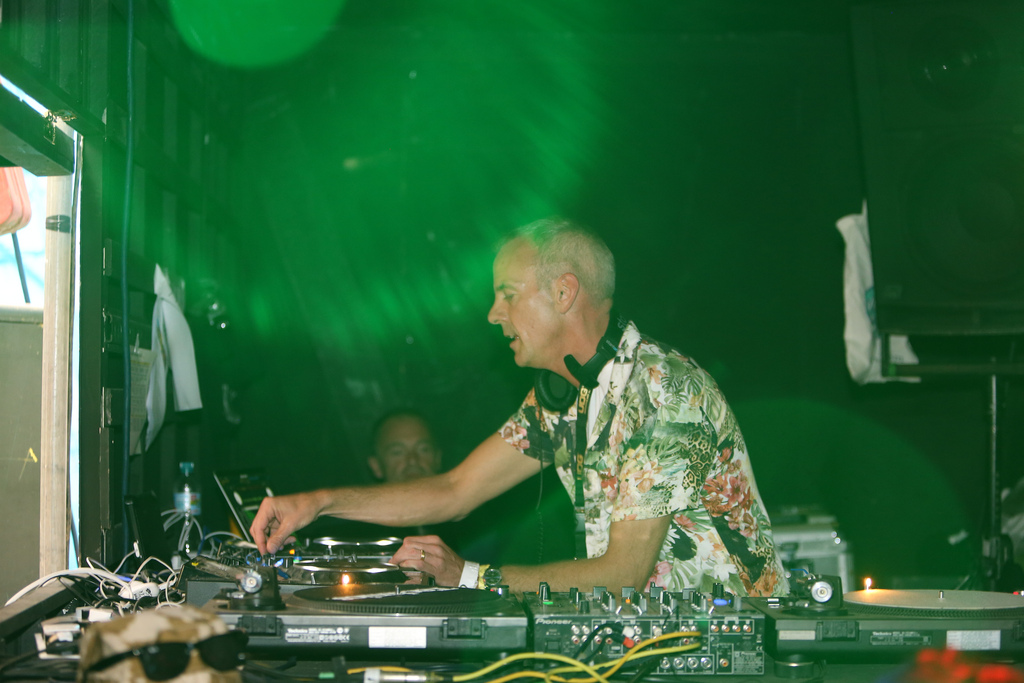 Fatboy Slim's arena tour stop was a fun but contrived live show, writes Music Editor Harry Hetherington
Big beat legend Fatboy Slim brought a stadium-friendly show to Arena Birmingham on the 22nd February, as part of six UK dates at the tail end of the month. Support came from dance duo Cousn and Birmingham native Hannah Wants, before the night's headliner arrived, appropriately Hawaiian-shirted. The whole arrangement felt definitively 'arena-sized', and probably indistinguishable from the interior of the tour's other venues in London, Cardiff, Glasgow, Manchester and Nottingham. There's nothing wrong with up-scaling if the fan demand is there, of course, but there was a bit of a disconnect between the (admittedly impressive) central revolving stage and the goings-on below. One thing which decidedly worked on the vast black floor was a uniting of generations, with twenty-somethings alongside those who were of that age when Fatboy Slim was at his creative and commercial peak in the late 1990s.

The set opened at a high tempo with his 2013 track 'Eat, Sleep, Rave, Repeat', but for those who may have naively expected an abundance of his own material over the two hours, he had something different in mind. Instead of even a healthy smattering of his own work, the majority of the set was a journey through other genres: classic house, EDM, summery samba, and plenty of sampling and splicing, most notably grand arena rock samples fit for the venue. As common as classic tunes like Deee-Lite's 'Groove is in the Heart' were ones more suited to far-flung beaches, like Sergio Mendes' 'Magalhena' or Rihanna's 'Pon de Replay'.
Amongst this was Fatboy Slim himself, constantly revolving, beckoning, enticing the arena. Above him, some faux-acid house visuals projected, including the apex-of-evolution obese man who adorns the striking album cover of 1998's You've Come A Long Way, Baby. The balance between throwback and contemporary was slightly redressed, as well, with a remixed version of Childish Gambino's 'This is America', complete with a projected rendering of Donald Glover in that iconic shirtless pose. Did all this work? Undoubtedly he covered a lot of musical ground in his selection, but it was that pre-packaged feeling and the lack of cohesion or direction between the track list that probably undermined the bulk of the set.


He didn't leave his own work alone entirely. 'Where U Iz', 'Star 69' and his reworking of Wildchild's 'Renegade Master' made appearances, but he waited until the very end for his trio of biggest hits. 'Praise You', 'Rockafeller Skank' and 'Right Here, Right Now' came consecutively, though even here with adjustments. 'Rockafeller' was mixed with the Rolling Stones' '(I Can't Get No) Satisfaction'. 'Right Here, Right Now' is a track which should have been left to stand on its own merit, instead of being teased, hinted at, for a minute or two. Perhaps writing about it in its aftermath does it a disservice, though. Though undoubtedly a sanitised version of what many would have prayed for, the gig was unabashedly giddy and euphoric. For the majority who matter, it was likely a night out well spent.