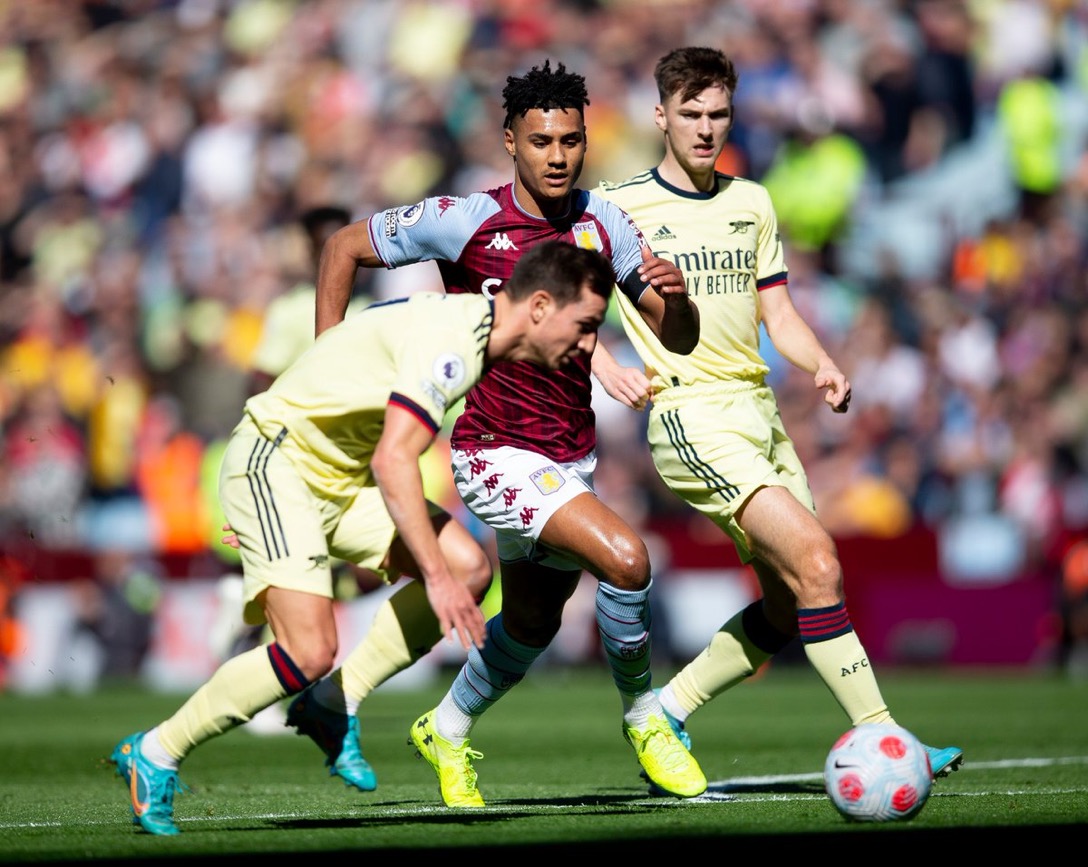 Sport Writer Joshua Adams reports on Arsenal's victory over Aston Villa, and assesses their prospects for the rest of the season
Just over a week ago, Arsenal's trip to the black country was marked with a win over Steven Gerrard's Aston Villa. Whilst the score would insinuate a game of fine margins, the match was very much evocative of how both teams had fared over the course of the season. Aston Villa are disappointingly midtable given the depth in the squad, and Arsenal, whose limited squad depth has been of increased notoriety, are battling to regain Champions League status.
The game ended 1-0 after a brilliant low-driven shot from England international Bukayo Saka rustled the back of Emiliano Martinez's goal. Whilst Arsenal had dominated possession and pinned Aston Villa to their half for a considerable part of the match, there were a couple of half-chances for Aston Villa. This included Ollie Watkin's shot which kissed the outside of Bernd Leno's post. Another chance was Philipe Coutinho's free kick just outside the 18-yard box toward the end of the game, which went just wide of the goal. In general, the result was largely due to Aston Villa's preference for a negative style of football. Aston Villa looked well-structured and tried to soak the pressure through which to counterattack. Unfortunately, a lack of forward runs in behind meant Arsenal's backline was rarely stretched, which was disappointing given the attacking pedigree in Aston Villa's squad.
There were several respectable performers for the Gunners, including Ben White and Thomas Partey, but chief among them were the Arsenal creative machines in Martin Odegaard and Bukayo Saka. For Aston Villa, it was a disappointing team-performance overall, but pockets in the game enabled spectators to view glimpses of Coutinho's agility, quick-wittedness, and control of the ball. For this reason, there is great difficulty envisaging that the skilful Brazilian will remain in the Midlands come the end of this season.
Throughout the match Villa Park was silenced by an away-end lauding a 'Super Mikel Arteta,' and as the chant goes, 'Arsenal win the Champions League.' Despite the sense of optimism surrounding Arsenal at the moment, the Gunners remain only a whisker above their North London counterparts Tottenham Hotspur, who are also in the fold for European football next year.
The next ten fixtures look ominous for 'Super Mikel Arteta' whose postponed derby with their North London rivals, may serve to the defining game in both Arsenal's and Tottenham Hotspur's seasons. This is also further complicated given the failure of Arsenal to make any immediate signings in the January transfer window. This was also marred with the departure of fourteen senior players, lending to a somewhat depleted squad. Indicators of this became clear in the game against Aston Villa where the French veteran striker and captain Alexandre Lacazette appeared tired and lethargic across the duration of the game.
Amid possible departures of Lacazette and substitute striker Eddie Nketiah, Mikel Arteta must instil a professionalism that enables players to focus on achieving champions league without being distracted by their position at the club for next season. Being knocked out in both the League Cup, and the FA Cup and not having to reconcile Europa League (or Europa Conference league) responsibility with Premier League fixtures, there is little margin for error for Arsenal who are blessed with a gifted position.
The next step for Aston Villa is also an uncertain one. Being outside the cup competitions, hopefully Villa fans will have something to celebrate in their derby against Wolverhampton Wanders at the Amex this Saturday. However, Villa fans can celebrate that they currently sit two places better off than they had finished last season, at 9th place.
New appointment Steven Gerrard, who learnt his trade managing at Rangers has proved people wrong in his success. Aston Villa fans can celebrate that they have a young manager who is attracting top players such as Coutinho who no one believed would have traded Camp Nou for Villa Park. That sense of optimism is the sort that teams need if they wish to qualify qualify for Europe.
Redbrick performance ratings:
Aston Villa
Ollie Watkins 6.5/10
Philipe Coutinho 7/10
Jacob Ramsey 6/10
Matty Cash 7/10
Ashley Young 6.5/10
Tyrone Mings 6.5/10
John McGinn 7/10
Douglas Luiz 6/10
Emi Buendia 6/10
Ezri Konsa 6.5/10
Emiliano Martinez 7/10
Arsenal
Bukayo Saka 8/10;
Martin Odegaard 8/10;
Emile Smith-Rowe 6.5/10;
Thomas Partey 7/10;
Alexandre Lacazette 5/10;
Granit Xhaka 7/10
Ben White 7/10
Gabriel Magalhaes 7/10
Cedric Soares 7/10
Kieran Tierney 7/10
Bernd Leno 7/10
---
Like this? Check out more from Redbrick Sport:
Sport's Response to Ukraine Invasion