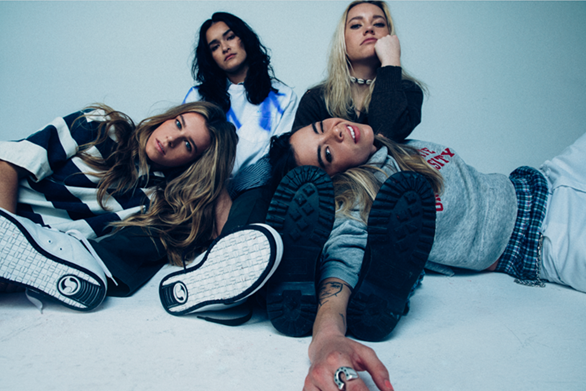 Music Critic Katie Norris discusses how musicians have been adjusting their careers to lockdown, with focus on The Aces and their new music video for 'My Phone is Trying to Kill Me'
On 8th March 2020, The Aces stepped off the stage at Florida's Okeechobee music festival after what was to be their last performance before the COVID-19 lockdown kicked in. Eight weeks later, their return to the stage seems a long way off, but this has not slowed down their musical presence during the lockdown. Their latest EP Kelly was released on 1st June, which highlights their anthemic indie-pop melodies that focus on vulnerable subjects in a balance that is a trademark of their sound. The COVID-19 pandemic has only increased this sense of duality by giving new meaning to the lyrics of these songs. 'Daydream', the lead single, tells the story of a long-distance relationship through plucky guitar riffs and strong bass. Whilst this song is reminiscent of a feel-good summer tune, its lyrics act as a reassurance to fans who are away from their loved ones during quarantine, practising social distancing. 
'Daydream' is accompanied by 'My Phone is Trying to Kill Me', the title of which riffs throughout the song playfully. 'My Phone is Trying to Kill Me' is an earworm that teases with the notorious question as to whether social media is beneficial or destructive. Lead singer Cristal Ramirez admits through punchy lyrics how social media complicates the process of 'moving on' from an ex due to the temptation to stalk all their new posts. Witty lyrics walk the balance between a lack of self-worth and a social media-fuelled ego, depicting how our online presence can inform our offline one. The Aces not only have transformed a modern anxiety into a dreamy pop song, but they have also raised awareness of the importance of self-care away from screens during the lockdown. The music video for this catchy anthem was filmed entirely in quarantine, ironically, using iPhones. The homemade video imitates the light-hearted sound of the track in its comedic camera perspectives and sees a plethora of phones emerging from cereal boxes and being flung into the ocean. 
Whilst technology is a source of distress in their latest EP The Aces have used lockdown to show that the music industry can go further than solely producing music to raise awareness, directly engaging with fans online. Their Instagram live saw them hosting a 'digital wellness tour,' where each member of the band hosted a different interactive activity with fans, from meditation to a games night, collaborating with Hippo Campus and lovelytheband amongst others. To raise mental health awareness alongside their quarantine music video, the band themselves went for 24 hours without their own phones, documenting this challenge on YouTube. Ramirez told the camera that 'frankly in this quarantine ['My Phone is Trying to Kill Me'] has never been more relatable,' and that this challenge allowed the band to have some mental rest 'in a world where we obviously never slow down.'
The music industry has by no means slowed down either, and many musicians, without the platform of live performances, have moved their work online in order to showcase it. Phoebe Bridgers has transformed her bathroom into her own studio, performing her meditative single 'Kyoto' on Jimmy Kimmel Live in an aptly named session 'Live From the Lavatory'. Bridgers' new studio gives the single an eerie effect, echoing the sounds of the synthesiser perched atop her pyjama-clad legs. Like The Aces, she is also using her music under lockdown to raise awareness for important causes, as for her at-home gig for Pitchfork she asked for the proceeds to go to the Bail Project, spotlighting the non-profit organisation. This forms part of Pitchfork's series of online concert sessions, with other artists including Soccer Mommy, Princess Nokia, and Waxahatchee. Bridgers is not alone in giving stripped-back performances from home, with Instagram becoming an important platform for many artists to go live on. Heloise Letissier, better known as Christine and the Queens, took a very different approach with her home-studio. Performing on The Late Show from her windowsill in Paris, Letissier swapped out Bridgers' pyjama set for a pale green trouser suit. She also replicates all the flare of her live performances online, posting a series of Instagram videos which see her dancing around her apartment to a virtual audience rather than a physical one.
Many smaller musicians, without income from festivals and live shows over summer, have also had to adapt their musical output, and some of the larger names in the industry are doing their bit to help out. Billie Eilish, Ariana Grande, and XXXTentacion are just a few of the big names who released masks as part of the 'We've Got You Covered' initiative by Bravado at the end of April. The re-useable cloth masks retail at £15 and all proceeds from the project are going towards Helping Musicians UK, an independent UK charity that is helping those who are struggling financially in the music industry during the lockdown. With face coverings recently becoming mandatory on public transport, hopefully this initiative will continue to raise money for those in need in the music industry. Each of these initiatives, whether it be raising awareness for mental health or fundraising for important causes, share the same community-building spirit, overcoming the isolation of social distancing. A sense of solidarity has been cultivated between artists and fans, and independent musicians and big names in the industry, meaning the musical scene has only flourished during the lockdown. 
---
You Might Also Like:
Album Review: Phoebe Bridgers – Punisher
A Beginner's Guide to: Nile Marr
Album Review: Run The Jewels – RTJ4