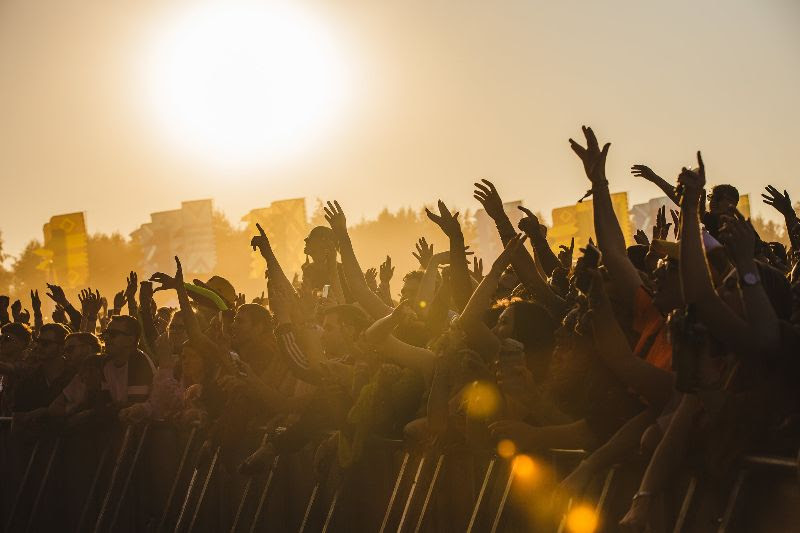 Redbrick's own Issy Campbell reviews all of the significant pros and cons of Parklife festival in Manchester.
If I was going to summarise Parklife 2019 in one word, it would be muddy. Despite summer being well and truly under way with most students having finished their exams, grey skies and heavy showers would have had you thinking differently. But, in true British fashion, spirits weren't dampened and the music went on.
Instead of going to the Sounds of the Near Future (SOTNF) stage first like last year, I headed straight to the Valley, where DJ Koze's set kicked off the weekend at my favourite stage at the festival. Playing quality techno and disco tracks, he lifted the spirits of cold festival-goers with fan-favourites Pick Up and his remix of Operator. Despite his impressive following, DJ Koze isn't always easy to catch in the UK, so if you're lucky enough to find him on a line-up you should definitely check him out.
There is no denying Parklife is notorious for its electronic and dance acts – you can find DJs galore. Although it's easy to stay at the Palm House, The Hangar or The Valley, there is also plenty of live music and usually these names aren't ones to be missed. This year NAO took to the Parklife Stage (main stage) for a 45-minute set. Shorter sets provide the perfect opportunity to relax and sit back, perhaps grab a bite to eat and plan your next few hours. Due to the weather, sitting down and relaxing wasn't really possible, but NAO's voice was a welcome respite. Sadly, the sound quality at the Parklife Stage wasn't the best, which has been an issue for the last three years, meaning NAO's voice sounded quite muffled at times. Regardless, fans sang along word-for-word as her set provided nostalgia from her older album as well as her latest work.
A big change that took place this year was the redesign of the Palm House and the SOTNF stages, as well as a change to the layout of the festival. This new layout worked extremely well and massively helped reduce congestion. The new SOTNF stage now looked similar to The Hangar, increasing in capacity and with far better production and lights. The new Palm House, on the other hand, seemed smaller from the outside, although if you were lucky enough to make it in, it actually seemed like a pretty big space. Having watched both Ben UFO and Honey Dijon at the Palm House on Saturday, I was slightly disappointed with its muffled sound-quality. Any indoor stage will struggle with clarity, but with such popular names taking to the Palm House all weekend (Bicep, Mall Grab, Peggy Gou, Hunee and so on), a stage where you have to be right at the front to hear is not really ideal. Aesthetically it was very cool, but in practice a layout more like the SOTFN or The Hangar would be better.
Despite some frustrating clashes on Saturday, Kaytranada was a no-brainer. Although we had some time to kill before his set, he was worth the wait. It was hard not to let the weather get the better of our moods, but Kaytranada reminded everyone why they were there. His set was fun, upbeat, and his energy throughout the performance was contagious. Every song was received with a cheer as festival-goers sang with their friends to songs that must have played in their houses on repeat. 99.9%, the world-renowned producer's second album, featured heavily in his set. Playing TOGETHER, LITE SPOTS, GLOWED UP, VIVID DREAMS and of course TRACK UNO, what's not to love? He also played IT WAS MEANT 2 BE, released in 2018, which really showed off his talent as a producer who can play with different sounds blending neo-soul into electronic melodies.
Half way through his hour-long set, however, the decks cut out, causing a slight backlog in his timings. As he drew to a close with Be Your Girl, another well-loved track, Kaytranada announced to the crowd that he was being cut off, despite being on his track. As soon as it turned 9.01pm, the music cut out, the lights turned off, and Kaytranada, clearly frustrated, walked off stage. Although festival timings need to be tight, it seemed outrageous to kick him off so abruptly. With a name that big, and considering all the clashes that meant for much of Saturday there wasn't always someone on, it was a real shame to have ended the best set of the weekend like that.
Saturday headliners included Christine and the Queens, Eric Prydz, Hunee and Disclosure. We opted for the latter. Playing a set full of their own tracks as well as dance classics, Discolsure kept the energy high. Playing When A Fire Starts To Burn, they also played F For You as well as White Noise; the Surrey born duo reminded everyone of their strong discography. Whether you were a fan of Disclosure on the release of Settle back in 2013, or love their more recent funk-inspired singles, they are a headliner that won't let you down.
Leaving Heaton Park has never been easy as tens of thousands of people queue for the buses back to Piccadilly, but this year was an absolute nightmare. Having left no later than 11.05pm from The Valley, the closest stage to the exist, we found ourselves stuck in a two hour wait for the bus. Delays happen, backlogs happen, but perhaps it's time Parklife take a look into transport or another location, or stop trying to grow the festival before these long queues and wait times become even more chaotic.
Returning to the festival on Sunday, we headed to The Valley to catch Black Coffee, a South-African producer who has made his way onto the scene through the Red Bull Music Academy back in 2003. His knowledge of music was clear – he knew exactly which tracks to play, fusing all types of songs together yet remaining loyal to his soulistic sound. His mixing was flawless, and he sampled the likes of Michael Jackson's Thriller, as well as Somebody That I Used to Know by Goyte.
Although originally Saturday seemed to boast a better line-up, Sunday was definitely the better day. Heading over to the SOTNF stage, we watched one of the members from Maribou State preform a DJ set. Although nothing hugely spectacular, he did play Parklife by Blur, which I was surprised I had never heard played before at the Festival – and it certainly went down a treat.
Following on from Maribou State was Jungle, a band that will never let you down. Not only do they bring quality production with their lighting, but they know how to work a crowd. The Heat, Julia and Time Again were all extremely well received as they completely lifted the spirits of all those flocking into the tent to escape the rain. They are a must see at any festival.
Staying at the SOTNF stage, Mura Masa came on next. As a huge fan of the 23-year old producer, this was the 13th time I was seeing him live, and once again he was incredible. There was no lull, no moment when you wanted to stand still. Opening up with Messy Love followed by Nuggets, the atmosphere was electric from the start. With only a one-hour slot, he also played All Around The World, One Night, Move Me and Love$ick. The highlight, however, was when he brought on his close friend and fellow artist Slowthai for Doorman. Ask anyone who was there – that was a moment no fan will forget. Ending on Firefly, which was released back in 2015, it's clear that Mura Masa has made timeless tracks, and continues to create music of immense quality.
Ending the weekend back at The Valley, Major Lazer took to the stage. Although Major Lazer always put on a good show, the decision to see them was perhaps less for their music but more for tactical purposes. Not wanting a repeat of the night before, we wanted to make sure we were near the exist so that we could try to leave earlier and avoid the queues. This meant we weren't going to watch George Ezra at the Parklife stage on the other side of the festival. It was a shame to feel like we couldn't stay to see Parklife off properly, but it was clear many felt the same way as by 10.45pm, people were flocking to the exit.
With that, Parklife 2019 came to a close. Despite the weather, the festival was certainly a good one. Previous years have been better, and there were a few incidents which brought the weekend down a bit, but regardless, Parklife will always be a fantastic way to see out the end of the University year. It is perhaps a festival for younger people, with the demographic largely feeling between 16-20. It's guaranteed to have a good line-up and it'll always be a good laugh, but it certainly hasn't reached its peak quite yet, and it's clear that the organisers are always working to improve and better the experience. If you're up north, or can visit friends in the area, Parklife is definitely a festival you shouldn't think twice about booking.