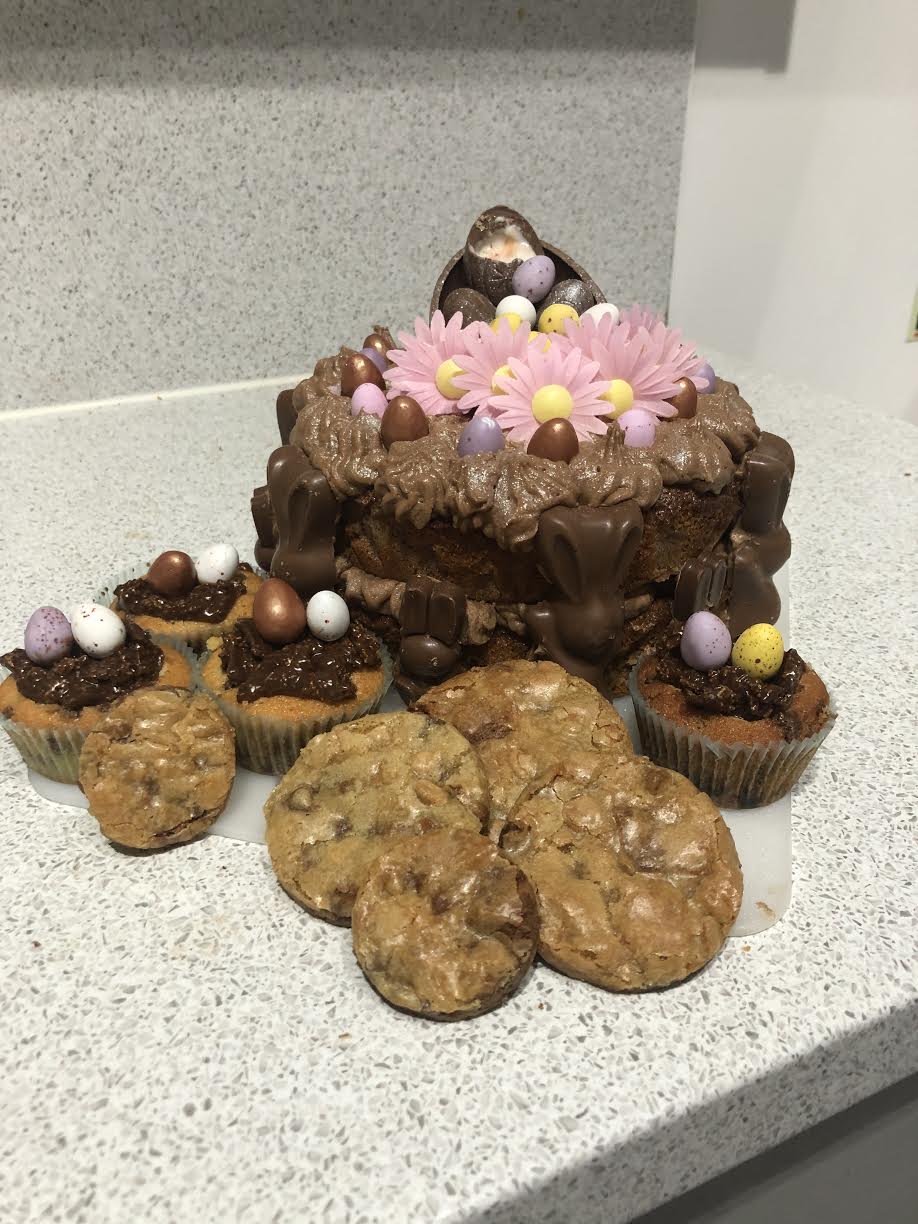 Food&Drink Writer Louisa Kitley shares her show-stopping spring bake recipe that is perfect for Easter
Whilst Easter is most important for its religious significance, there is one part of it that can be loved and enjoyed by everyone – chocolate. At this time of year it is impossible to go into a supermarket and not see displays, and sometimes even whole isles, dedicated to the different treats that come out for Easter. These have branched out from just the Easter egg, as there is now a huge range of Easter themed treats, from the classics (such as Mini Eggs and Malteser Bunnies) to the new Reese's Peanut Butter Egg. Whilst these can all be eaten and enjoyed as they are, jazzing them up and incorporating them into a recipe can be a lot of fun, as well as making them an even tastier way to indulge over the holiday period. Here I have curated a few recipes to hopefully cater to everybody wanting to incorporate these festive treats into their cooking.
---
First we have mini nest cupcakes, which aren't too complicated to make, but look like they have taken a lot of time and effort if you want to show off this Easter time.
Ingredients
For the cupcake:
170g self-raising flour

170g butter or margarine

170g caster sugar

200g chocolate chips

1 tsp vanilla essence

3 medium eggs
For the nest:
150g chocolate shreddies cereal

75g butter or margarine

150g milk chocolate

4 tbsp golden syrup

1 packet of mini eggs
Method
In a large mixing bowl, cream together butter and sugar until light and fluffy. Make sure you do this long enough to ensure your cakes have a light, airy texture. 
Add the eggs and vanilla essence and whisk into the butter and sugar mixture.
Sieve in the flour and fold into the mix, making sure not to mix it roughly so that it remains light and aerated. 
Add the chocolate chips and stir into the mixture carefully to avoid losing the air pockets. 
Pour the mixture evenly into cupcake cases and cook at 180° for 15 minutes, or until cooked through.
Whilst these are in the oven, melt the butter for the nest, chocolate and syrup together in a pot. After this has melted, you can take this off the heat and add the shreddies, crushing them as you stir it all together.
Once the cakes and nest mixture have both cooled, cut the tops off so that there is a dip. Then place a tablespoonful of 'nest' into each dip, arranging it so that it resembles a bird's nest. To this, add the mini eggs to complete the nest look.
---
If cakes aren't your thing you could try these delicious peanut butter and chocolate chunk cookies.
Ingredients
225g caster sugar

300g plain flour

200g melted butter

1tsp vanilla extract

1tsp baking powder

1 pinch salt

1 egg

2 packets of Reece's Mini Reester Bunnies
Method
Combine both sugars and the melted butter in a large bowl and mix together.
Add the egg and the vanilla extract and mix into the butter and sugar.
Sieve the flour into the mix, along with the salt and the baking powder, and combine to form a dough. 
Now add the Mini Reester Bunnies, breaking them in half if necessary. 
Roll out the dough on a floured surface and use a cookie cutter to make rounds. 
Place these rounds of cookie dough onto a lined baking sheet and bake at 180° C for 15 minutes, or until golden brown, though leave them slightly soft in the centre if you like a gooier cookie. 
---
And finally, if you are feeling a little more adventurous, or have a particularly sweet tooth, then this decorated Easter chocolate cake would be perfect for you.
Ingredients
For the sponge:
230g butter or margarine

230g caster sugar

4 medium eggs

190g self-raising flour

40g cocoa powder
For the icing:
3 packets Mini Oreo Eggs

65g softened butter or margerine

130g icing sugar
For the decoration:
You can use any Easter treats you want! I used half of a smaller Sainsbury's Easter Egg, 1 packet of Mini Eggs, 1 packet of Galaxy Enchanted Eggs, 7 Malteaster Bunnies and 7 KitKat Mini Bunnies, as well as some edible rice paper flowers and some silver edible glitter.
Method
Combine the butter for the sponge and the caster sugar together until light and fluffy. 
Whisk in the eggs until the mixture is creamy and smooth.
Sieve the flour and cocoa powder into the mix and fold together, being careful not to lose any air pockets.
Pour the mixture evenly into two lined sandwich tins and bake at 180° C for 20 minutes, or until cooked through. 
Once the cakes have cooled, take a clean mixing bowl and sieve in the icing sugar, before adding the butter for the icing and mixing them together fully. 
Then, on a medium heat, melt the Mini Oreo Eggs. Once these are melted, pour into the icing mixture, and stir until it forms a butter cream style texture.
Pipe this icing onto one side of each sponge cake, before sandwiching them together so that there is icing between the layers and on top of the cake.
Decorate as you please!
---
More food inspiration from us….
Food of the Fortnight: Peanut Butter Three Ways