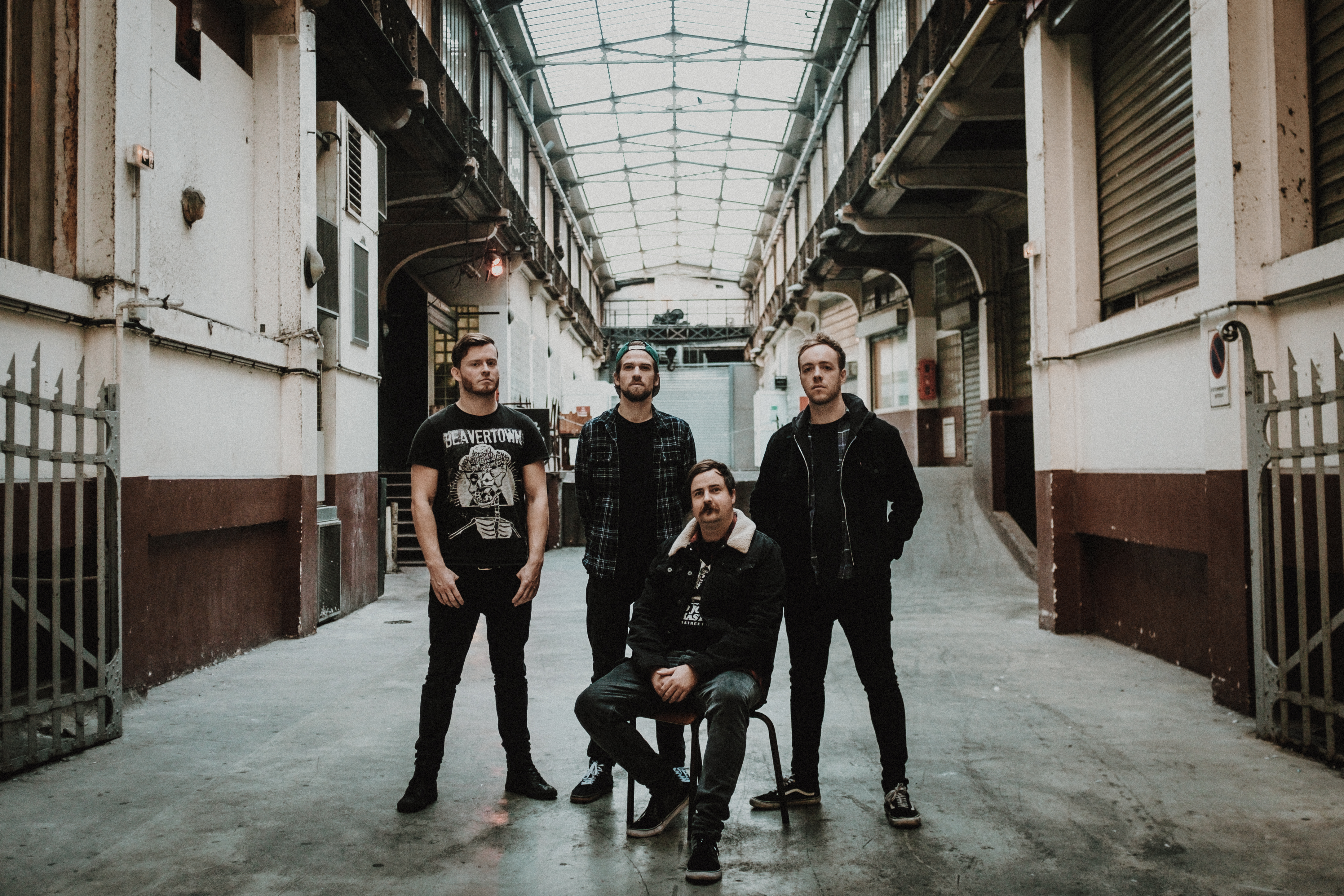 Black Peaks sit down with Redbrick Music to chat impressive beginnings, songwriting processes and an undying love for Tool
Around the back of the O2 Academy Birmingham, a few hours before his gig supporting the renowned Enter Shikari, I was greeted warmly by Joe Gosney, the guitarist of my new favourite modern metal band, Black Peaks. They're a band who, having formed in Brighton in 2012, have come a long way in their seven years of gigging – getting signed to Sony, moving to Rise Records, releasing two critically acclaimed studio albums and supporting the likes of contemporary rock giants Deftones and System of a Down. The band offer a seriously noteworthy contribution to the current heavy rock and metal scene, and deserve far more listeners for the talent they exhibit.
Joe led me through some corridors and past numerous piles of gig-bags until we reached the dressing room of a man immediately recognisable by virtue of an impressive moustache: Will Gardner, the band's lead singer. I sat down with Will and began the interview, which ended up feeling more like a casual conversation with a fellow fan of heavy music, rather than a talented professional who is actively helping to keep the genre alive.
You guys are a Brighton band – I know there's a great music scene in Brighton, was this helpful in getting you off the ground?
I think it pushed us quite hard. There are lots of bands like Tigercub, The Physics House Band, Demob Happy and obviously Royal Blood and Architects that really pushed us to do the best we possibly could. One Physics House Band gig we went to especially made us think we really had to practice more and all individually raise our game.
When you first formed, you were originally called Shrine – what was the inspiration behind this name?
We just really liked it. The guys wanted to be called "Shrines" originally, but I had a big thing against pluralisation. I think it kind of cheapens the band name. Eventually though our first manager told us we had to change the name because there are just too many things called Shrine – bands, producers, loads of things.
So what inspired 'Black Peaks'?
We were just desperate, man, we would've taken anything. I was looking at volcanoes, in particular a super volcano in Alaska that would destroy Earth if it erupted, and thought that was pretty cool. So I asked the guys what they thought of 'Black Peak', and they said that's kind of got something to it, and that people would call us the Black Peaks anyway so that's where it came from. Which actually makes us a plural band. Oh God, we're a plural band! Aaaah!
After you became Black Peaks, you got signed to Sony. How did that come about?
We had a small record release with our first company, Mountains of Records, when we were Shrine. They were really good but they always wanted to upstream us to a major label, so with great management and awesome people around us that's what happened. 'Glass Built Castles' came out, Zane Lowe played it on Radio 1, things started moving really fast and loads of record labels started taking us out for dinner, and we ended up signing to Sony.
When you were first starting out, were you always confident in your abilities or were there doubts and barriers you had to work through?
We had to work at it, definitely. We've learnt so much over the years of touring, you know, we learn a little from every band we play with. It's all a big learning curve.
What have been the best and worst gigs in your touring history?
Best was probably Wembley Arena, supporting Deftones. It was just magic. I don't think we've ever done a support slot where people have been so up for it. There are quite a lot of gigs where you walk out and people are thinking "Who's this? It's not who I've come to see", and we have to fight for it, whereas at that show people really embraced us. Worst gig would probably be last year in October, when we were in Switzerland and I had a migraine for the first time ever. I was in so much pain – I couldn't look at the light, or even get the lyrics out. I had to go and sit in a dark room afterwards, it was pretty savage.
What is your songwriting process like? Instrumentals, melodies then lyrics?
Yeah, kind of. We jam out ideas, but Joe will often get a finished song idea and bring it to us, and then we'll hash out as much of the instrumentation as possible, then I'll go home and write as much as I can, bring it in and hope that the guys like it, take it back and work on it again – sometimes the song has changed when we come back to it. It's a very long, long process. Some of the songs are written fairly quickly, but sometimes it can take months.
And what are the most pervasive themes and ideas in your lyric-writing?
On our most recent record, All That Divides, we'd been through so much together and seen so much crazy stuff in Europe, and then there's everything that's going on here in the UK at the moment, it's just a really nuts time, and we wrote about our experiences – well, I tried to purvey our combined experience and get that across as much as possible. I do like writing sci-fi and fantasy kind of stuff as well, but it doesn't always make it into the finished records.
To me your music has a great balance between classic heavy metal sensibilities and the grit and punch of modern metal – do you have a particular classic influence and modern influence?
Our more classic influence would probably be Tool. Mastodon also have a really classic metal sound. The Dillinger Escape Plan, Radiohead, and All Them Witches would probably be our main, modern influences.
You mentioned Tool – I was delighted the other day to see that you guys got added to the day that Tool are playing at Download Festival this year. How big an influence are Tool on your music?
Massive. Probably the biggest influence. I can't wait for the next album. Dude, it's coming. I reckon they're going to put out a song in the next few weeks. And it's going to be incredible.
'Fate I' is available now via Rise Records. Tickets to see Black Peaks perform live are available here.