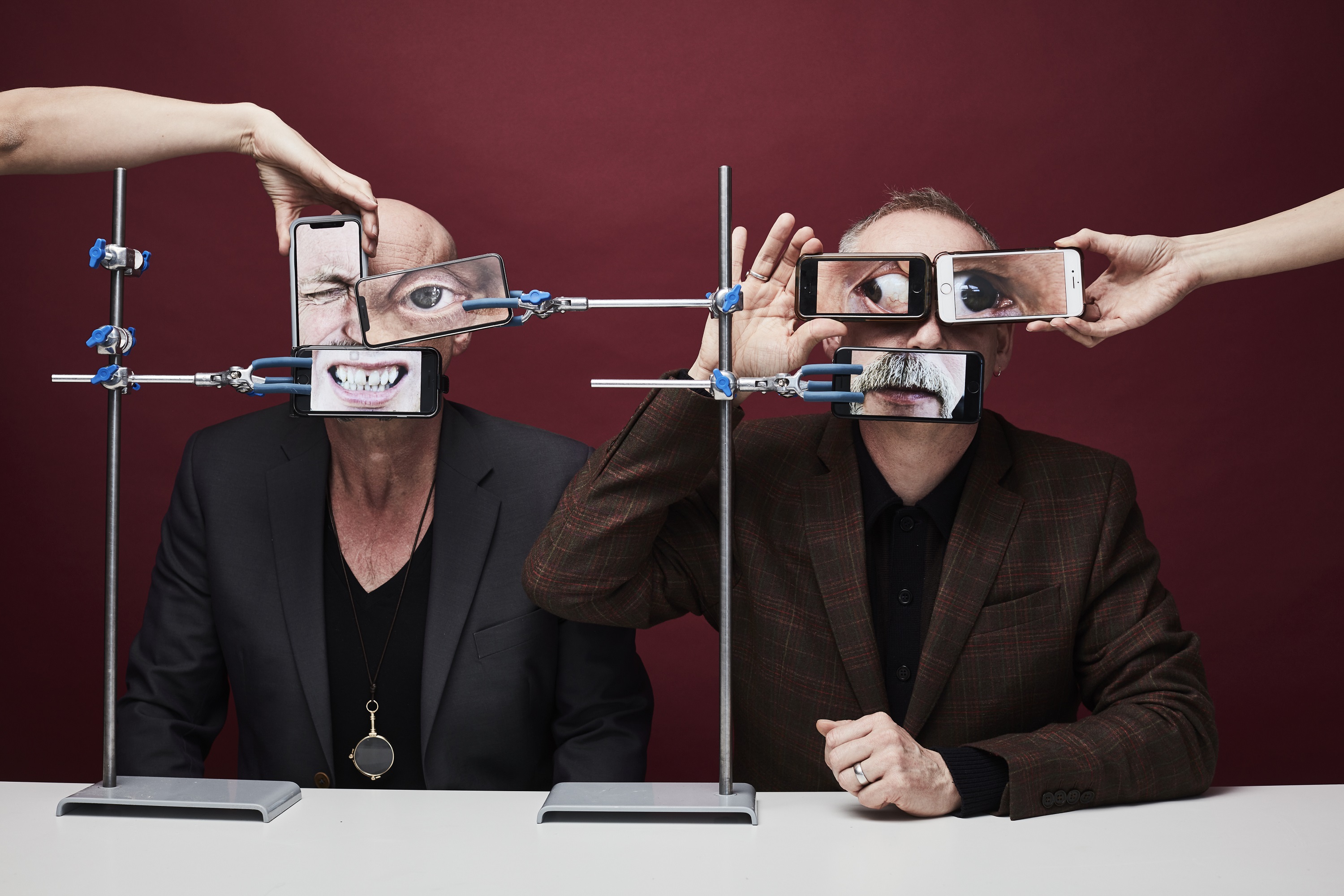 Music's Seb Rolley meets Orbital's Phil Hartnoll, and discusses the changing nature of rave, the importance of visuals, and the idiosyncrasies of remixes
Legendary electronic duo Orbital have been defining the UK rave scene since the release of 'Chime' in 1989, with their show at Glastonbury in 1994 often cited as one of the greatest gigs of all time. Following the release of their recent critically acclaimed record Monsters Exist in 2018 and ahead of an upcoming residency at Eden in Ibiza, Orbital are playing a handful of UK shows including Birmingham's Digbeth Arena. Ahead of this, I was lucky enough to chat with Phil Hartnoll about a range of things including the state of UK rave, his perspective on music's relationship with drugs and Orbital's creative vision
Hi Phil, how are you?
Good! I'm in Detroit at the moment, we've got some extra days over here I wanted to check it out. I made some friends when we went to the Cybotron thing at the Barbican with Juan Atkins the other day.
Nice! As far as music goes Detroit is pretty legendary.
Oh yeah, home of techno I'd say. That's its claim to fame like Chicago as the home of house I reckon.
What's Orbital's relationship been with Birmingham?
I suppose it started off with making friends with Asian Dub Foundation when they came down to London. Oscillate was a club we played up there really early on in the 90s. Also, our guy Steve Price was an uber-fan who made a fan page when we didn't really have a website and it was so good that he's become part of the team. He's from Birmingham! He's really fantastic, he's like an encyclopaedia on Orbital.
I keep hearing stuff calling Birmingham the home of UK rave now. Have you heard anything about this?
No, I haven't! You live in Birmingham, right?
Yeah, for university.
So what do you think?
I feel like there's a lot trying to happen, but it keeps getting shut down. There're a few good clubs around but they're quite expensive.
That's not really rave though. I come from a time when raves were mostly free. Unfortunately, fashion spoiled all the free parties, not all raves were free but now clubs take the piss on things like the drinks.
I guess it's quite hard for stuff like that to happen now.
Yeah especially when there's the laws which allow for the police to confiscate people's sound-systems as part of the Criminal Justice Act. Some of my mates lost their rig a long time ago and still haven't got it back. About 20 grand's worth of stuff.
Across the years from playing these free raves to huge gigs at places like Glastonbury and Kendal Calling how have you seen the atmospheres and crowds change?
It goes hand in hand with the drug culture to be honest. I saw it when you couldn't really go to a disco without running the fear of some stroppy guy starting a fight if you tried to talk to a girl. Then the ecstasy came along and that changed it all. It calmed down the testosterone was what I saw. You'd have people going out taking ecstasy on a Friday night and then going to football on the Saturday. I think generally, like acid did in the 60s, ecstasy calmed down the testosterone and made it all a bit more loving and a bit more accepting just to talk to your girlfriend. Then what I saw from the crowds was that drug dealers took the piss and started putting speed into ecstasy and that gradually filtered through to people taking speed instead of ecstasy. Music became faster and faster and then you got happy hardcore and all this really fast music. I do believe that there's this connection between that and speed because you'd have all these sweaty boys with their shirts off going mental, ready to charge into battle like Game of Thrones or something. That especially is my theory on it, and then it all quelled down a little bit and it's all calmed down now. I think it did great wonders for male testosterone, especially in England, the ecstasy and the music all went hand in hand like prog rock for the 60s and acid. 
Has Orbital ever changed to adapt to how rave culture has developed?
No, we just do what we do for our selfish reasons. We put it out there and just hope people like it. We've tried to think a bit more about what people want and it just ends up being a load of shit because we're thinking about it too much. Creative impulse is the best way forward. There are tricks of the trade, but we've never made music specifically for the dance floor. It's always been journey music, obviously influenced by dance but not restricted by it. It's very restrictive if you make music for the dance floor.
Especially in you more recent tracks like 'Tiny Foldable Cities' it doesn't feel like the song starts and ends with making people dance.
No, it's not club music. We're more an electronic band. We obviously dip in and out of that world and are heavily connected to it but it's not necessarily DJ music, even though we're doing an Ibiza Orbital season in Eden. We've done some cuts and edits to adapt, we want to keep the beat going and the vibe and the energy. It's all Orbital but with a few edits. It's going to be different from what people expect but we're trying to make Orbital work for the dance floor, but not in a typical way. We're trying to encourage a journey on the dance floor.
I don't think a record aimed solely at the dance floor would feature Brian Cox! How did that come about?
Paul had the idea and just tweeted him and he was all over it! It's great fun.
Has the visual side of Orbital always been a consideration?
When we started off, we wanted to set up on the dance floor so people could see what we were doing. But then the promoters were like 'no mate we've paid you get up on the stage' so we started off just with an oscilloscope. We put a video camera on the oscilloscope and just projected it onto a white sheet behind us. Eventually as we got bigger, and when we got some money, we found visual artists like Luke and Giles, our film creatives. That's where it all started and then we got lights from Johnny Gaskell who've we've been working with from the beginning. It's all a collective of lights, video and music. I really enjoy that process and we put our money back into video and stuff like that. It's been important to me.
Over the years you've been able to do some incredible remixes of artists like Kraftwerk, and I was wondering how you approach doing that.
It's a funny thing, a set of remixes, sometimes you just latch onto something. There's no set process but you'll pick something like a lead line or a bass because you keep certain elements. It's important to not go off and write another track, you just need to take a different angle. Because we've got this Eden residency we thought let's try and make something that's beat and dancefloor-friendly but not restricted to that. We don't know whether they'll come out like that or not because we've done them Orbital-style but we're certainly going to try them at Eden. You pick on an element that's attractive but then you might change the drums, it's all done on individual tracks really.
It's always great when you find a remix which feels like the original but completely reinterpreted.
It stems from when people would be like 'let's have a dance remix' because there's so many branches to the electronic tree, so they'd try to do different styles. I get them all the time through promos – you get one track out by a DJ producer with five different remixes with different styles. I don't really know what that's about, the remix is a funny world.
We've actually just done one, there's this game called Machinarium which is celebrating its ten-year anniversary. The music is amazing by Floex, and we did a remix of his which isn't released yet. You can find it on our website though because we did a Radio 6 session with Mary Anne Hobbs which we played it on. He's done a remix of one of our tracks and because he's classically trained, he's changed to synth line into a clarinet, which is absolutely brilliant. It's really interesting and he's a lovely man as well.
 Tickets for Orbital's show at Digbeth Arena on May 31st are available here.