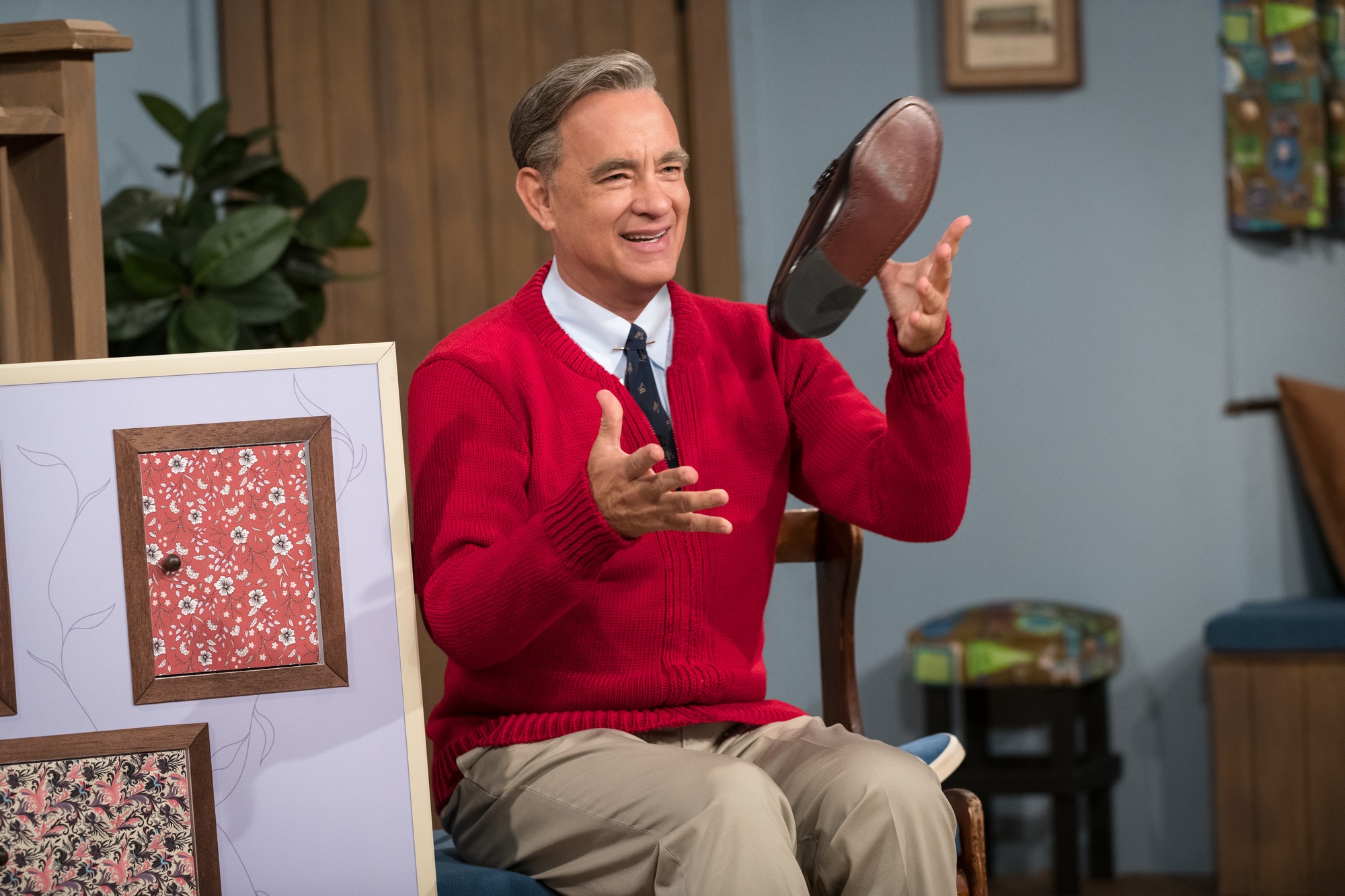 Film Critic Sam Denyer is pleasantly surprised by the emotional intelligence of Marielle Heller's Mr Rogers biopic, A Beautiful Day in the Neighbourhood
Mr Rogers seems too good to be true. Commonly known as the nicest man in America, the children's TV presenter was unafraid of teaching his viewers topics which others would consider taboo. Death, divorce and anxiety were all subjects that his show Mister Rogers' Neighbourhood was happy to discuss. Nowadays, so many childhood favourites have been disgraced and discredited with the benefit of hindsight; moral standards have shifted, time leaves things behind. But not, Marielle Heller's film argues, Mr Rogers.
A Beautiful Day in the Neighbourhood is keen to show that there is more to this semi-mythic figure than meets the eye, but it is not a sensationalist exposé. Heller is more than content with showing Mr Rogers as a human who has worked to earn this reputation. Her Rogers, as played by Tom Hanks (who else?), is not exceptionally kind by nature. He is ordinarily kind but reaches exceptionalism because of practice. It is a wonderfully simple idea, so much so that it is almost deceptive. 'Kindness takes work' hardly seems like the most radical message, but A Beautiful Day in the Neighbourhood demonstrates the difficulty of devoting yourself to work. Dedication does not always produce the results you imagine, but the film shows how unexpected things can arise from applying yourself anyway.
The cynics who might doubt her compassionate touch are represented by the film's protagonist Lloyd Vogel (Matthew Rhys). Lloyd is a no-nonsense journalist, tasked with profiling Rogers as a means of reeling himself in a little. He initially shrugs off 'the puppet guy' before meeting him and realising that this is simplification is not a fair assessment. Rogers, characteristically, is more keen to talk about Lloyd than himself. In fact, he is so self-effacing that Lloyd cannot help but reflect on his own mistakes, turning his 400-word puff piece into a 10,000-word critical essay about his relationship with his father.
Yes, this turns into a 'daddy issues' movie – but it's a pretty good one! There is a deep animosity between Lloyd and his father (Chris Cooper), one which would be half-baked in lesser hands. The conflict is still not perfect and takes decidedly too long given that it is ultimately pretty generic, but Heller's masterstroke is weaponising Mr Rogers in this simple story. It simultaneously becomes about him and his ethos as well as about broader fights and forgiveness between family members. Hanks projects entire oceans of calm across the movie, offering credibility to a figure who could seem too good to be true. His role in the central reconciliation could so easily be trite, but instead, the only thing he does is encourage a tiny change in perspective. It is, in the grand scheme of things, small, but Heller conveys how such an effort can change entire worlds.
When asked about Hanks' performance, Cooper said that it was like looking into 'the eyes of God.' The final grace note is a wonderful example of how well Heller as a director understands how to not let such high expectations get out of hand. As in last year's Can You Ever Forgive Me? (her other accomplished semi-biopic), she is completely keyed into what grounds her characters, recalling in the film's ending a conversation that Rogers and Lloyd had about coping with kindness which says so much at once without containing any dialogue at all. Like Hanks' performance, and Rogers himself, it is a deft display of honesty and emotional intelligence, the kind which has endeared them both to people for so long. Marielle Heller should have that reputation too.
Verdict:
Marielle Heller's A Beautiful Day in the Neighbourhood overcomes a simplistic central conflict by using it to show what makes a celebrated person so wonderful, injecting what could be a straightforward biopic with much greater emotional intelligence and honesty than it would otherwise need.
8/10
A Beautiful Day in the Neighbourhood is in cinemas now.
Images courtesy of Sony Pictures Entertainment. All rights reserved.