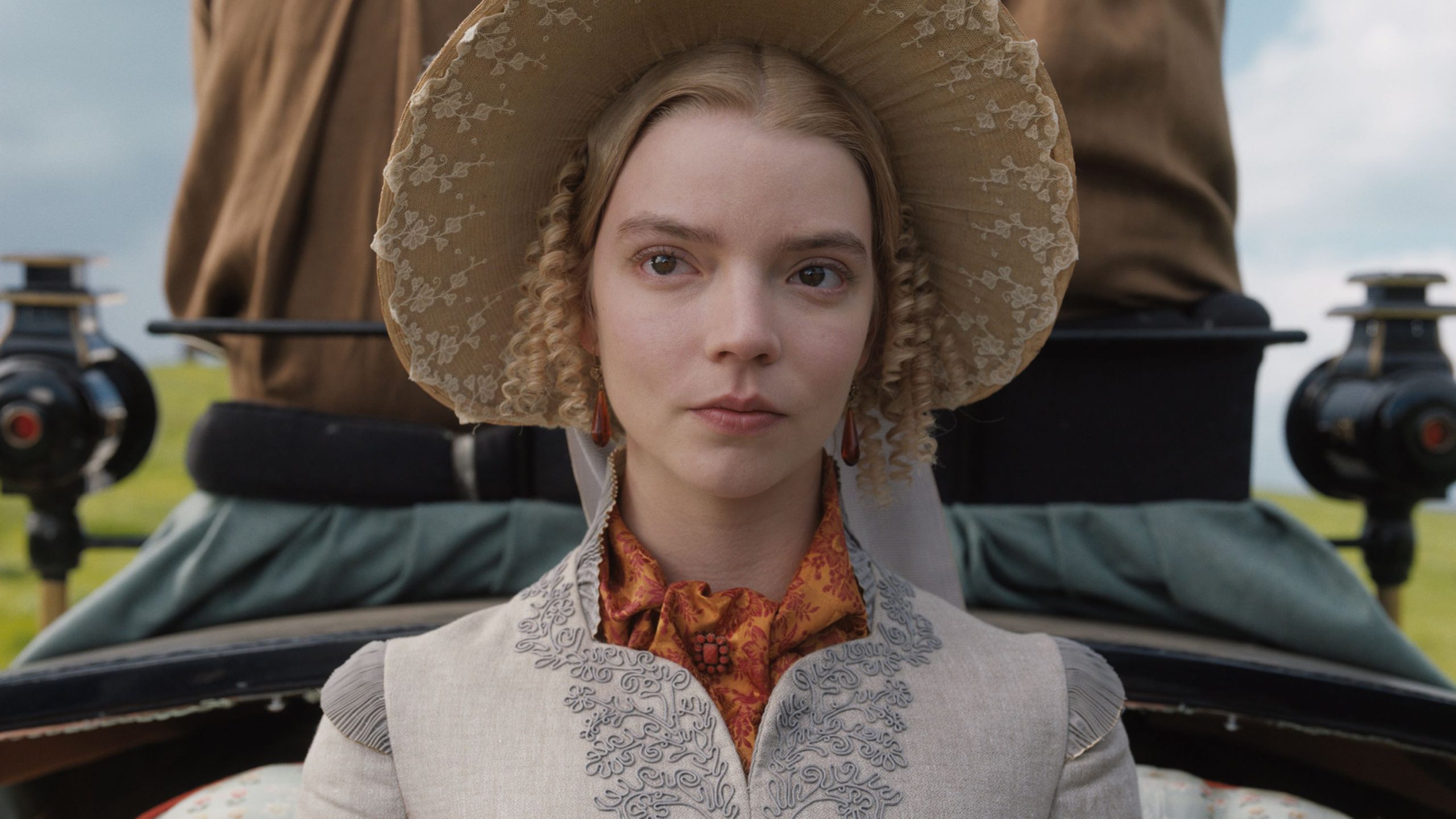 Anya Taylor-Joy shines in this colourful adaptation of Austen's most comical novel, says Film Editor Amy O'Neill
Emma. is a handsome film, clever and witty, rich in design, with a happy disposition. It is a pastel delight of an adaptation of my favourite Austen novel: not the first, probably not the last, but original, fun, and absolutely beautiful.
Emma Woodhouse lives a life of very little hardship. She lives with her father on a beautiful Regency countryside estate, goes on picnics, to dances, drinks tea, and meddles in other people's love lives for pleasure. It is this opulence and leisure which characterises the film, really living up to the satire that Austen intended it to be, almost mocking the lives and frivolities of the privileged aristocracy.
The plot follows Emma (Anya Taylor-Joy) as she tries to set up her new friend Harriet Smith (Mia Goth) with the eccentric vicar Mr Elton (Josh O'Connor) – and all of the mishaps and miscommunication that ensue in their respective love lives. Emotions get crossed between Emma and Harriet, for their respective (or perceived) feelings for the mysterious Mr Frank Churchill (Callum Turner) and Mr George Knightley (Johnny Flynn), Emma's childhood friend. it is a tale of love, privilege and how one really shouldn't meddle in the love lives of others – even if you have their best interests at heart.
Director Autumn de Wilde is in her element with this adaptation, with a quirky and flirty directorial style that portrays exactly the right tone of the novel. People often think that Austen novels are stuffy, but they couldn't be further from the truth, especially not with Emma, undoubtedly the funniest, most calamitous of Austen's works. There is nothing stuffy about this adaptation either, with all its colour and humour, and its spritely and unique classical and folk score composed by Isobel Waller-Bridge that truly complements the satirical nature of the comedy. Its cinematography is beautiful – perfect symmetry runs throughout the film – and its clean, pastel colour scheme is a perfect choice. Importantly though, the film showcased my favourite Austen trope: the dance in which two characters realise they are in love with one another, the most romantic moment of the film.
Anya Taylor-Joy is truly fantastic. Her Emma is young and privileged; the blasé way she plays with people and matchmakes is like its second-nature to her, and she portrays a very-Regency sort of sass. Her counterpart in Harriet Smith, played by Mia Goth, is the perfect accompaniment, she is naïve and frivolous, and really comes into her own at the end when the character gains more emotional maturity. The real star of the movie, though, is the wonderful Josh O'Connor as Mr Elton – a goofy, overzealous vicar with a penchant for the finer things in life, he is larger-than-life on screen and every scene of his is guaranteed to make you giggle. As Mr Woodhouse, Emma's father, Bill Nighy was criminally underused. As a characteristically funny actor, having him simply complain about draughts throughout the film was unfortunate, and I would have liked to have seen his relationship with his daughter and Mr Knightley developed.
Sadly, however, the film dragged on, with definite pacing problems. With its funny moments, excellent performances, and gorgeous style, this is almost forgivable, but with the division of the story into the four seasons of the year, it makes you think 'wow, not a lot has happened in the last nine months.' By dividing the story up in this way, the film does two things. Firstly, it highlights how luxurious the lives of the characters are (something it plays up to perfection, including languid scenes of Emma and Mr Knightley having their servants dress them), with little to fill their time with but gossip and parties. Secondly, and unfortunately, it lends itself to my opinion that Emma is a story that lends itself more to a short TV series format, such as the BBC production with Romola Garai in 2009. The story is clearly in four acts, and the clear (and unnecessary) separation of them into seasons in this film makes it feel far longer than its two-hour run time.
Verdict:
Autumn de Wilde's Emma. is truly Austen for the 21st century, without any gimmicks. Love and appreciation for the source material pour through this film, and whilst it's held back by some pacing issues, it really is a delight to watch. Emma. is a story that has stood the test of time, and this adaptation is a welcome two hours of fun, mischief and romance.
8/10
Emma. is in cinemas now.
Images courtesy of Universal Pictures. All rights reserved.
---
In the mood for some more female-fronted fun? Check out these other articles on Redbrick Film:
Review: Birds of Prey (And the Fantabulous Emancipation of One Harley Quinn)
Multi-Review: Little Women (2019)