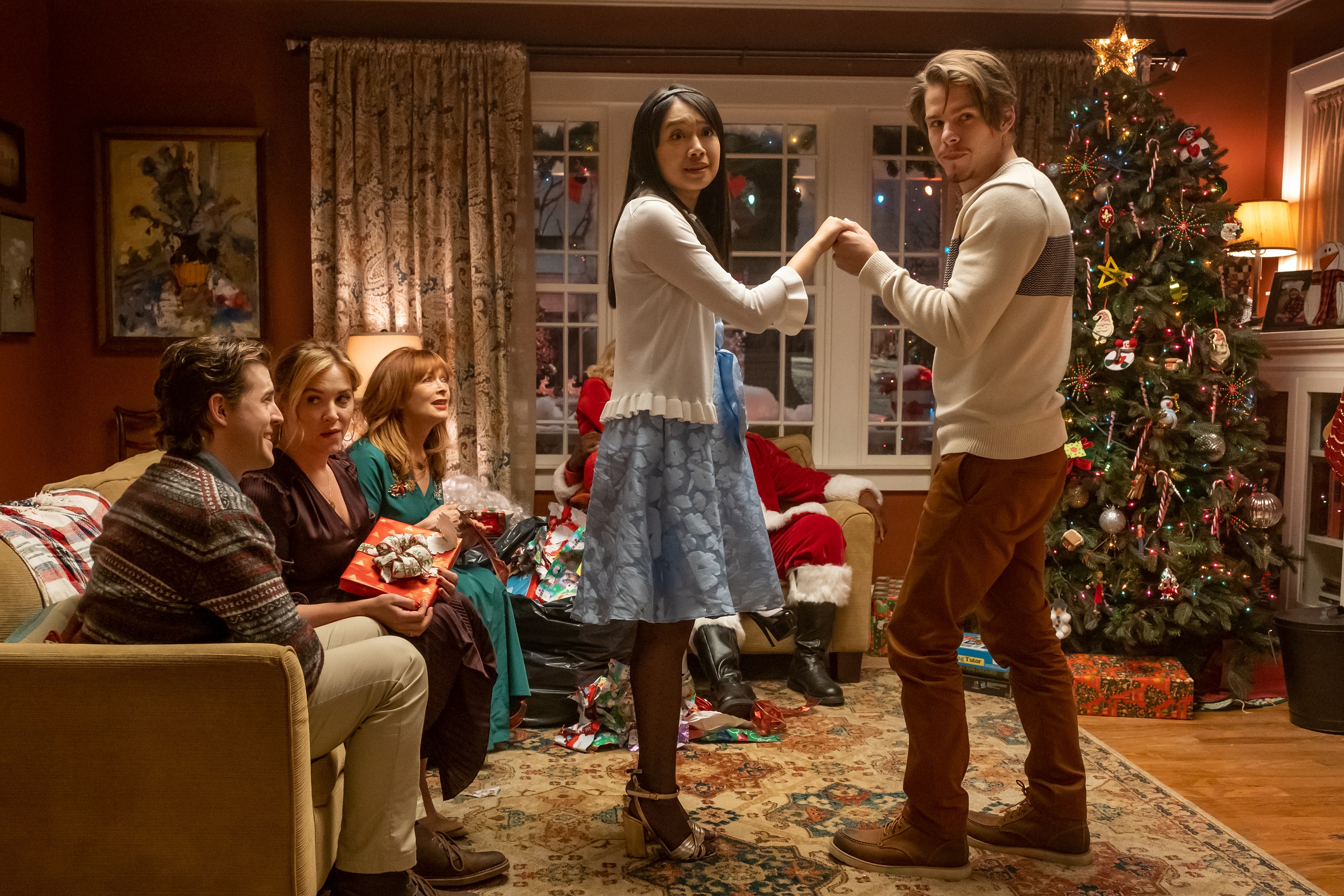 Deputy Editor Daisy Kirkaldy is underwhelmed by this awkward Netflix Original, which never finds anything unique to do with its numerous tropes
Two attractive single people devising a no-strings-attached agreement for the holiday season and beyond – what could go wrong? Well, a lot. The 'Ew, I'd never like you, we're just friends' trope is at this point absurdly overdone, but sadly it was not the only repeated convention in Netflix's new seasonal release: Holidate. The film centres around the concept of a 'holidate': a person who accompanies you to multiple family events so you're not demoted to the kids table while the adults with romantic partners enjoy civilised conversation at the main dining table. It seems the only way for Sloane (Emma Roberts) to be treated with respect by her own family is to turn up to family occasions accompanied by a man…yikes.
Holidate seems to be a quintessential Christmas rom-com, to be watched in Christmas pyjamas while wrapping presents or as a film to get yourself in the Christmas spirit. The film's release date of the 28th October did seem relatively early for a Christmas film, but I tried not to make too many judgements before I'd even pressed play. 
Turns out – Holidate isn't a film completely focused around Christmas. It did not remain in the Christmas period but instead followed American holidays all year round (which explains the early release date). The holidays that followed included: New Year's Eve, Valentine's Day, St. Patrick's Day, Easter, Mothers' Day, the Fourth of July, Labor Day, Halloween, Thanksgiving and then back to Christmas. Yes, all these occurred in one film and yes, it was as repetitive as it sounds. The inclusion of a Cinco De Mayo celebration for a cast of white leads seemed wholly unnecessary because it was presented as just another date in the calendar to get drunk; this was crass and entirely unneeded due to the numerous other occasions for this in the film.
Also, Sloane needing an accompaniment to every family event did get tiresome, needing a romantic date for a Mothers Day gathering is surely a stretch. The 'will they, won't they' was infuriatingly obvious at times, with Sloane's 'holidate' Jackson (Luke Bracey) uttering the line 'I don't even find you that attractive' at the birth of the agreement. Groan. Holidate seemed to drag on and on before the inevitable even began to happen.
Sloane opens the film smoking outside her childhood home. A predictable trope comes soon after: a mother wanting her daughter to be more like [insert name of more girly family member]. This creates a very standard and basic family dynamic – a predictable but solid base to kickstart the rest of the plot. Then comes the classic gift-giving scene in all cheesy Christmas films, you know the one. Someone doesn't like their present and has to pretend they do, another character didn't bring presents for everyone there, there's usually some re-gifting of last year's presents, I could go on. Holidate takes the notion of reusing tropes and runs with it, but the sheer frequency of them means the idea of a 'holidate' becomes one of the only original aspects in this whole film.
As with most Netflix Original films that I have seen, the dialogue and acting was really awkward in most scenes. The background noise of scenes set in public places is just never naturalistic; no matter how hard Netflix tries to recreate a nightclub setting, they never get it remotely right. The main characters Sloane and Jackson also make bizarrely repetitive references to Ryan Gosling, which feels excruciatingly awkward without a cameo from the rom-com regular himself. Fans seem to be convinced they can spot a Gosling-lookalike in the background of a scene when Sloane mentions him, but as the rest of the film seems so clunky and awkward, a slick cameo such as this seems out of the film's reach entirely.
Call me pernickety but the steam coming off the character's breath was just absurd. Details like this should not be so jarring after careful editing. This embarrassing addition ruined the magic of cinema by proving that the scenes were definitely shot in warmer weather than the supposedly wintery setting of the scenes themselves. Also, the film's colouring, soundtrack and themes all pointed towards a generally PG film, but the film's humour was shockingly sexual at times. Every so often the film's dialogue would contain a joke that was starkly out of place in the sickly-sweet Christmas rom-com setting. There's also an injury at a Fourth of July party which is way too graphic for the genre, and took away from the light-heartedness the film had tried to create between the two lead characters.
Verdict:
Recognisable features in Christmas films are arguably the best thing about them: matching pyjamas, disliked family members, arguments, romance, snow (to name a few). These commonalities usually contribute to their overall charm and admittedly it wouldn't be a Christmas film without them. But sadly Holidate had far too many moments of awkwardness and painful dialogue for this film to be bearable. It is the perfect film to be on in the very background, but only when no-one is paying any attention at all.
5/10
Holidate is now streaming on Netflix.
---
Want to read about the latest films? Check out these other reviews from Redbrick Film:
Review: The Devil All The Time
Review: Borat: Subsequent Moviefilm
Review: BLACKPINK: Light Up The Sky