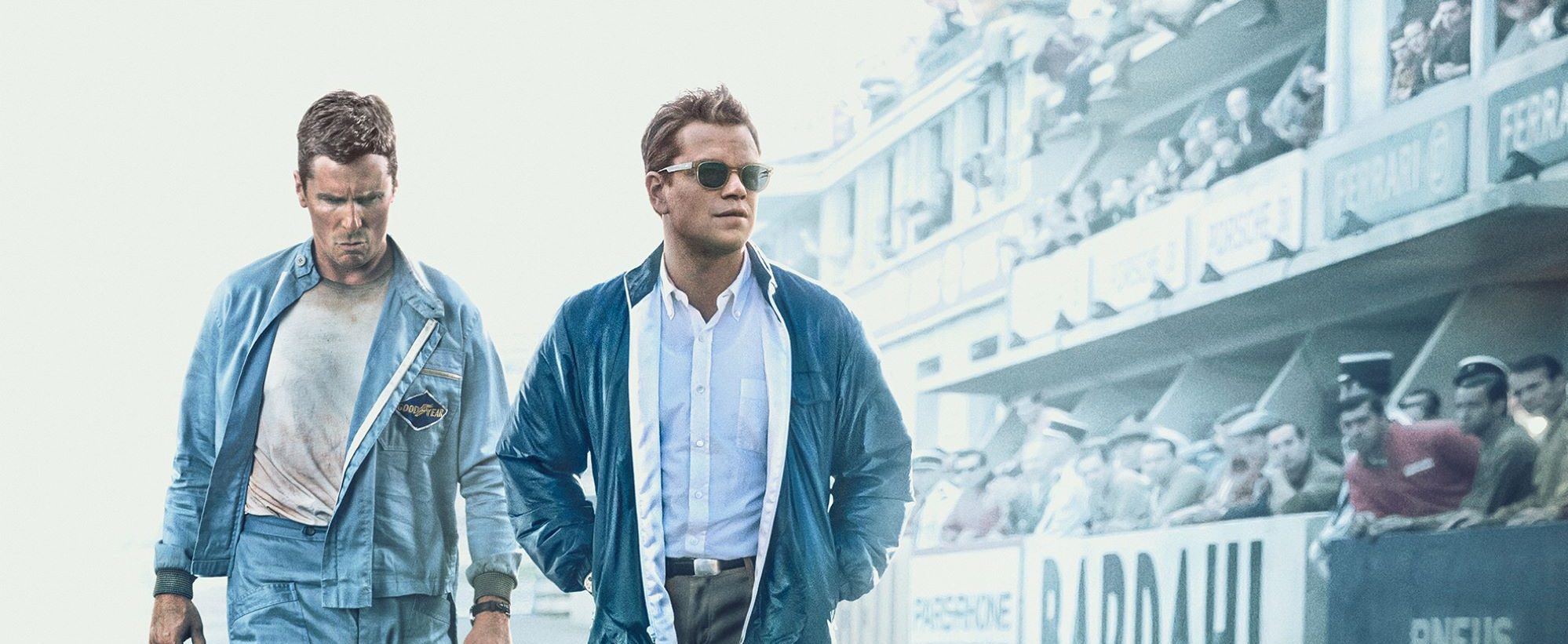 Film Critic Harry Taylor reviews the dynamic showdown between Ford and Ferrari
You'd be forgiven for suffering from biopic burnout after the last couple of years, but even non-racing enthusiasts will get plenty out of Matt Damon and Christian Bale's on screen bromance in this high-octane adrenaline fest that's as conventional as it is exhilarating.
By the mid 1960s, the Ford Motor Company was in dire need of a facelift; the corporation that practically invented the modern assembly line and spawned the first generation of American motorists had drifted into a layby of slumping profits and cultural irrelevance. American motorists didn't just want a car anymore — they wanted a lifestyle, and for Vice President Lee Iacocca (Jon Bernthal), racing was the key to jump starting Ford's image. Endeavouring to beat Ferrari (who, after a humiliating attempt at a joint venture, became Ford's main rivals) at the Le Mans 24 Hour racing competition, CEO Henry Ford II (Tracy Letts) proceeded to assemble a finely-tuned team of engineers, with ex-driver and automotive designer Carroll Shelby (Matt Damon) at the helm.
Le Mans '66 plays out as a showdown between the US and Italy's motoring behemoths, but it's a British racer who's actually behind the wheel: Ken Miles (Christian Bale), a hot-headed Brummie, proficient mechanic and brilliant racing driver, who, in Shelby's own words, is 'difficult but good.' He's the last person Ford wants representing the brand, the antithesis to the calculated corporate manoeuvre the execs want a Le Mans victory to be.
But as it becomes increasingly apparent that Miles is the only driver for the job, tensions grow between the suits in charge and the team on the groups. And so the film's battle lines are drawn, not just between Ford and Ferrari, but between Ford's racing team and the corporation, between passion and profit.
Damon and Bale fire on all cylinders as the tenacious duo at the centre of the film, with the former giving a particularly sensitive, well-rounded performance. Bale is just as good, albeit with a different charm, complete with an unconvincing West Midlands accent that occasionally veers off-road. Very much a by-the-numbers biopic, Damon and Bale's strength of performance often help the film maintain its potency when it leans on slightly more familiar, worn-out narrative techniques. The two click so naturally on screen that the film's original casting of Tom Cruise and Brad Pitt seems a puzzling mismatch by comparison.
Crucially, the film's race scenes are as well-realised as its central partnership. Packing visceral, white-knuckle thrills alongside an omnipresent threat that grounds the film's sequences in a tense believability. Le Mans '66's high-speed set-pieces feature cacophonous, sputtering horse-power tracked by sweeping, expansive shots. It's a film best experienced in a cinema — you feel every gear change.
And then there's the cars themselves, flushed with rich 60s hues and beautifully complemented by the film's faithful, forensic set design. From the bright neon lights of a roadside diner to the drivers' lovingly recreated race suits, Le Mans '66 situates its subjects in a haze of nostalgic glamour, a tribute to a unique time in the history of motor racing.
But in its evocation of a rose-tinted heyday, the film sometimes foregoes the grit of the sport, and the final race never feels like a brutal, twenty-four-hour slogging match, rather a sequence of individual set pieces.
Caitriona Balfe puts in an excellent performance as Ken's wife Mollie, at times offering a refreshingly female perspective outside of the testosterone-fuelled vortex of the race track. But when the film shifts gears to a more sentimental tone it can falter slightly; Ken's relationship with his son Peter is sometimes awkwardly realised by Bale and child actor Noah Jupe.
Equally unconvincing is the film's spiritual musings on how, at 7000rpm, man and machine become one, a 'body moving through time and space' — it feels forced in order to fill the melodrama quota. Thankfully these moments never steer the film off course: it still packs considerable emotional punch as it crosses the finishing line.
Verdict:
A biopic that takes few risks, but the strength of its script ensures it doesn't need to. Imbued with a real sense of purpose by its two star leads, Le Mans '66 is a brilliant story passionately told; not only a tale of relentless sporting talent but also of deception, corporate machinations and greed.
8/10
Le Mans '66 is in cinemas now.
Images ™ and © Twentieth Century Fox Film Corporation.