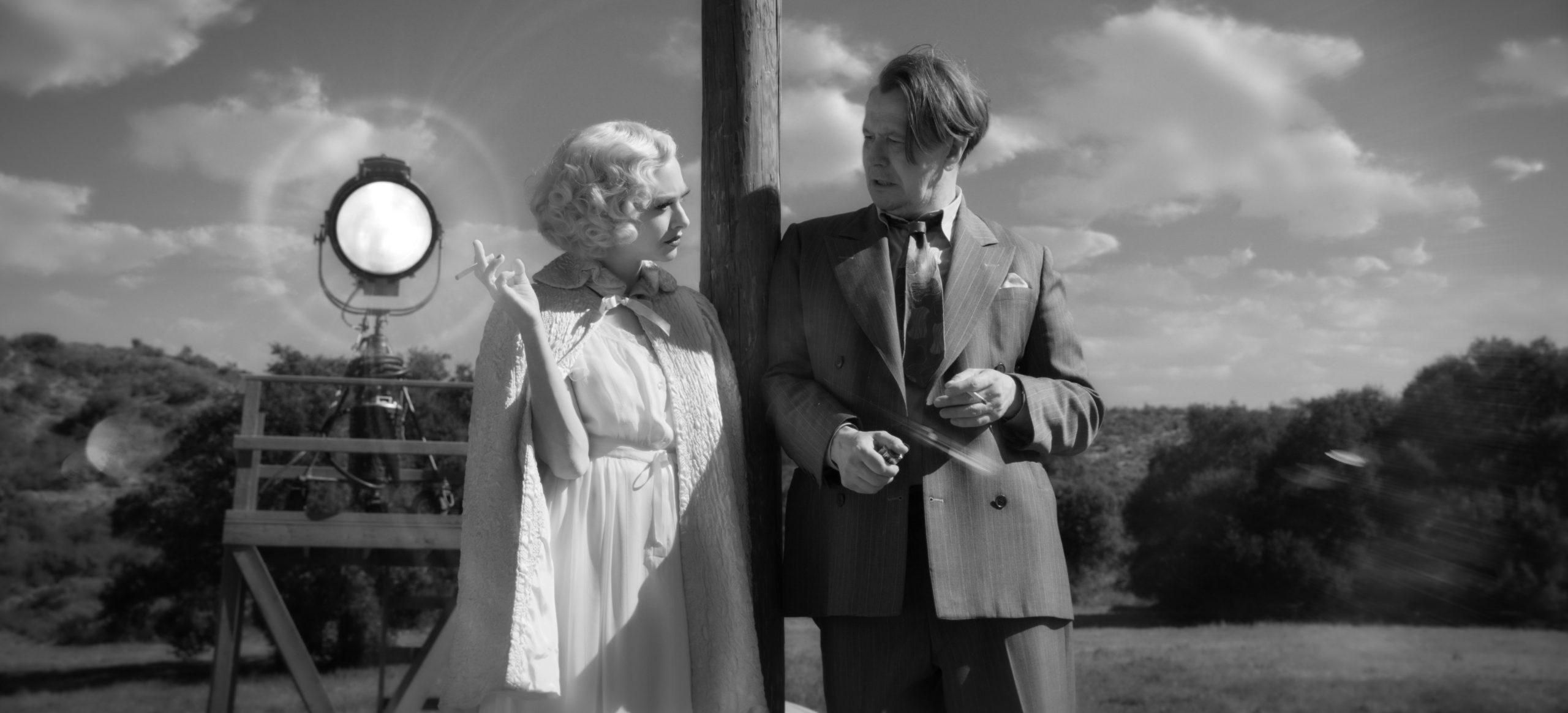 Mank shines in David Fincher's extensive filmography, argues Film Writer Bethany Sherrott
Set against the frighteningly well-timed era of the struggling movie theatre industry, David Fincher's love-letter to Herman Mankiewicz (Gary Oldman) unravels in glorious monochrome on our laptop screens and smart televisions.
Mank tells the tale of Citizen Kane's unsung hero, Herman Mankiewicz, as he struggles to heal from a broken leg, sober up, and write Orson Welles' next big feature. Alongside the viewer, Mank is plunked into the middle of a resort in the desert alongside his secretary Rita Alexander (Lily Collins) and physical therapist Fraulein Freda (Monika Gossman) and given 90 days to write the first draft – which Welles (Tom Burke) quickly slashes to 60. As the story unfolds, we are transported through flashbacks to 1930s Hollywood, opened with scene headings and the recognisable 'ding' of a typewriter. The movie's plot is winding, and, particularly on a first watch, confusing. The flashbacks don't seem to bear much impact on the present moment, spare the one detailing the car crash that gave Mank his broken leg. However, if you like movies about makin' movies, I suggest settling in for the full 2 hours and 15 minutes.
Gary Oldman is sympathetic and witty, his comic timing perfect in a movie in which his character is dealt a more tragic hand. But for me, the standout is Tuppence Middleton. She's subtle and caring and you absolutely understand her as 'Poor Sara', Mank's exhausted but devoted wife. Their first scene together perfectly captures the relationship that unfolds over the two-hour run time as Sara sends her drunk husband to bed. It is true that Sara doesn't have much of an arc, but neither does anyone else. She sticks up for herself in the first scene, and she sticks up for herself in the last. Middleton holds her own against Oldman, especially impressive when you learn that Sara was the same age as Mank and Middleton is 29 years younger than Oldman – a casting choice the film has been criticised for.
Lily Collins and Amanda Seyfried are captivating throughout Mank's runtime, with many of the film's best scenes being the ones with women in them. Luckily, despite on the surface appearing to be a movie about old men squabbling, this happens to be most of it. As Marion Davies, Seyfried quite literally glows throughout; her white bombshell hair is almost always paired with a white gown or costume, bringing her brilliantly to life in amongst the grey suits of the men she's surrounded by. Seyfried's wide eyes and daring attitude match this costuming perfectly. Collins' performance is more subtle as Mank's British typewriter, Rita. Despite worrying after the life of her husband fighting in the RAF, Rita doesn't let Mank bully her. The three central female characters feel real and rooted, and they share the stage phenomenally with Oldman.
It's not Fincher's best, because Fincher made The Social Network, but, thanks to Alien 3, it's not his worst either. It's most similar to The Curious Case of Benjamin Button, and F. Scott Fitzgerald even gets a quick mention in this one. Despite being a 30-year-old script written by Fincher's late father, Jack Fincher; this story feels ripe for the present moment. Plus, in signature Fincher fashion, there's CGI where you might not even notice it at first – as Oldman and Seyfried stroll around William Randolph Hearst's (Charles Dance) estate, San Simeon; elephants, giraffes, and monkeys galivant in the background.
This movie won't be for everyone, but that feels like the point. It's about the meandering process of making movies and whilst some of the references went over my head, I don't think this detracted from its quality. It's not as pretentious as a black-and-white movie could be. Plus, it's accessible. The characters seem more like archetypes than honest depictions of real people, so I don't think you miss out if you didn't know any of the characters exist before they came to life in front of you.
Verdict:
In a time when we're all about to settle in to watch movies on screens measured in inches rather than feet, it's nice to remember the reason we're still going to watch them. Fincher beautifully details the Hollywood process, but don't expect a whirlwind adventure.
7/10
Mank is available to stream on Netflix now.
---
Want more of the latest releases? Check out these other articles from Redbrick Film:
Review: The Spongebob Movie: Sponge on the Run
Review: The Devil All The Time
Review: Borat: Subsequent Moviefilm