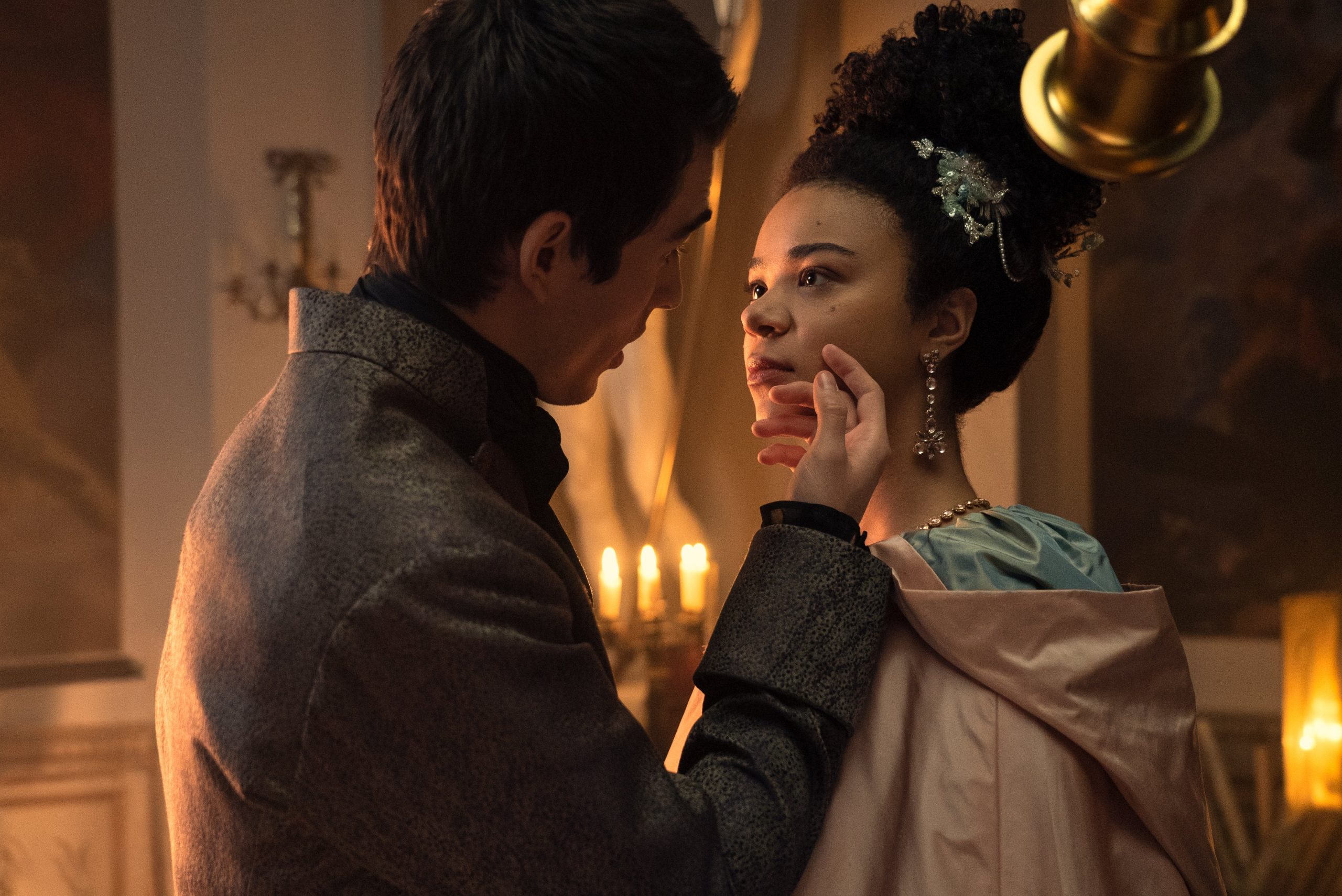 TV critic Zenna Hussain reviews Netflix's Bridgerton spin-off, praising its romantic feel but raises concerns over its depiction of race and marital relationships
Content warning: This article discusses marital rape. 
Netflix's latest offering is a six-episode prequel series that explores the love story of Queen Charlotte (Golda Rosheuvel as older Queen Charlotte, India Amarteifio as young Queen Charlotte) and King George III (Corey Mylchreest.) The series appears to follow a similar formula to the popular show Bridgerton: featuring intricate costumes, sweeping love confessions, and what some may consider an excessive amount of sex scenes.
Queen Charlotte delves into two parallel plot lines. The first plot line revolves around present-day Bridgerton, where the death of the heir, Princess Charlotte, prompts the Queen to pressure her children to get married and produce more heirs. Meanwhile, the second, more prominent, plot line focuses on Charlotte's early days of marriage, following her journey from her arrival in England for her marriage to King George III, to her tumultuous marriage, and her eventual rise to power.
In a whirlwind romance, Charlotte and George quickly develop strong feelings for each other. However, as their relationship progresses, it becomes evident George is keeping a secret. In the portrayal of George's 'secret', the show has done a commendable job. Unlike many other shows where the protagonist's love interest is portrayed as the saviour, Charlotte's love for George is depicted as uplifting him and standing by him, though not curing him.
Thus, the tone of the series undergoes a significant change, deviating from its previously whimsical nature. It features some disturbing scenes that showcase the cruel and inhumane treatment of characters. Lady Danbury's marital rape scenes are particularly unsettling, despite being portrayed in a humorous manner. Additionally, the show delves into critical examinations of race, which further adds to its sombre tone.
The hit Netflix series Bridgerton sparked discussions about its portrayal of an alternate universe where a multiracial and harmonious Regency society exists. However, upon closer examination, the show's producers have created a historical 'what if' scenario where somehow racism still exists, but slavery and colonialism do not. 'The Great Experiment,' where wealthy black families are integrated into high society was intended to ease the arrival of the black Queen Charlotte.
The inclusion of black characters in various forms of media has been a topic of discussion for quite some time. While some may view it as a form of escapism or fantasy, it is important to acknowledge the historical context. For instance, it almost feels condescending and sanitised to depict a true historical character from a time of slavery and imperialism as black.
However, not everything is done so thoughtlessly. With Brimsley's, the Queen's secretary (Sam Clemmett), and Reynolds', the King's secretary (Freddie Dennis) relationship, Queen Charlotte succeeds where the original Bridgerton fails: they are an explicitly gay couple.
Due to their roles as servants to the King and Queen, which allow them to be together without suspicion, the gay relationship, albeit secret, is generally happy as opposed to the trauma porn that too many historical fictions fall into. For the first gay relationship, they are comparatively well-grounded and positive even though they are neither a leading pair nor have an expressly happy ending in the time leap.
Based on the Bridgerton season, the show has managed to capture the essence of romance and opulence that the original series was known for. However, some have expressed concern over the show's portrayal of certain scenes of marital rape and race, which they feel were not handled with enough care. Despite this, the show has been able to hold viewers' attention with its breathtaking sights and Bridgerton-style love confessions.
Fans of the original series and those who seek a more intense examination of Regency Romance are likely to find enjoyment in this series.
Rating: 2.5/5
---
Check out other Redbrick TV reviews here:
The Last of Us: The First Successful TV Adaptation