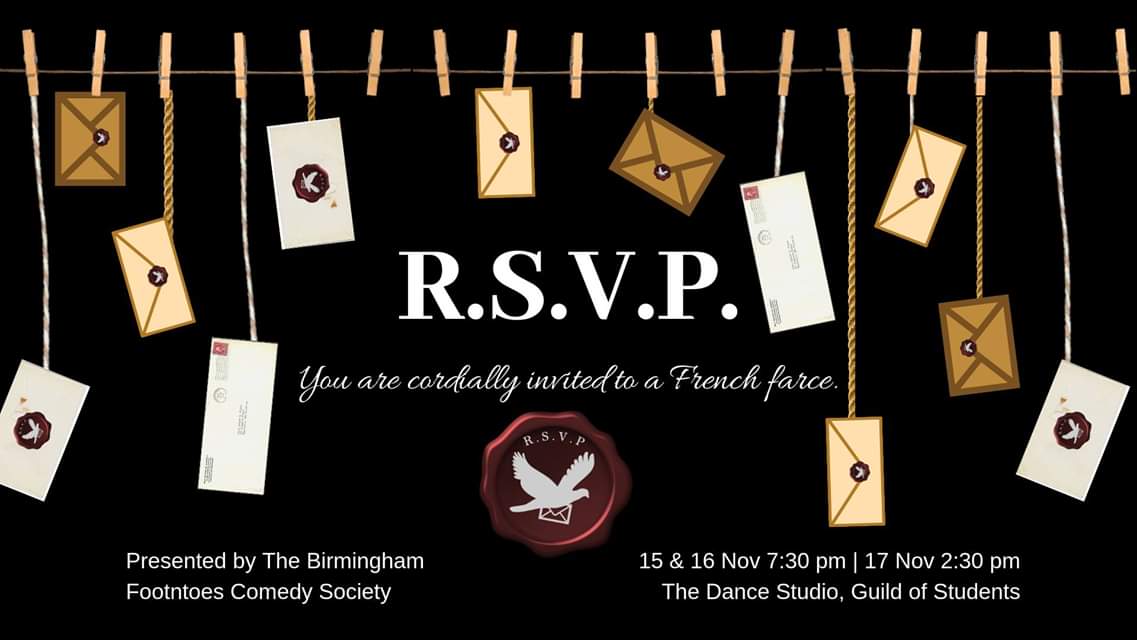 Megan Gates reviews RSVP, a 'thoroughly entertaining piece of student theatre'
The University of Birmingham's very own Footnotes Comedy Society presents 'RSVP' by Josh Jamieson co-directed with Will Thompson.
The stage is sparsely dressed with a couple of benches either side of a 12-hole pigeonhole and a piano off to the right that is marked 'Chekov's piano' – it is never used. 'RSVP' is the story of the French village of Faubourgs and the oddballs who live there. There is the baker anxiously awaiting a health inspection, the mother terrified that looking at a cow has infected her with cowpox and a Post Officer of few words and yet rather questionable French.
Centred around the communal pigeonholes of an apartment building, youngsters Amelie (Sophie Patterson) and Louis (Leah Garel) are growing restless with the monotony of their existences and the early morning chore of collecting the mail. Together, they plot to make things a bit more interesting; they open people's mail, destroying it or altering it, hoping to create a bit of mayhem, and get themselves out of mail duty in the process. They dub themselves 'The Early Birds' and what ensues is a classic light-hearted comedy.
The hapless and yet harmless Major Duval (Jonty O'Callaghan) and the overly enthusiastic PC Brum (Connor Mosedale) camp out to get to the bottom of the stolen letters and end up inadvertently leading residents to believe that the town is haunted by a community spirit. They are, of course, reassured that there is no such thing as community spirit.
Jamieson and Thompson's cast pulled of a rip-roaring 2-hour performance. There's slapstick, tap shoes, an obnoxiously large wooden spoon and a 'hilariously undersized plastic spork' topped off with a cake being projected into the face of the inspector (which I must say made a rather sickening thud). Patterson and Garel both give standout performances, bouncing off each other with an endearing chemistry. There is no deep message or lesson lurking below the surface; it is just a thoroughly entertaining piece of student theatre that does not take itself too seriously.
'RSVP' was a wonderful beginning of the year for Footnotes.