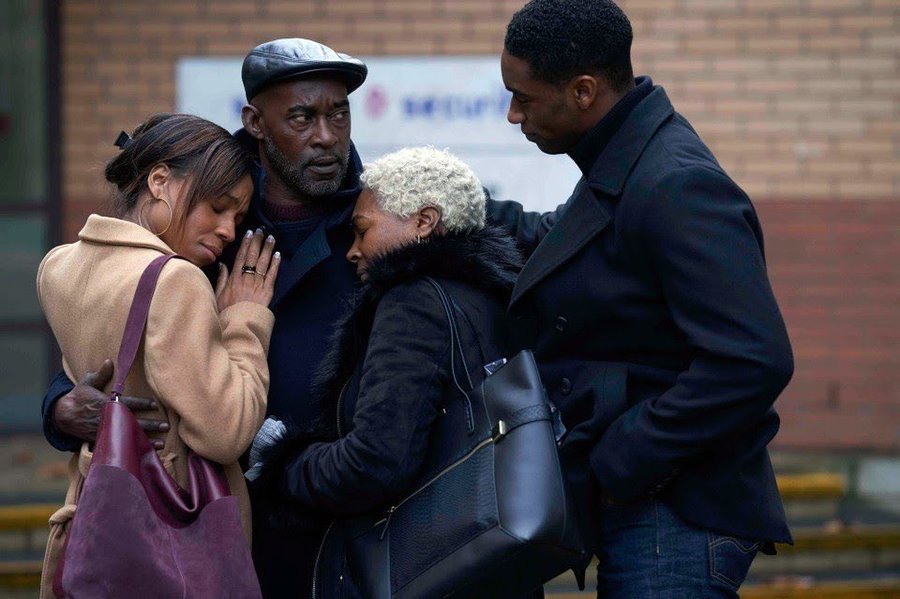 TV Writer Heidi Linton urges you to watch this gripping and powerful drama depicting the real-life consequences of the Windrush scandal
What would you do if you were stripped of your basic rights to live, work and belong?
Sitting in Limbo tells the true story of Anthony Bryan, a Black British man who travelled to England with his mother in 1965. Entering the UK as part of the Windrush Generation, Bryan was amongst half a million others travelling from the Caribbean to aid Britain in its labour shortages after the Second World War. Yet, after 50 years of living legally in the UK, he is wrongfully detained and threatened with deportation, a victim of the Windrush Scandal.
In 90 minutes, this feature-length TV film powerfully encapsulates the struggle against systemic racism in the UK. I watched each scene with rising anger and disgust, not just at our county's problematic past, but at its outrageous present. Unable to dismiss the events as history, viewers of Sitting in Limbo must expect to feel stunned when watching this depiction of Britain today.
So, what was the Windrush scandal? The political scandal came into fruition in 2018, linked to the 'hostile environment' policy implemented by home secretary Theresa May. The policy involved a total disregard for the Windrush Generation, denying them legal rights and threatening deportation, with at least 83 individuals wrongly deported. To make matters worse, the targeted individuals were forced to prove their own citizenship, though the Home Office had knowingly destroyed their landing cards in 2010. This controversial decision still lacks a valid explanation.
The gripping drama is written by Bryan's younger brother, and novelist, Stephen Thomson. When delving into his brother's story, Thomson found himself perplexed at the lack of real change implemented in Britain since the Windrush generation first commuted. Shocked and confused, he told The Guardian 'the arguments our parents had in the 1950s and 1960s … I never thought we would be fighting them again; I thought we had won those arguments.' The hope is that Bryan's story will speak on behalf of many and reintroduce the ever-present issue to the political agenda.
As Labour MP David Lammy puts it, 'The problems being faced by the Windrush generation are not down to one-off bureaucratic errors but as a direct result of systemic incompetence, callousness and cruelty within our immigration system.'
Patrick Robinson, the actor portraying Bryan, fuels his role with moving emotivism and fury. 'I knew this was happening to lots of people.' Robinson explained, 'I wanted to be involved with the film in any shape or form'. Since his parents moved from Jamaica in the 1960s, Robinson is anxiously aware that the scandal could have infiltrated the rights of his own family.
Bryan's attitudes in Sitting in Limbo reflect his experience as a black male in a prejudiced community which assumes the worst of him. He takes on a reserved persona and his bursts of anger are infrequent, arguably self-protective instincts. By avoiding both verbal and physical violence, the protagonist aims to reduce resentment from racist establishments. Despite these reservations, the raw emotion does not go amiss. Indeed, I guarantee viewers will be left enraged, in spite of the plot's subtlety.
Bryan's family take a different approach, noticeably his partner Janet McKay-Williams (Nadine Marshall) who will not let her rage go unheard. Their refusal to be muted by systemic racism is admirable, raising both money and awareness to aid Bryan where the government would not.
The events depicted in Sitting in Limbo are unforgivable and, two years on, the situation remains unresolved. In fact, according to the latest figures, only 36 victims of the scandal have received compensation. Much of what was lost remains lost, and any victory appears bittersweet.
I urge everyone to watch this harrowing drama and educate themselves on the systemic racism still interwoven throughout the conservative government to this day.
Rating: 5/5
---
Want more? Check out other TV articles here:
Review: Killing Eve – Series Three
Review: Kimmy vs. The Reverend
7 Shows to Watch to Learn More About Racism