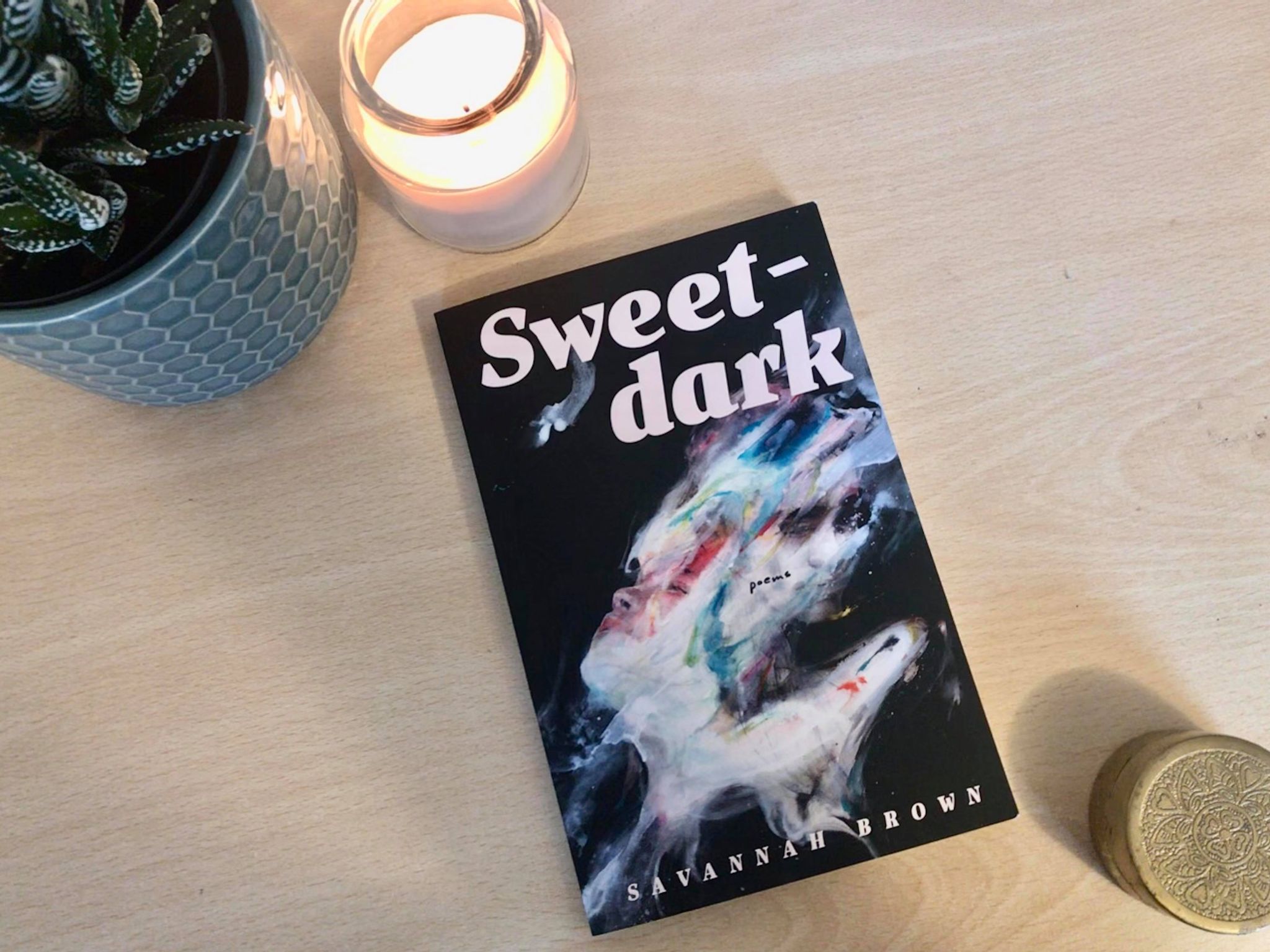 TV Editor Sam Wait gives us a sneak preview of Savannah Brown's latest poetry anthology Sweetdark, ensuring us her collection posits some of life's biggest questions in a frank and accessible way
Author, poet and creator of the #escapril hashtag, Savannah Brown's long-awaited second poetry collection, Sweetdark, has had fans waiting with bated breath. Suffice to say, Sweetdark does not disappoint. It depicts the simplest pleasures of life alongside some of the largest philosophical questions: Will I ever stop being afraid of death? Is this as good as it gets? Can I live better than this?


Brown's work, alongside its subject matter, has noticeably matured from her previous collection, Graffiti, which Brown released when she was just nineteen. Sweetdark is a carefully crafted collection on the darkness of life and its promise that it will end, and the sweetness of it despite that fact.
Brown's poems detail the everyday to the out of this world, yet the strength in her writing allows us to view these settings as irrevocably intertwined. Brown forces us to consider how much we take the ordinary for granted ('the walk home from the night / bus takes ten minutes and somehow/ I don't appreciate a damn second') and how it is wedded to our fear of death – this ominous impact which is heading 'closer and closer and closer.'

Brown's evocative and palpable imagery allows us an insight into a world which is beautifully mundane yet familiar; where seeing parrots in Greenwich park or sharing drinks with a lover gives us that feeling of immortality that 'we were here, so far from death.' Brown's ability to articulate such sentiments is as brilliant as it is chilling, as she effortlessly identifies the joys and horrors of being human.

Sweetdark, ultimately, is interested in time and our lack of it. Brown enlightens the reader to the transience of life and her narrator's realisation of the void, which seems intrinsically linked to her own experience. Existentialism frames each poem, taking the simplicity of shared experience to ask philosophical questions, particularly in the poem 'void/you.'
Sweetdark is as adventurous in its vivid imagery as it is in it's diverse range of poetic form. Each poem's structure is carefully chosen to fit each narrative. Moreover, in Sweetdark, figurative language is often interspersed with a tone of colloquialism which fits seamlessly into the poetry.
Writing for a millennial and Gen-z audience, this frankness is refreshing and grounded – Sweetdark is not a collection aloft in pretentious ideals. Rather, Brown is interested in questioning the reader directly about the queries she poses, which are harder to dismiss when asked in such an understandable manner:  'Now you know you can die. And what/ you gonna do about it, huh?'.

Hence, Sweetdark's writing style is oxymoronic in itself. Both accessible and complex, the collection allows us to live vicariously through each poem – through the highs and lows of living, through the mundane to the frightening.
Brown has succeeded in writing a collection that, though deeply personal, is universally relatable. Sweetdark is a poetic triumph that holds words which will stay with you long after you finish the last page. 
Sweetdark is out on October 8th.


---
Like this? Read more reviews from Redbrick Culture:
The Book of Echoes: Book Review and Interview with the Author Rosanna Amaka
Hamilton: From Stage to Screen