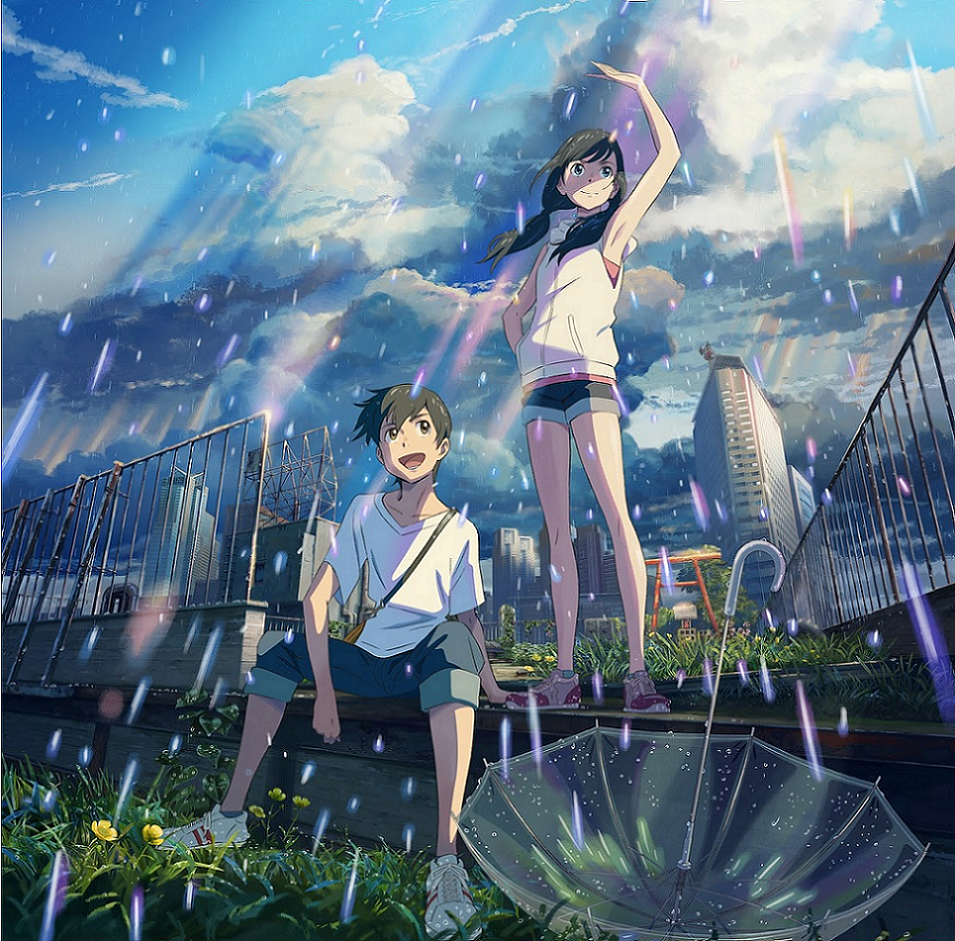 Film Editor Todd Waugh Ambridge's opinion of Makoto Shinkai's latest film is not clouded by the success of its predecessor Your Name, as he hails Weathering With You's shining vision
Makoto Shinkai, the visionary director of 5 Centimetres per Second, The Garden of Words and 2016's smash hit Your Name, is about to release his new anime feature Weathering With You in the UK. Much like with Your Name, there will be select screenings across the country – from the 17th January, culminating in a simultaneous screening at many cinemas on 30th January at 19:30 – in both subtitled and dubbed form. This review could be easily distilled down to one simple piece of advice: buy a ticket.
Shinkai's films have always been a cut above the rest. An oft-repeated sentiment is that he is the next Hayao Miyazaki, the director of Spirited Away, which in 2001 became a modern classic and opened up the Western market to anime like never before. It wasn't until Your Name, however, that Shinkai's talent as a writer, director, editor and cinematographer won global appreciation. The film about a budding romance between a boy and a girl who mysteriously begin body-swapping with each other, but who are separated by insurmountable boundaries, pulled on the heartstrings of all who saw it. Despite being shunned by the Oscars, it unseated Spirited Away as the highest-grossing anime film of all time. It was the perfect example of a modern anime feature film. Unfortunately for Weathering With You, it' got a lot to live up to – and while it doesn't quite match its big brother's triumph, it is still one of the best animated films in recent years.
Weathering With You takes place in a world fraught by freak climate phenomena – ring any bells? – where Tokyo has been subject to heavy rainstorms for weeks. The story follows runaway high-schooler Hodaka as he meets Hina, a girl his senior who has the mystical ability to halt the rain and bring out the sun. As in almost all of Shinkai's films, the heart of the story here is in the romantic relationship that develops between the two leads. His writing of romance, while somewhat melodramatic, has always been second-to-none, but this film develops the central relationship more than perhaps any of his previous films. Weathering With You also utilises a larger array of secondary characters than Shinkai has used before, whose interconnected relationships help bring the rain-stricken Tokyo more vividly to life. The relationships developed between Hodaka, the seemingly-sleazy Mr. Suga, and the enigmatic Natsumi in particular help develop Hodaka's – and thus our own – understanding of this world.
Tokyo is brought to life most of all, of course, through the superb cinematography and music. At times it feels like the plot revolves around the weather just as an excuse to showcase the talent of the artists in portraying the same city in various different conditions. And, following in Your Name's footsteps, the soundtrack here by RADWIMPS is as strong as their last, and matches the films visual art toe-to-toe throughout. When the sun comes out for the first time in the film, the cityscape beams exuberantly and brightens the whole film; the music swells and the narration by Hodaka resonates profoundly. In many ways, Weathering With You is about the rejuvenating power of the sun and its effect on every person. The fact that this message is felt more than stated is a testament to the film's artistic and musical direction – and makes this is an experience best had in the cinema for sure.
In the press screening, the film was subtitled with the original Japanese vocals. Relative newcomers Kotaro Daigo and Nana Mori respectively give life to Hodaka and Hina, supplemented by anime heavyweight Shun Oguri as Mr. Suga and actress Tsubasa Honda as Natsumi. Oguri particularly is great casting as perhaps the most complex and interesting character in the film, requiring a range of emotion difficult to capture. It is a relief, therefore, that in the English dub of the film, Lee Pace will be taking this particular role. Natsumi will be voiced – no doubt to perfection – by Alison Brie, and Hodaka and Hina are again played by newcomers: Brandon Engman and Ashley Boettcher. While I have not seen the English version, I have to say that the voice actors have a lot to live up to if they wish to capture the emotional impact of the film's concluding act. As the story becomes more serious – while simultaneously becoming more abstract – the emotional stakes raise significantly. There was a point in this act where it was uncertain whether Shinkai's writing would stick the landing, but my faith was rewarded when ultimately the story packed a punch that should reverberate with every member of the audience.
My biggest anticipation with the release of Weathering With You is experiencing it in a packed theatre, feeling the highs and lows of the film with a crowd who will appreciate the craftsmanship and hard work gone into this film. Despite a few tonal inconsistencies – a couple of lude, uncomfortable jokes that will be recognisable to anyone who watches anime – Shinkai here has delivered a piece of work hopeful about the future and about people. Weathering With You is a special film, and Shinkai has overcome any doubts that he had reached his peak – I, for one, can't wait to see what he does next.
Verdict: 
The worst thing about Weathering With You is that it is in the unfortunate position of following Your Name. Putting this to one side, however, and what has been created here by visionary writer-director Makoto Shinkai is magnificent. The story, the art, the music and the acting all work together in perfect harmony, with Shinkai as the masterful conductor. It is strongly recommend that you grab a ticket while it is in cinemas for a limited time only.
9/10
Weathering With You is out in cinemas from January 15th.
Images courtesy of CoMix Wave Films. All rights reserved.