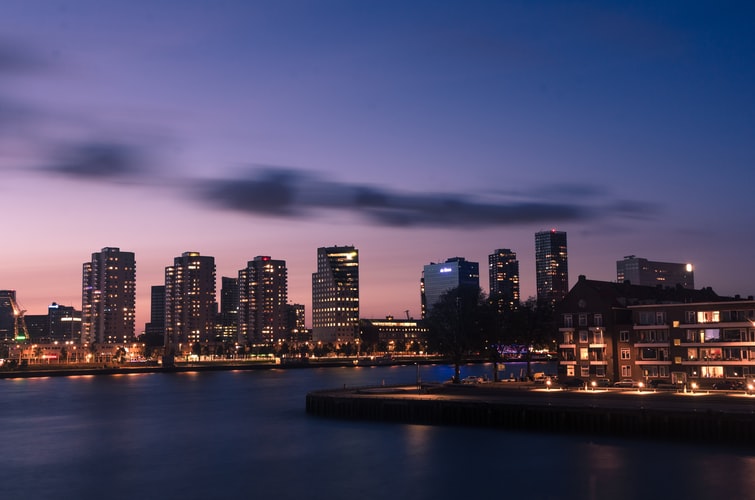 While Amsterdam is the Netherland's best-known tourist destination, Kelsey Baxter-Sibley describes Rotterdam as a brilliant city in its own right
Although it is often overlooked in favour of the more well-known tourist trap that is Amsterdam, Rotterdam is a brilliant city in its own right. Although Rotterdam may not have as many famous attractions as Amsterdam, there are still many things to do in the city, from the obvious to the more quirky…
Although De Markthal was only opened in 2009, the large indoor food market dominates the square next to Rotterdam's Blaak train station, due to a combination of its horseshoe shape, one-of-a-kind combination of housing, office space and market hall and its dramatic internal artwork by Arno Coenen and Iris Roskam which is so spectacular it has earned the Markthal the nickname of the 'Dutch Sistine Chapel.' The Markthal is home to around 100 different food stalls as well as food shops, restaurants, a supermarket and multi-storey underground car park. The huge variety of local foods, sweet and savoury, mean something is bound to appeal to everyone, and it can be a great place to spend a couple of hours trying out different cuisines and getting a cheap meal. There is also the Tijdtrap to peruse – a collection of medieval archaeological discoveries uncovered during the Markthal's construction, for those who enjoy their food with a side of culture.
Rotterdam is home to a huge range of weird and wonderful architecture – alongside the Markthal and the ultra-modernist library is work by the architect Piet Blom, including the residential block commonly known as the 'Pencil building' and the iconic neighbouring Cubehouses. These bright yellow buildings are right on the waterfront and are what they sound like – buildings shaped like cubes, elevated and tipped on one side. These can be experienced in a number of ways, either through staying in one of them rented out as an Airbnb, in the Stayokay hostel or by visiting the Kijk-Kubus (Show Cube) which is a museum designed to let the visitor experience life in a Cubehouse. However you visit them, they're definitely a must-see when in Rotterdam! 
Founded in 2014 and moving to a new location in January 2020, the Fenix Food Factory is another must-visit for culinary fans in Rotterdam. Although it used to be a fresh food market doing retail and catering, similar to the Markthal, it has recently updated its style to match its new location and now features several stalls from entrepreneurs selling their food products, which are then used in a central kitchen to create delicious meals at all times of day. Located in a warehouse in Katendrecht, a visit to the Fenix Food Factory will take you slightly out of the city centre and allow you to try local produce of the highest standard.
One of the quirkier attractions on this list, the Dutch Pinball Museum is located in the historic Delfshaven area and is home to over 100 pinball machines dating back from 1900. But this isn't a typical museum – visitors are actually allowed to play with over 80 of the machines, making this a fun option for a rainy day or just a quick break from more traditional sightseeing. 
If views of the local skyline are what you're after, there is no better place to visit in Rotterdam than the Euromast Tower. Built in 1960 and over 600ft tall, the tower is the tallest building in Rotterdam and is great for getting the best views over the city. It also hosts a restaurant, which would be the ideal spot to watch the sunset from. There is an entrance fee of around 10 euros, and if you want to liven up your trip with an adrenaline rush there's also the option to abseil down from the tower. 
Alongside all these attractions there are also a number of museums, art galleries and quirky shopping districts – Rotterdam really does have something for everyone!