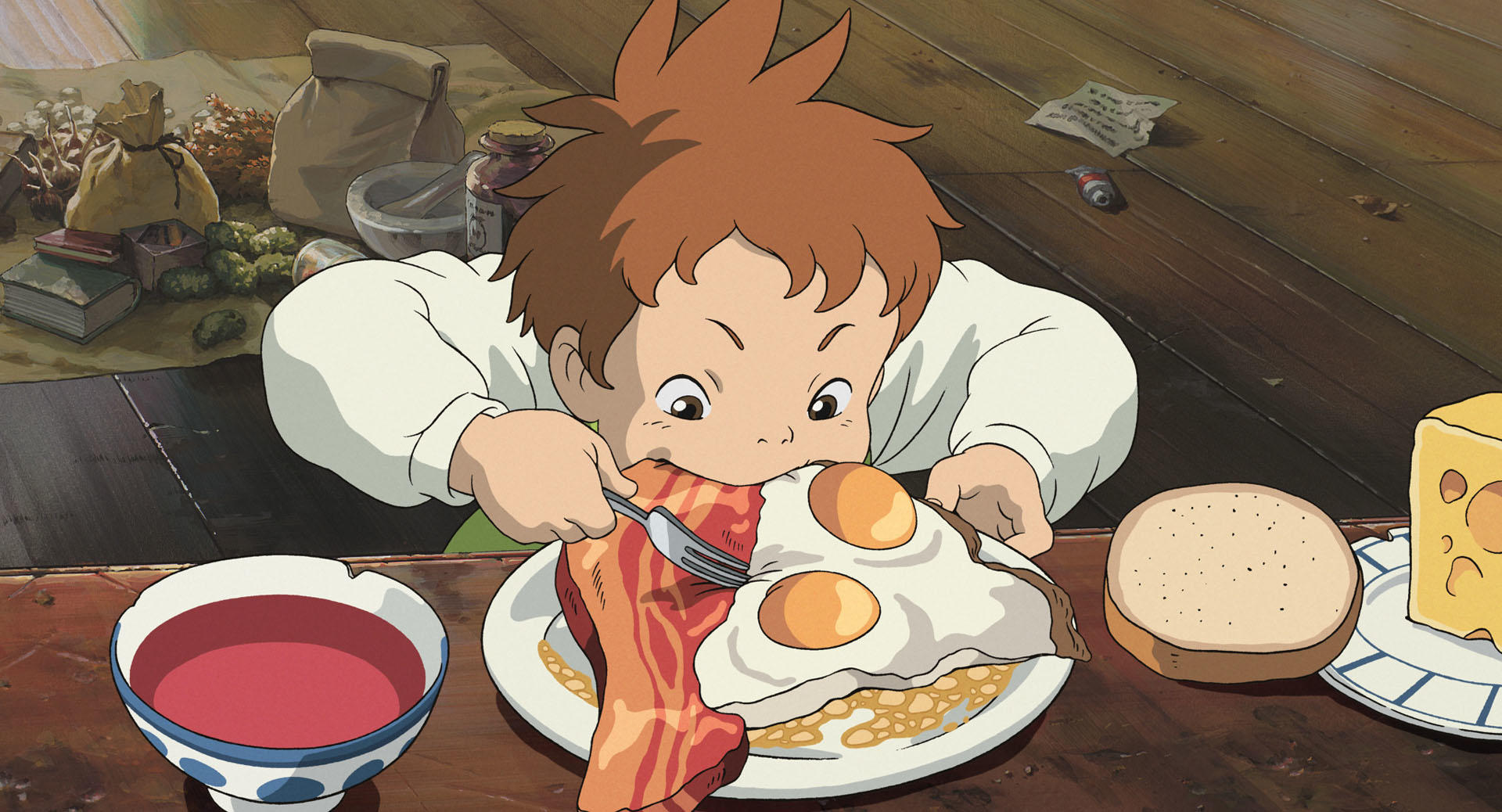 Film Critic Rhea Phagura recommends their top five Studio Ghibli films, from Kiki's Delivery Service to Howl's Moving Castle
[Note: This article contains spoilers.]
I had only wandered into the magical, enchanting, and yet, utterly quotidian realm of Hayao Miyazaki's beloved Studio Ghibli last year, when Netflix UK announced that almost all of the company's most cherished films will be available to stream. It was only natural that I would binge-watch them all. From the dreamy and meticulously detailed animation, including the picturesque scenery of flower-speckled hills in Howl's Moving Castle, to the magical score perfectly crafted for each film by Japanese composer Joe Hisaishi, the long-lasting charm and comforting feeling arising from each of the heart-warming stories of Studio Ghibli have earned them the following they have across the world unlike any other.
While Studio Ghibli films are wonderfully fictional and imaginative, providing a source of comfort and relation for the viewer, they exist as a cathartic and revolutionary spectacle for Miyazaki, too. His political and personal leanings are expressed through Studio Ghibli animations, including the various anti-war, pro-environmental, and feminist sentiments that are subtly expressed through the narrative of the films, as seen in Howl's Moving Castle, Laputa: Castle in the Sky and Porco Rosso. By advocating for a greater emphasis upon important social messages and issues, this allows each animation belonging to the franchise to be able to depict and fuel real-life depth, dimension, and more importantly, purpose to them – ultimately, telling viewers that, even amidst the hatred and carnage, "it's good to be alive". For that reason, I would like to share some of my favourite Studio Ghibli films.
1: Kiki's Delivery Service
Kiki's Delivery Service (1989) is the quintessential coming-of-age tale, following the journey of a young witch named Kiki and her sardonic cat Jiji, both eager to set off to find a way in the world in order for Kiki to become a "good witch". In doing so, Kiki and Jiji wind up in the city of Koriko and end up lodging with Osono, a kind-hearted owner of a bakery who begins a "Witch Delivery Business", suiting Kiki's skill of flying and delivering baked goods with an eager-to-please attitude. But the idealism and determination begin to wear off, and Kiki is faced with many different and newly arisen problems such as exhaustion, insecurity, and even burn-out as Kiki begins to resent her job, confiding in her friend Tombo that ​"flying used to be fun until I started doing it for a living." At the climax of Kiki's sadness, her once-perfect abilities of flying and understanding Jiji are gone, and the real journey of Kiki's high-flying adventure must begin by herself, developing her own self-confidence and building a belief in her own magic – a journey which renders Kiki's Delivery Service so beautiful, and my favourite out of the Studio Ghibli canon.
2: When Marnie Was There
"In this world there's an invisible magic circle," speaks Anna, the protagonist of When Marnie Was There (2015), further explaining "there's an inside and an outside. Those people are inside and I'm outside, but it doesn't really matter." An adaptation of the Joan G. Robinson novel of the same title, When Marnie Was There is a powerfully emotional and resonant account of a young girl's search for solace within her identity. It begins with the heroine of 12-year-old Anna Sasaki, a character who is experiencing a worrying spell of sadness and loneliness, presumably ailed from her orphanhood and distinct lack of belonging. For that reason, Anna is whisked away to the countryside of Kushiro to recover, meeting the unlikely friend of the eponymous Marnie across the lake in the mysterious Marsh House. Whether a figment of Anna's imagination or not, Marnie seems strangely familiar and offers comfort for Anna's distress. As the summer progresses, Anna and Marnie find themselves to be more alike, deepening their friendship and helping Anna to come to grips with her unresolved grief and familial abandonment.
3: Whisper of the Heart
Whisper of the Heart (1995) is an under-appreciated gem from the Studio Ghibli collection. Beginning in Tama Hills in Tokyo, the opening credits play out to "Take Me Home, Country Roads" by Olivia Newton-John – an out-of-place choice given that the song is about the rural bliss of hills, fields, rivers, and the film is placed within the bustling and looming city of Tokyo. That being said, Whisper of the Heart (1985) does something entirely opposite: focusing on a quiet, slice-of-life approach, our protagonist is the bookish and imaginative Shizuku, who embarks upon the adventure of writing her own fantasy novel, neglecting her schooling in the process and growing much closer to her classmate, Seiji. What adds an incredible layer of depth to the film is Shizuku's portrayal of her desire to create her fantasy magnum opus; instead of mastering her talent, as described by Seiji's grandfather, Shizuku's writing can be "a little rough" or "corny". Despite the criticism, Shizuku is still willing to persist and triumph at her work, even if it may take a little bit of time, allowing for a gratifying and inspiring ending to this very special Ghibli film.
4: Spirited Away
Spirited Away (2001) is a culmination of Hayao Miyazaki's tremendous career, being one of the highest-grossing Japanese films ever. It is commonly regarded as one of the very best animated films made and rightly so. Inspired by ancient Japanese folklore and Lewis Carroll's Alice's Adventures in Wonderland and Through the Looking Glass, the plot entails Chihiro, a 10-year-old girl who is upset with the family decision to move away. As opposed to a rabbit hole, Chihiro and her mother and father decide to explore a mysterious tunnel, one which leads to a seemingly abandoned amusement park. Much to their surprise, it transforms into The Spirit Realm or Kami; a magical night-village "where eight million gods come to rest their bones". Nevertheless, the tale has a surprising turn: as Chihiro's parents are transformed into giant pigs for engaging in a gluttonous feast, filled with the food reserved especially for those in The Spirit Realm, a mysterious boy named Haki informs Chihiro she must work to free herself and her parents. Though on the surface Spirited Away (2001) may seem like a bewildering tale, Miyazaki allegorises many problems such as the pressures of modernity, environmental pollution, and even existentialism, rightfully earning the status as a masterpiece in the Studio Ghibli collection.
5: Howl's Moving Castle
Loosely based upon the novel of the same name by British author Diana Wynne Jones, Howl's Moving Castle (2004) is an all-time favourite of mine. Set in the mythical European fairy-tale kingdom of Ingary, Sophie Hatter leads a somewhat tedious and mundane life – a hatter by trade (as well as by name) and being the eldest of three sisters, Sophie is destined to live a dull life. That is until Sophie is involved in the business of the powerful wizard Howl Jenkins Pendragon, as Howl rescues Sophie from licentious servicemen, taking Sophie on a charming, picturesque walk through the sky. However, this encounter brings the attention of the evil-looking Witch of the Waste, where in a fit of jealousy, the Witch transforms Sophie into a ninety-year-old woman, with Sophie cruelly being unable to tell anyone what has been done to her. With young Sophie trapped inside, she flees Ingary in the midst of warfare, seeking the dazzling Howl and stumbling upon his noisy castle, a bizarre, walking concoction of assorted junk that is kept functioning by a rackety fire demon named Calcifer. For the rest of Howl's Moving Castle (2004), Sophie is caught up in Howl's mischief and scheming nature, where it quickly becomes Sophie's turn to save Howl by encouraging him to look past the frivolous notions of ego and cowardice through love.
---
Check out these articles from Redbrick Film for more on beloved animation:
Child's Perspective: Chicken Run
Studio Ghibli Films Arrive on Netflix