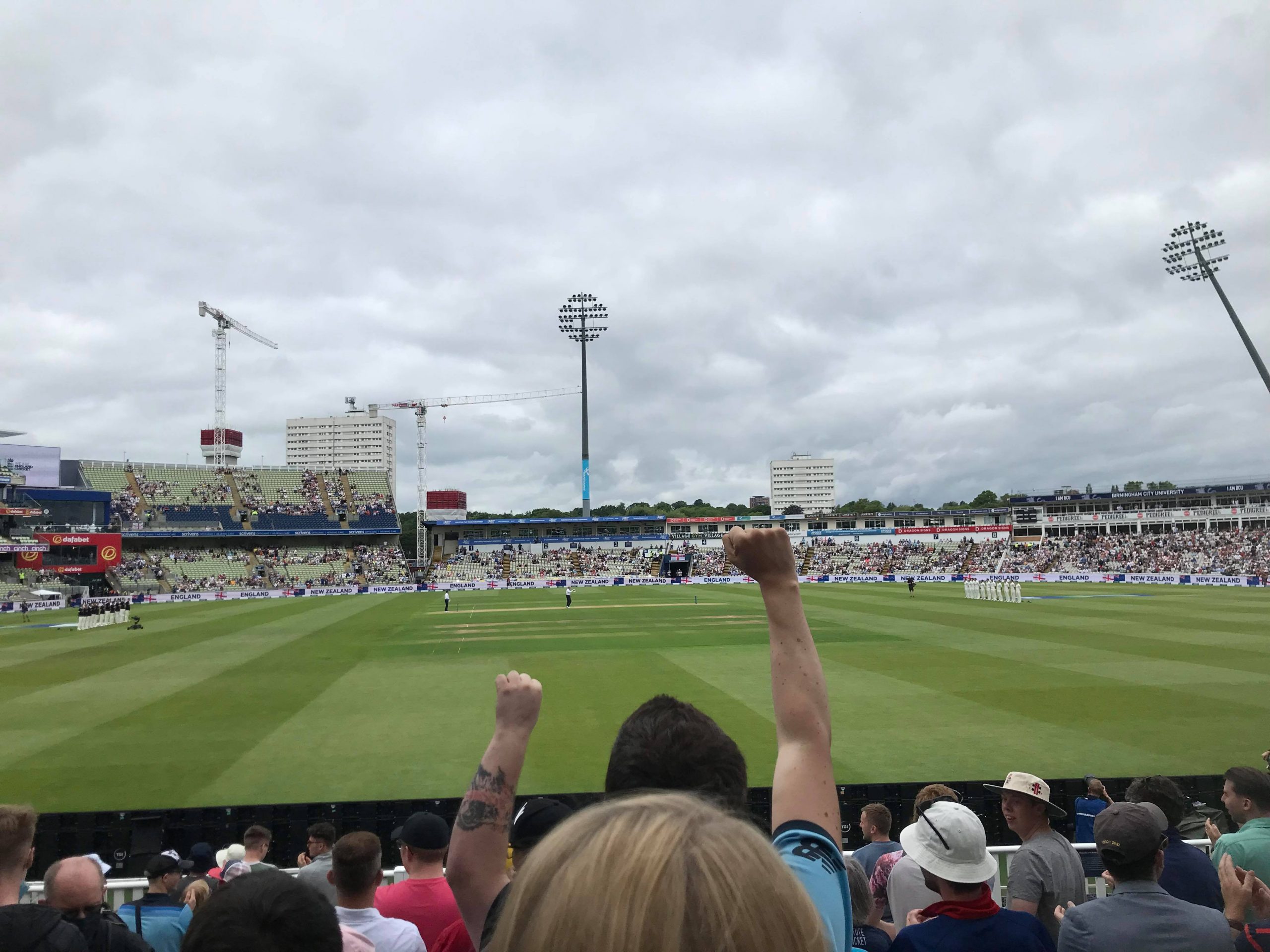 Sport Editor Kit Shepard documents his experiences in the Hollies Stand on a day when 18,000 fans descended on a near-capacity Edgbaston
As one of the government's pilot events, the second test match between England and New Zealand at Edgbaston was watched by 18,000 supporters a day.
Masks were not permitted in the stands and no social distancing requirements were in place, as Birmingham's iconic cricket stadium was filled to 70% capacity. It was the second-largest sports crowd in the U.K. since the COVID-19 pandemic began, behind only last month's FA Cup final, though only 20% of seats were filled on that occasion at Wembley.
Day one of the test, then, was perhaps the moment when spectators truly returned. Sport editor Kit Shepard went into the notoriously raucous Hollies Stand, a place where coronavirus was unashamedly ignored. Surrounded by fancy dress, chanting fans, and flying shoes, it was an experience that emulated distant memories and offered hope for the near future.
Entering the Ground
I arrive at Edgbaston and am immediately sent back in time. There are people everywhere. Thousands of maskless human beings gathering with no respect for social distancing. Save for the face coverings worn by the students and a handful of the most sensible spectators, this could be a scene from the pre-COVID world.
I find my friends and we join the long queue to get in. A long queue! That's something that needs a lot of people, how exciting! Such is the novelty of the whole occasion that even waiting in line becomes entertaining.
After showing our lateral flow test results, having our tickets scanned, and getting our bags searched, we're in. Just like that. No barrage of questions to discover if we or anyone in our household had been unwell recently. No reminders to follow safety protocol to the letter. No stickers two metres apart telling everyone where to stand.
We head to our seats, squeezing past bodies on the way before settling into a packed Hollies Stand. In purely cricketing terms, there is not a huge deal on the line. The game is only part of a two-test series, and both England and New Zealand have more important tests in the coming weeks and months. Yet, as we sat in the middle of a packed crowd that was rapidly losing its sobriety, it truly felt like we were part of history.
Morning
England win the toss and bat. The two sides enter the pitch to a breathtaking roar. It's a sound that only a (nearly) full house can generate, and it is impossible to feel emotional looking around the ground, with empty seats the exception rather than the rule. To make things even more dramatic, COVID protocol means the teams enter from opposite sides of the ground, slowly approaching each other as if they are heading into battle. I'm half expecting New Zealand to break into the Haka.
Another huge roar to celebrate James Anderson becoming England's most-capped test cricketer. Then more cheers and applause to mark the 'Moment of Unity', as the teams promoted cricket as a game for all. After a week where cricket has been in the headlines for the wrong reasons, this was encouraging. An important gesture, but also a reminder that we all need to do more to eradicate discrimination, as chants of suspended seamer Ollie Robinson's name later in the day would emphasise.
Openers Rory Burns and Dom Sibley adopt a patient approach to see off the new ball. It's not exactly thrilling cricket, but who cares? This crowd would have a good time watching paint dry. I am regularly out of my seat to let other fans through, brushing up against strangers. I have no idea where these people have travelled from today, who they have been in contact with, or even if they wash their hands after using the toilet, but I'm not bothered. Turns out that it is strangely liberating to rub bodies with intoxicated individuals as you watch live sport. Add that to the long list of sentences I thought I would never write prior to March 2020.
Afternoon
Ok, the odd joy of being in close contact with masses of people does not stretch to trips to the gents. There's at least one place where I will miss social distancing.
Back in my seat for the afternoon session, I notice just how many people are in fancy dress. There are cavemen. The 118 duo. Banana costumes. Men dressed as crayons. Boris Johnson chasing a coronavirus cell with a needle. It really was quite the collection.
Fancy dress can happen in a socially distanced crowd, but the crazy costumes embodied the freedom emblematic of the event. This was a day where people did not have to follow the rules. They could dress however they wanted, remove their mask whenever they wanted, and move around wherever they wanted. Of course, supporters still had to behave themselves, but the various attire displayed how the crowd knew it was permitted to push the boundaries to a level not reached for well over a year.
There was still a line not to be crossed, though, as the spectators behind us demonstrated. I had seen a lot of strange sights by mid-afternoon, but a red loafer flying onto the pitch was until then not one of them. As I, and thousands of others, soon discovered, the owner of the air-borne slipper had been on the wrong end of a crude but very amusing prank by his mate. His only solution was to locate the steward who had retrieved and confiscated his shoe and plead for its return. With the crowd behind him, he succeeded and trotted back to his seat the hero of the hour. Of course, on a day where the rules were meant to be broken, nobody involved received even a stern warning from the officials.
The session ended with the match in the balance, seemingly endless beer snakes, and a Gareth Southgate lookalike running up and down the stand to the chorus of Three Lions. As the sun came beating down, it felt like we were back in the halcyon summer days of 2018.
Evening
Some things never change. England's middle-order embarks on an all too familiar collapse either side of tea, and the hosts are in a spot of bother. Not that you would have known from the scenes in the Hollies. Any scoring shot was greeted by loud cheers, while wickets for New Zealand only barely quietened the crowd for a moment.
By this stage, my shoes are in a shallow puddle of beer. It's also on my seat and my shorts, while my friend has somehow managed to end up with ketchup splattered over the back of his shirt. The perpetrators offer us towels and tissues. They don't really help but we are not bothered, this is not a place to be concerned with cleanliness or hygiene.
The singing continued, Jerusalem and Swing Low Sweet Chariot (a song with troubling undertones; its prominence reiterating that our social problems remain unsolved) among the chants. After a few rounds of Southgate, You're the One, a five-minute rendition of Don't Take Me Home towards the close of play a fitting conclusion to the festivities. It was not home we wanted to avoid, but the real world. The end of the day was nearing, and we would soon have to leave our seemingly impenetrable bubble and return to a society where coronavirus continues to dominate daily life.
And so it came. The final ball was bowled, the last song sung, and we piled into the exits, cherishing the final few moments when we could pretend that the pandemic did not exist. On the way out, I run into another friend, a regular Edgbaston attendee, who assures me that it was the best atmosphere he had ever experienced at the ground. Considering we had been waiting for this for nearly two years, I was not surprised.
We said our goodbyes in a manner that was far too physical for the world we were about to re-enter and went our separate ways.
It had been a bizarre, special, and unforgettable day. We had attended an event that flew in the face of everything we have experienced since the pandemic began. We acted as if infections could not be passed on when watching cricket in a full stadium. We caught a glimpse of the (hopefully) not too distant future.
The pandemic is not over in the U.K or globally. Nor should we act as if the easing of restrictions is some sort of release from oppression. Even our cries of 'Football's Coming Home' are far too impulsive.
Nevertheless, for that day at Edgbaston, an occasion synonymous with the new abnormal, it felt as if the world was healing a little.
---
Like this? Check out more from Redbrick Sport:
Warwickshire Beat Nottinghamshire as Fans Return
Two Sides: Should Esports be Considered Sports?