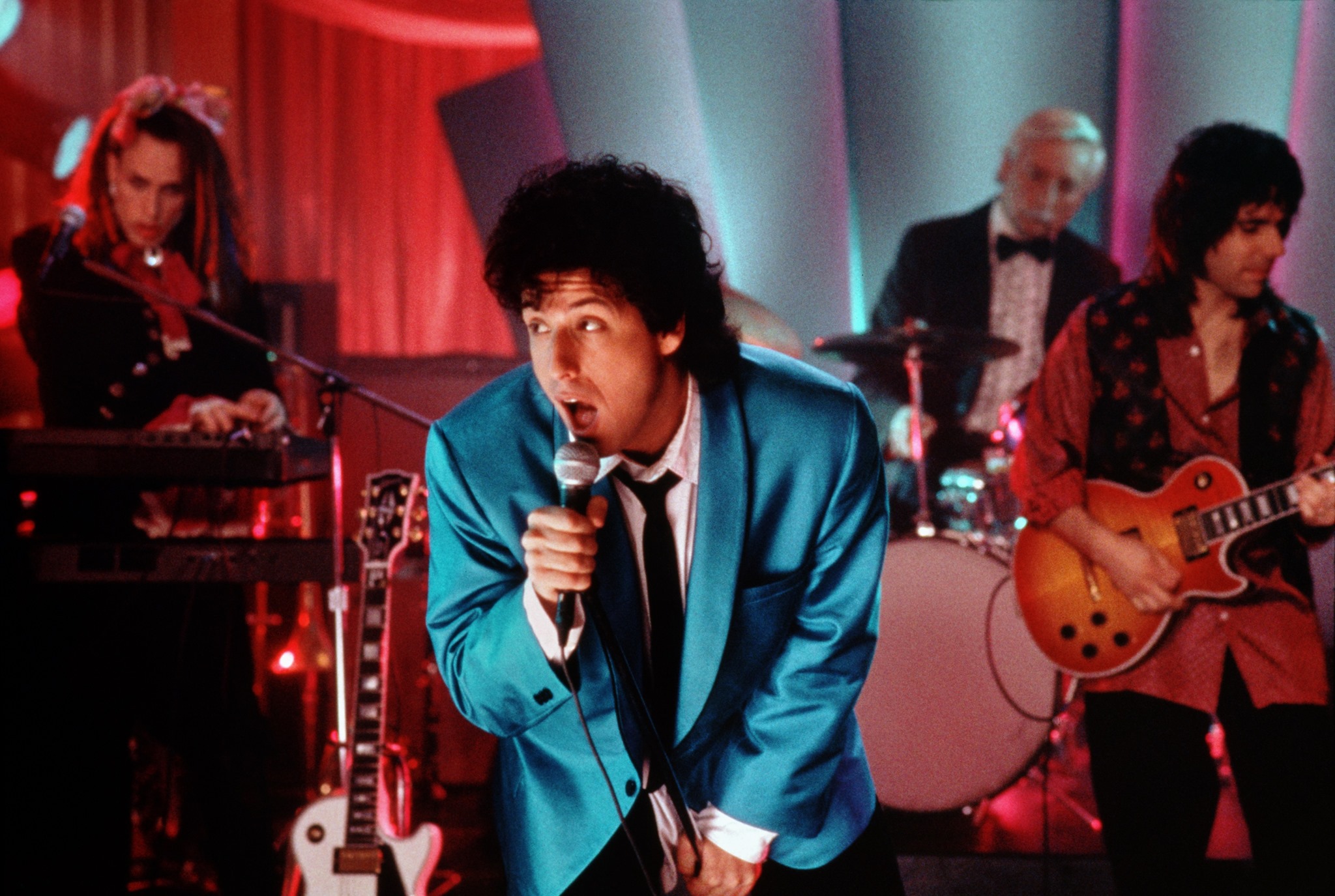 To celebrate the release of Hubie Halloween, Film Critic Jake Davies looks back on the illustrious career of Adam Sandler and judges his five best performances
Adam Sandler. The name itself evokes an image of a certain model of film, the 'Adam Sandler movie,' which the actor has been producing in great quantity (if not such great quality) since his emergence on the big screen in the 1990s. Everyone has an opinion on the feel-good, cheesy yet easy-to-watch comedy that Sandler has mastered over the past three decades, but if you look closer you can actually find a number of his movies which are surprisingly good. Therefore to celebrate the release of Sandler's latest flick, Hubie Halloween, I'm going to take a look back at the actor's five best performances to date to explore the highlights of his long career.
5. Billy Madison (1995)
This film established the blueprint for the modern-day 'Adam Sandler movie,' as the comedian portrays the goofy and uneducated son of a wealthy hotel owner, who must retake twelve grades of school to inherit his father's company ahead of sleazy executive Eric Gordon (Bradley Whitford). Sandler's big-screen breakthrough, Billy Madison began the recurring archetypal role for Sandler as the destructive man-child struggling to grow up and maintain healthy relationships. The school setting is perfect for the framing of this awkward late transition and provides Sandler with a platform for his silly style of humour.
The plot is straightforward, as Sandler strangely courts a third-grade teacher (Bridgette Wilson) whilst passing her class, ultimately winning her over with his sweet actions and determination to better himself. It's a really simple premise then, but one which worked to all of Sandler's strengths as a comedian. The most impressive aspect of this film, however, is that, despite its charming but irritatingly stupid lead and goofy setting and childish humour, the movie still holds up as an entertaining, endearing and genuinely funny 90s comedy. Drunken hallucinations of a taunting penguin are strange but somehow work well alongside classroom pranks and uncomfortable third-grade teacher-student flirtation, coming together to form the very first Sandler classic.
4. Happy Gilmore (1996)
If Billy Madison is credited as Adam Sandler's Hollywood breakthrough, then the following year's Happy Gilmore proved that the comedian was here to stay on the big screen. The titular character, portrayed by Sandler himself, is a failed ice-hockey player who, after his Grandmother's house is repossessed, utilises a newly-discovered talent for golfing in an attempt to raise enough money to help her keep the house. Along the way he falls for a Pro Golf PR director named Virginia Venit (Julia Bowen), makes an enemy out of the outrageously snobbish and jealous fellow golfer Shooter McGavin (Christopher McDonald) and becomes the disciple of eccentric one-handed ex-pro golfer Chubbs Peterson (Carl Weathers). It's the first time we really get to see Sandler lean into one of his strongest character tropes – that of the angry comedian, a confused and troubled man who struggles with concepts of love and identity, but relieves this pressure through outbursts of rage after his short fuse blows. It's a character trait the actor would go on to hone, but Happy Gilmore is the first interpretation of this concept of masculinity Sandler clearly enjoys embodying. Combined with solid humour, great supporting characters and a flavour of the outright goofiness which made Billy Madison so entertaining, Happy Gilmore has earned its place as a heart-warming Sunday afternoon comedy.
3. The Wedding Singer (1998)
This classic rom-com paired Adam Sandler and Drew Barrymore together for the first time as Robbie Hart, a kind-hearted wedding singer stood up during his own nuptials, and Julia Sullivan, a sweet but shy waitress who is engaged to a cheating, misogynistic stockbroker (Matthew Glave). Set in a particularly nostalgic version of the 1980s, Robbie helps Julia to plan her wedding and subsequently falls for her, resulting in Sandler's first truly romantic film. Where in Billy Madison and Happy Gilmore the female characters were sidelined, serving only as a love interest in a sub-plot, here the story revolves around these two central characters and their various struggles and dreams – as such their relationship feels more natural and their chemistry more real.
Sandler excels in the role, mixing his aforementioned comedy and anger with a deeper insecurity to convey a character whose reliance on companionship clashes with his good-hearted nature in both hilarious and emotional situations. It's the first time in his filmography that Adam Sandler is given the freedom to really ACT, creating a feel-good hit as a result. Serving as both a sweet 80s love story and featuring Sandler singing with a mullet, this film is easily one of the actor's most iconic roles and is still a great watch in 2020.
2. Punch-Drunk Love (2002)
For the top two on our list, we have chosen two of Sandler's more dramatic and critically-praised performances, starting with 2002's Punch-Drunk Love. Classified as a 'black comedy-drama romance film' but not truly fitting into any one category, Paul Thomas Anderson writes and directs a weird but wonderful exploration of Barry Egan, a socially-anxious and rage-prone businessman who struggles to find love and happiness in a chaotic modern world. Anderson later explained that he created the film around Adam Sandler and this is evident in Egan's character – he is the same immature man child, sweet but unsuccessful and prone to funny bursts of rage, except in Punch-Drunk Love each of these characteristics are taken to the next level. Barry's rage is scary in its ferocity, his sweetness devolves into shy introversion and his isolation results in onset depression, which the character battles throughout whilst fending off overbearing sisters, evading debt collectors and slowly falling for his sister's co-worker, Lena Leonard (Emily Watson). It's an excellent character study, examining the difficulties of living with anxiety and Sandler is brilliant in the role. It's a shame that Watson doesn't receive as much screen time, as her quirky character is a perfect match for Egan, but the relationship still drives the majority of the movie and the chaos Anderson creates in Barry's life is anchored by their strange albeit natural bond. Sandler was subsequently nominated for a Golden Globe for his portrayal of Barry, a performance which is only just topped by another venture into a dramatic role 17 years later.
1. Uncut Gems (2019)
By 2017, the 'Adam Sandler movie' was an established model, with the actor typecast relentlessly into similar roles since the 1990s. A few forays into dramatic roles aside, Sandler's only real successes continued to be his feel-good comedies, until the release of Uncut Gems in 2019. Directed by the Safdie brothers, long-term Sandler fans much like Anderson, Uncut Gems is another character study, this time focusing on Jewish-American jeweller and gambling-addict Howard Ratner (Sandler) as he seeks out an expensive gem which will help pay off his debts. A furious, anxiety attack of a movie, the Safdie brothers whisk you into Howard's shoes as he rushes around New York in a desperate plea to fend off loan sharks and maintain appearances in a cut-throat market.
Sandler is the heart of this movie, and his performance as Ratner is by far his best as an actor. He really embraces the character, to a point where for once it's hard to recognise him as Adam Sandler at all – here he plays a self-centred, adulterous man whose only goal is to win big, a sharp contrast to his usual immature, goofy characters who usually seek to better themselves. To Howard, betterment is found through power, wealth and success, and Sandler completely embodies this philosophy in his portrayal. This combination of Sandler's enigmatic acting and a thrilling, breakneck plot has created undoubtedly the best film in Adam Sandler's career. It shows that if a director tailors a character to Sandler's strengths and brings him into the creative process, the veteran actor can produce surprisingly quality performances. Jack and Jill, eat your heart out.
---
Looking for more Adam Sandler and Redbrick rankings? Try these from Redbrick Film: