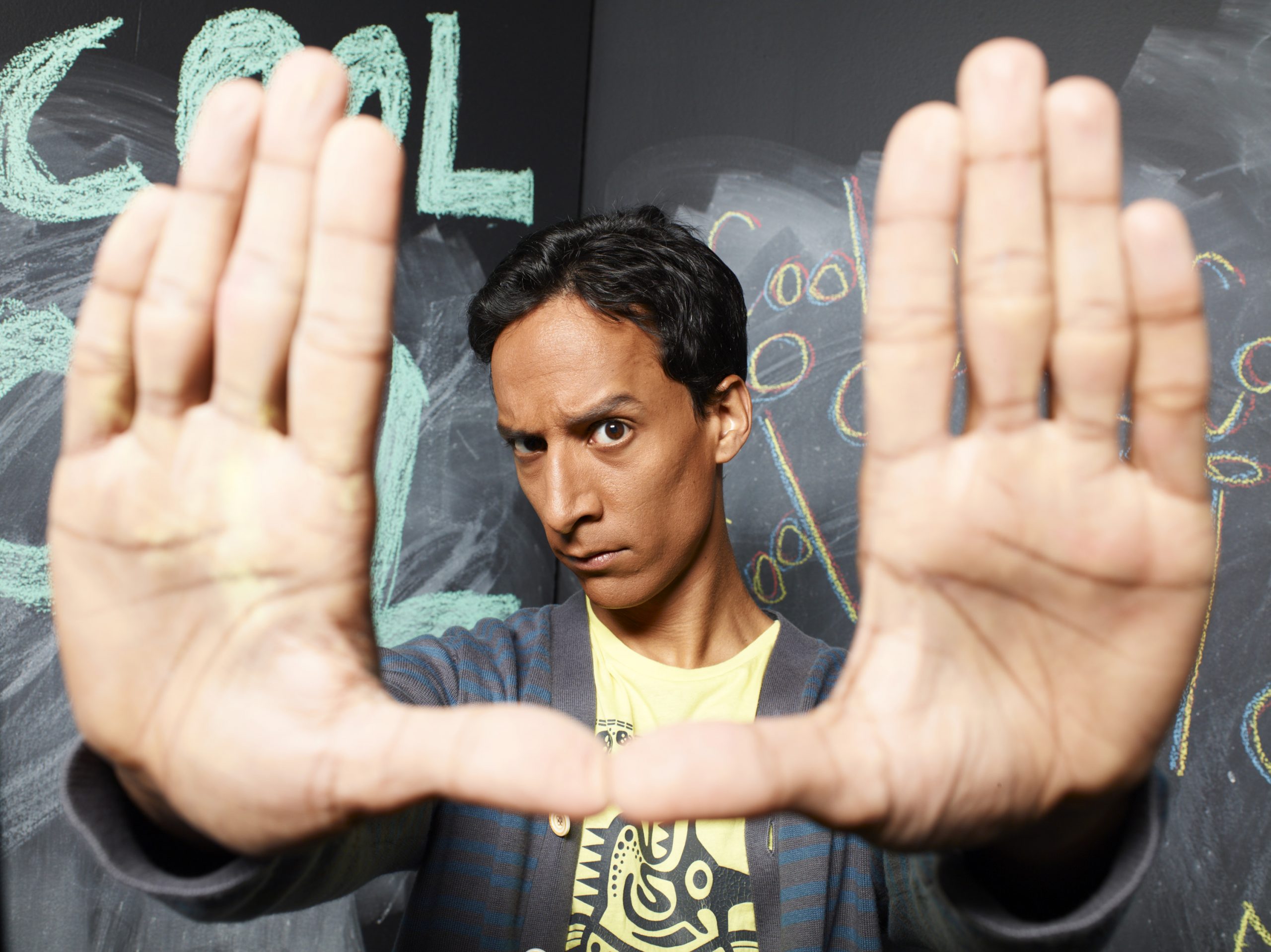 TV Editor Sian Allen puts the spotlight on Community's Abed Nadir, believing that he is the heart of the genre-fluid sitcom
'Welcome to Greendale – you're already accepted', boasts a paint-splattered poster in the halls during one of Community's epic paintball shootouts. 'Greendale', of course, refers to the fictional community college that our beloved study group attends. But the slogan is also a neat little way to surmise the warm feeling I get watching Community – like there's somewhere that I belong.
Community is a show about a bunch of loveable misfits who have drifted to Greendale for one reason or another. Jeff (Joel McHale) is a disbarred lawyer with a fake bachelor's degree, Annie (Alison Brie) is a neurotic overachiever who's fresh out of rehab, Troy (Donald Glover) is an ex-jock who lost his football scholarship after a poorly executed keg flip. My favourite of them all, however, is Abed (Danny Pudi), a pop culture obsessed nerd who navigates the world through the familiar tropes of film and TV.
Unsurprisingly, Abed is a character that I strongly resonate with. His social awkwardness and the way he connects with others using pop culture is not exactly unfamiliar to me. He may not be a perfect representation of neurodivergence – Community has a habit of dialling his quirks and implied autistic traits up or down depending on what joke they want to tell – but he is so much more than a one-note character with a gimmick. Instead, his vivid imagination, genre savviness and amusing meta-commentary are what elevates Community from beyond a standard sitcom into something truly special and unique.
Only Abed could become the leader of a chicken finger mafia because he wanted to help his friends, or care so much about a Christmas tradition that he starts to see the world in stop-motion. His love of movies and TV is what allows Community to play so fast and loose with genre and medium, his expertise and unique worldview meaning that the sitcom can wink at the tropes of western, sci-fi, thriller or action with ease. Abed isn't only there to make movie references, however. He may quip about not understanding social cues or wanting to practise his smile, but Abed's sincerity leads to many of Community's most heartwarming and emotional moments. His friendship with Troy, in particular, is consistently funny, sweet, and compelling. Their many hijinks in the end tags (including their very own fake morning show) are one of the best parts of the show, a lesson in not letting what others might think stop you from being yourself or having fun.
In the season one episode 'Physical Education', the study group go to great lengths to get Abed a date, fearing that it might be his only chance. In a sweet subversion of expectations, at the end of the episode, Abed reassures the group that he doesn't need their help. For one thing, he's got 'self-esteem falling out of his butt', and for another, he actually does quite well with women because of his endearing dorkiness and aloof nature. Despite the ease with which he can impersonate suave characters like Don Draper or Han Solo, Abed totally owns who he is. His quiet confidence and unabashed weirdness are not only charming qualities but inspiring ones too.
With all its epic homages, parodies, and intertextuality, it is no wonder that Abed is the hero of Community – he may as well be its showrunner. Abed is effortlessly cool (cool cool cool) because he doesn't try to be. His typically deadpan, matter-of-fact delivery and difficulty understanding sarcasm is always funny, but he has some of the most memorable and heartfelt monologues across the show too. Especially if you turn to TV for comfort as much as I do, Abed is a character that helps you feel understood, regardless of your quirks, flaws, or failings.
---
Check out more of Redbrick's favourite TV characters here:
TV Character Spotlight – Leslie Knope (Parks & Recreation)
TV Character Spotlight – Jess Day (New Girl)