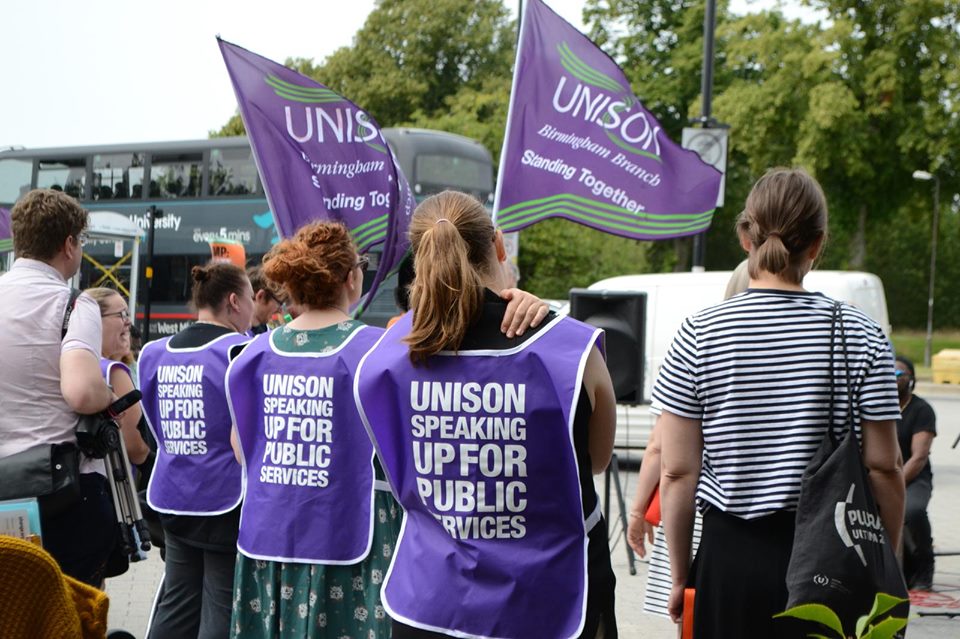 Thursday October 3rd will be the sixth day of industrial action in the dispute between the University of Birmingham (UoB) and the UoB branch of UNISON over support staff working conditions and pay
Thursday October 3rd will be the sixth day of industrial action in the dispute between UoB and UNISON over support staff working conditions and pay
Striking university support staff will be holding pickets at the university entrances until 12 pm. At 11 am, there will be a rally by University Station with staff, students, and activists voicing their solidarity with the strikers' demands. This will be followed by a free lunch for all attendees.
UNISON hope to see 'as many students as possible' at the pickets and rally. A spokesperson told Redbrick: 'The pickets are spaces of learning and for sharing experiences about how we would like our University to become, and how we can work collectively to improve the working conditions at the university.
'We will be equipped with placards, flags, stickers, music, whistles, flyers and letters. Student societies and individual students are very welcome to join us!'
Support staff represented by UNISON includes those working in catering, cleaning, security, student services and more at UoB.
The demands of the strikers include the University granting a pay rise above the rate of inflation for all support staff, becoming a Living Wage Accredited employer, bridging the gender pay gap by 2020, and agreeing to negotiate with all unions at the University on their joint report on UoB working conditions.
Seven Birmingham MPs, including Selly Oak MP Steve McCabe and Edgbaston MP Preet Kaur Gill, wrote to UoB Vice-Chancellor David Eastwood in support of UNISON's demands, telling him 'there's a moral imperative for the University to do more.'
UoB alumnus and former Greek Finance Minister Yanis Varoufakis also voiced his support for the industrial action, tweeting that 'the proletarianisation of University staff began during Thatcher's reign and has now reached its apotheosis under a managerial model inimical to higher education.'
The University has matched the voluntary living wage for the past four years but has not become an Accredited Living Wage employer.  UNISON claims that this means they still need 'to lobby the University intensively to keep members above the level of the accredited Living Wage.'
One member of the support staff, who works a 36 hour week in term time, challenged senior management staff to live on their salary. They wrote of how their monthly wages of £978, 'a little over what [Eastwood] earn[s] in 4 hours,' do not cover their basic outgoings.
'I have taken out loans to make ends meet, I have lived on my free staff dinner only so I could feed my children, I have used food banks on a regular basis. At Christmas, I rummage charity shops to look for half-decent presents for my children still being careful not to spend too much,' the letter describes.
A spokesperson for UoB told Redbrick: 'We have met with Unison a number of times to try to bring an end to the dispute and we remain disappointed that we have not yet been able to reach an agreement.
'Support staff were awarded (and paid) a 2% pay increase with effect from August 2018 and were offered a 3% pay increase with effect from August 2019, significantly higher than the increases at other universities and the wider public sector.
'We recognise that staff at the lower end of the pay spectrum may be disproportionately affected by increases in the cost of living  or cuts in government funding, which is why this year is the 11th consecutive year that our support staff pay awards are in line with or above those negotiated nationally.
'In addition, we have matched the level of the voluntary Living Wage (vLW) for the last four years and offered to commit to continue to match it for at least a further three years.'
'If we are unable to agree an end to the dispute, we are confident that the large majority of staff will continue working normally to ensure that our students, prospective students, and visitors are affected as little as possible by disruption.'