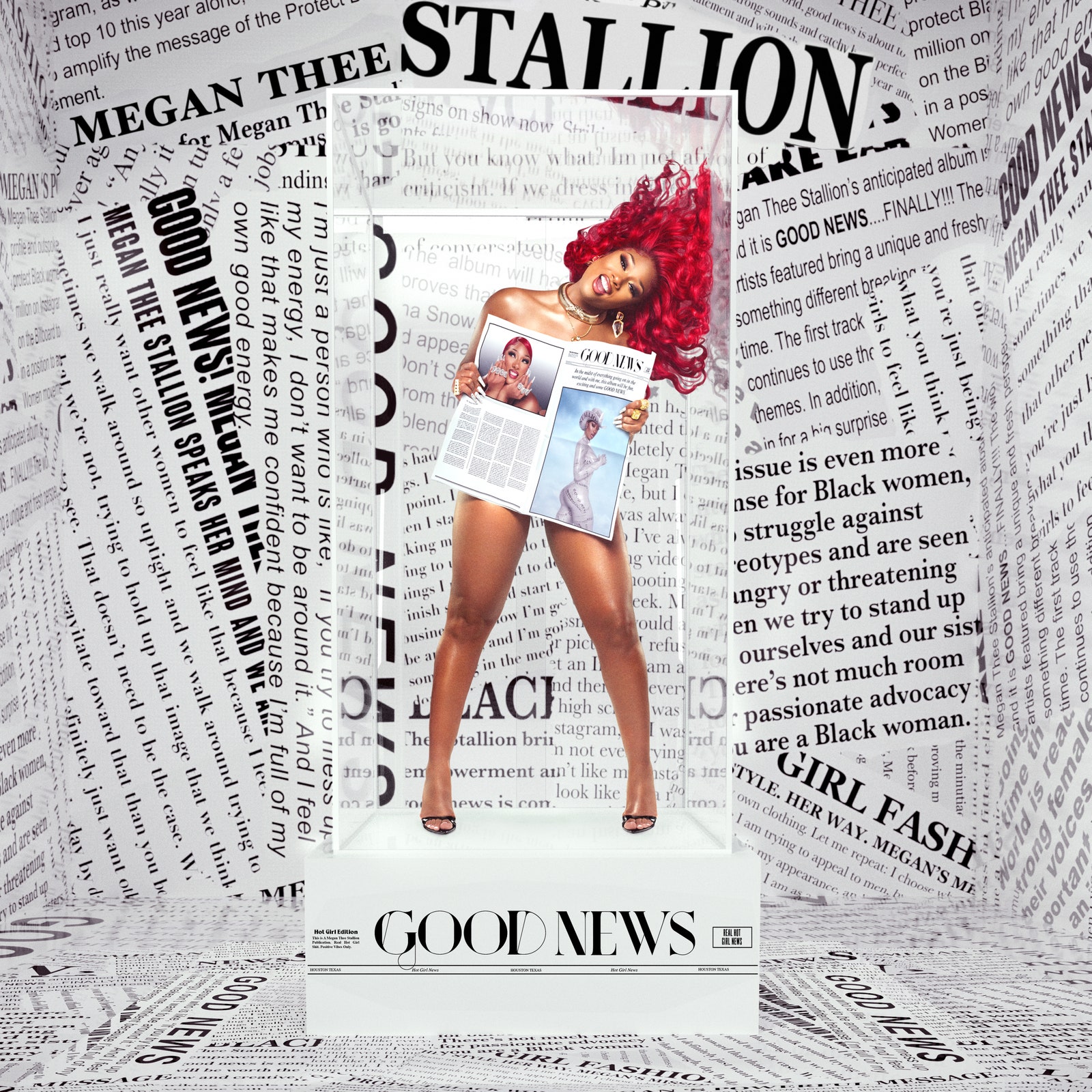 Megan Thee Stallion's debut album is a fun yet underwhelming effort as the artist fails to diversify her style and stand out from the crowd Music Critic Sharlz Peters writes
The long-awaited Megan Thee Stallion album is finally here after months of anticipation, many collaborations with other prolific acts like Young Thug, Beyonce and Cardi B and a legal case.
Megan Thee Stallion came onto the music scene as a 5"10 'stallion' from Texas in the middle of her higher education with an aspiration to use her degree to and money to fund the building of medical centres following the death of her mother to cancer. Her freestyles quickly became viral with Megan spitting raunchy lyrics about her requirements for a man's bank account balance and bedroom performance. Her debut mixtape Fever was well-received and earned her many fans worldwide who have eagerly waited for an album.
Good News is a 13-track album with features from artists such as DaBaby, the City Girls, Beyonce, Lil Durk, SZA, Popcaan, Young Thug, Big Sean and 2 Chainz.
Her album begins with her most controversial and predicted diss track against 5"3 Canadian rapper Tory Lanez who was recently charged for allegedly shooting Megan's feet inside a car during a heated arguement. Lanez denied all allegations, releasing his own album Daystar which Complex described as 'a justification for abusing Black women'. In 'Shots Fired' Megan samples the Notorious B.I.G Track 'Who Shot Ya' in which Biggie denied setting up a shooting on Tupac in 1994 to blast Tory for lying about his own shooting. She compares the situation to the shooting of Breonna Taylor, noting that Lanez' ability to deny the shooting and still gain support from numerous fans online is the same type of misogynist violence that allowed the officers who shot Taylor to walk free.
The rest of the album continues with Megan's typical topics of having men with big bank accounts pursue her, sexual exploits and references to her studies. Disappointingly, Megan fails to deviate from these topics and a lot of the tracks sounds very similar in flow and production. When listening to 'Do It on The Tip' it is difficult to identify Megan's bars from the bars of the City Girls. It is an energetic and entertaining track that serves its purpose as being a sexually explicit dance track. However, the City Girls cannot boast the same rapping ability as Megan in most settings yet Megan does not shine as she should here.
'Intercourse' featuring Popcaan and Mustard incorporates dancehall influences that differs from the mostly pop-rap vibes of the album. This creates a fun tune with a chilled vibe that matches the current UK music scene well. Likely taking note of the TikTok craze, 'Don't Rock Me to Sleep' is a synth-pop track where our Aquarius rapper asks for honest up-front communication in a relationship. Its catchy hook and light-hearted feel are drastically different to the tone set by the rest of the album and teenagers across the globe are likely already choreographing dances to it. The final track 'Don't Stop' that features Young Thug is a hard-hitting electronic industrial track perfect for a workout. Its glitchy sounds make this track unique and enjoyable to listen to.
Unfortunately for the album, the strongest tracks are without a doubt her previously released singles 'Savage' and 'Girls in the Hood.' 'Savage' has already been named as the powerhouse from her EP Suga that blew 'B.I.T.C.H.' out the water with some of the strongest bars from Megan, a very catchy hook and now the addition of the legendary Beyonce to boot. 'Girls in the Hood' follows 'Savage' with a sample from hip-hop fan favourite Easy-E's 'Boyz in the Hood.' Similar to many of Megan's samples from tracks by male rappers, Megan changes the theme from 'boys like us' to 'girls like us', saying what she attains for with her appearance her moves and her men.
Good News is by no means a bad album. Most of the tracks are repayable and good mood-boosters for when a listener may be feeling like they lack confidence. However, Megan could have benefited from introducing more sides to her talents. In her 'Fire in the Booth' and other viral freestyles, Megan demonstrated strong M.C-ing ability that was not incorporated enough into Good News. If she had collaborated with other such artists and added more of those freestyle tracks to the album it could have been a balanced project that displayed her potential. Megan's album falls flat as it caters too much to the popular pop-rap craze that leaves her blending in with other female rappers of this era as her lyrics and flow fail to stand out significantly.
Rating 6.5/10
Good News is available now via 1501 Certified Ent. LLC
_________________________________________________________________  You Might Also Like:
Album Review: Bombay Bicycle Club – I Had The Blues But I Shook Them Loose- Live at Brixton