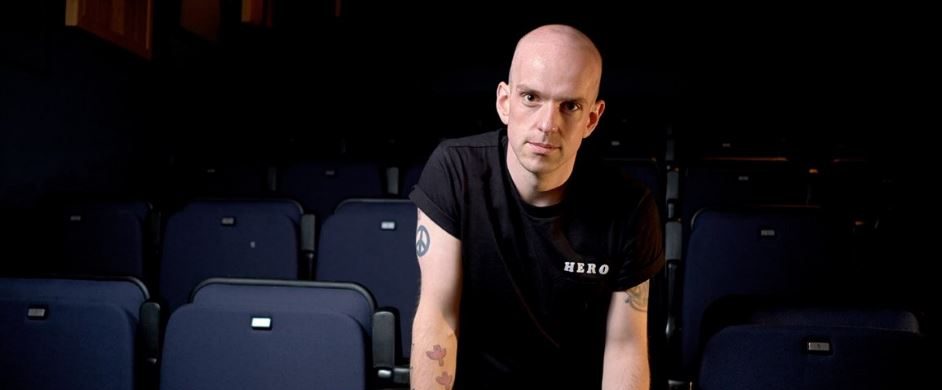 Culture Writer Jonah Corren speaks to award-winning poet and writer, Andrew MacMillan about his upcoming show Dorian, and his writing processes from poetry to theatre-making
In anticipation of his new play, Dorian (based on Oscar Wilde's cautionary novel The Picture of Dorian Gray) at the MAC last week, I sent some questions to acclaimed poet and theatre-maker Andrew McMillan, to try to dive into some of the thoughts behind this new piece, and perhaps gain some insight into his writing process in general. The author of two critically acclaimed collections of poetry: Physical (2015) and Playtime (2018), both with Cape Poetry, Andrew's shift into theatre is an intriguing one, and I was excited to learn more about how, and why, he has managed that change. 
J: Why Dorian Gray? How have you adapted the book to fit your intentions? What do you want audiences to take from this piece?
A: I think the audience will be really surprised to realise that the original story of Portrait of Dorian Gray still speaks to a contemporary audience – it's as though it could have been written yesterday. We've taken the basic framework of the story, twisted it around, reconsidered it and thrown it into a gymnasium to see how it can handle itself! Hopefully the audience will be entertained, but also be taken into a space where they can consider some of the more serious themes the play is trying to tackle. 
J: To what extent has your poetic practice informed the writing of this piece? How does your thought process in writing theatre differ from writing poetry?
A: The benefit of poetry is that it often doesn't need to know what happened before or after, it can just be a glimpse of something. A play obviously needs to have more of a sense of an arc of narrative, more development. I kept the notion of heightened language, of distilling large concepts into tight lines and sentences, but I've been able to just expand those ideas more on the stage.
J: How did writing theatre lead on from writing poetry? 
A: The play really carries on interrogating the same intersections of masculinity, sexuality, class and violence which my two previous poetry collections, Physical and Playtime did. 
J: Your poetry deals a lot with themes of intimacy and vulnerability. How do you translate those things onto a page? What other things do you think are most important to your work? 
A: In order to write about intimacy and vulnerability, you have to write from an intimate and vulnerable space, abandon certain, abandon the notion of being sure, and write into the sense of not knowing. It's not for me to say whether it's important, I just always wanted to turn the male gaze on other men, and see what happens. 
J: Why do you choose you use space, rather than punctuation, in your poems?
A: I've never met anyone that speaks in proper punctuation! Have you? Has anyone? People pause in odd places, take longer breaths, speak quickly, slow down, by using spaces instead of punctuation, I was trying to get closer to something which seemed like breath and like more natural speech, which again was about trying to move towards something intimate. 
J: What future projects are you looking to? Third collection? 
A: Arrrgh! Erm a third collection at some point yes, and hopefully some non-fiction exploring some of the ideas which the play touches on!
Dorian is running until the 7TH November at the Midlands Arts Centre.