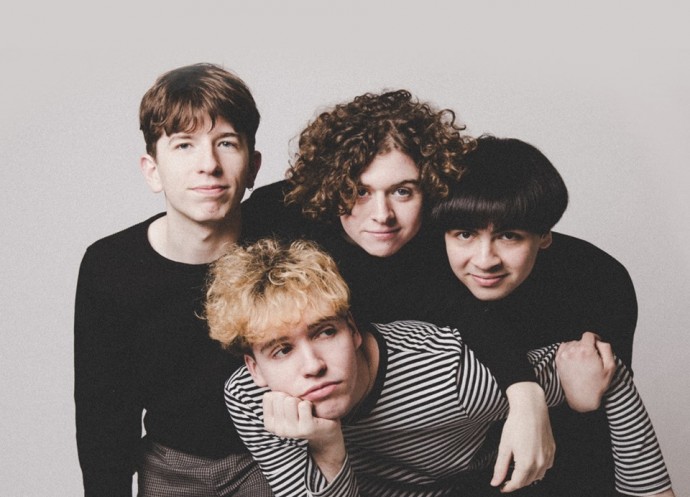 Music Critic Phoebe Malone reviews SPINN's live show at Mama Roux's
Liverpool-based indie pop quartet SPINN paid homage to drummer Louis O'Reilly's home town, reminiscing as early teens seeing Birmingham as the coolest place in world, 'the heart of the nation for indie tunes.' No better place to embrace Brum's music hub than Digbeth's Mama Roux, adorned with hanging leaves and neon lights serving their famous disco frites.
Despite apologising for his 'lack-lustre' dance moves, Jonny Quinn, SPINN's singer and front man induces an infectious energy as he opens with Morrissey-inspired dance moves, with signature flailing limbs. They open with the fast-paced 'She Takes Her Time', decked with jangling guitar reminiscent of The Cure, and Beach Fossils inspired shimmering dream pop obvious in the melodies.
A smooth transition to 'Green Eyes' proves why it sparked their career in Liverpool, with its funk rhythm and jazz chords demonstrating their wide inspiration. The members have previously said there was a slump in Liverpool's music scene during the 2000's after the likes of Echo and The Bunnymen, but they recognise a brewing atmosphere rising in its streets, with the likes of Echo Beach- it seems to spinn in roundabouts there.
The crowd is a mix of chorus-reciting fans and vaguely interested regulars, facilitated by Quinn reassuring 'if you don't like it feel free to throw a bottle.' Despite this permission everyone is carried by the same warm, enveloping cloud of hazy chimes. The crowd is reawakened and swaying turns to moshing for 'After Dark', laced with Andy Power's deep, rich guitar riffs.
After performing brand new song "Daydreamer", they announce their EP due in 2020. Credit must be given to this group in their early 20's for their fast progression from their self-titled debut album released only earlier this year, written in Power's bedroom from 'boredom'. Quinn, 19, admits to having travelled straight from last night's gig in Newcastle, to Uni, and then to this stage. Nevertheless, their boyish energy overrides any lethargy within these four walls tonight.
"It's not getting any better" reveals SPINN's unapologetically vulnerable face, with lyrics 'you know it's killing me, being here' reflecting in the damaged youths of the audience's transfixed eyes, disturbed by the state of the world apparent in the social commentary of the song, as well as their personal struggles. Musically it seems to be their most emotive song, bringing the mood of the room to a comfortable lull. 
A woozy, ethereal sound infiltrates the lyrics of 'July At A Glance' about wanting to float away, 'if we could spend one afternoon away and disappear without a trace'. Introduced as a poem written about Quinn's girlfriend Rachel, who he admits to "quite like" with a lovesick grimace, it summons a contagious contentment.
Love song 'November', announced as a song to snog to and fight to simultaneously, ended their stint in our well-loved Digbeth, with heavy synth breaking down into a shimmering, euphoric explosion, the "cold kisses" of the subject matter reminding the audience of the end of their evening away from these cosy indie pop jams. 
SPINN came to the pocket of Birmingham where the atmosphere belies the industrial; they came, they spun, they conquered.
Tickets for the rest of Spinn's tour are available here