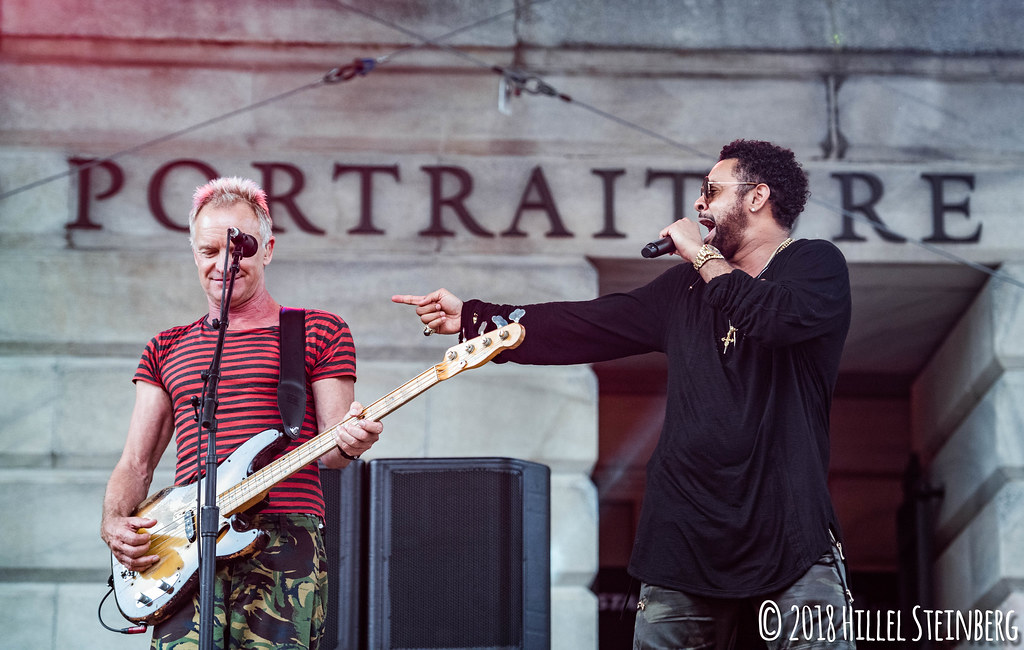 Maddie Bourne relives the electric atmosphere of Sting and Shaggy's live performance, an unforeseen but wholly welcome pairing in the music scene
The atmosphere in the O2 Academy is electrifying. It's the kind of buzz that you feel course through you at a 15,000-capacity arena, not akin to the quieter ripple of muted excitement you usually encounter in a more intimate venue. Excited screams rip from audience members' mouths, mostly the mouths of swooning women, but there are also a good few men equally anticipating the arrival of the act. It is literally deafening. Seated up on the balcony, it's hard to make out the faces of the bobbing heads that are creating the cacophony of delirium. They're anticipating the arrival of whom? A Harry, Niall, Liam and Louis reunion? The newest tween boyband on the block? An incoming text pings on my friend's phone next to me. Her middle-aged mother: four crying face emojis and an array of hearts. The stage lights go up and the screams threaten to claim our hearing for good.
A grey-haired man dressed simply in a blue t-shirt and black jeans walks confidently onto the stage cradling the neck of a bass guitar. Following him leaps a fedora-wearing, camo-jacketed 50-year-old with the hyper demeanour of a young puppy. The stage lights shine on the faces of the either swooning or awed audience members, most of whom are not of the generation to understand that the atmosphere these two music legends have created could be defined as the street-word colloquialism 'lit'. But lit, indeed, it is.
These two music legends in question are none other than Sting, formerly from British rock band fame of The Police, and Jamaican reggae-fusion icon, Shaggy. A pair equally legendary in their own right, but also equally unusual a pairing to be found at the O2 Academy in Birmingham on a Friday night. A rock singer, known for heart-wrenching ballads such as 'Every Breath You Take', and a reggae artist whose tracks 'Boombastic' and 'It Wasn't Me' have found their way onto every party playlist since the 90s. On paper, it doesn't add up. But there's proof in the pudding, with the pair winning a Grammy for their album 44/876 at the 2019 ceremony. Sting is 67, Shaggy is 50, and they've got middle-aged and OAP audiences screaming like they're teenagers.
There's something about reggae music that warms the soul and brings communities together. Originating from Jamaica, its roots are to be found in drawing together communities to express common emotions, uniting peoples and bringing some sunny entertainment. This was exactly to be found within Sting and Shaggy's electric performance, with tracks such as the title hit '44/876' fusing pop synths with reggae vernacular and other hits such as 'Morning Is Coming' proving Sting's smooth vocals can be manipulated between genres. Shaggy was the perfect addition to The Police's frontman's new reggae direction. Such new tracks delighted the audience, who joined in with a call and response system that Shaggy directed with a good few hits, and who laughed as the good-natured, natural banter flowed between the two musicians.
Many versions of two different worlds collided onstage that evening. First, the two music legends allowed each other into their own stellar discographies, mixing and merging their top hits in such a way that the other artist was perfectly accommodated, and in turn brought something utterly authentic and unique to the stage. There was the medley of 'Roxanne', the sultry, rocky Police classic, with none other than 'Boombastic', the underground party hit. There was the absolutely hilarious and genius duet with Shaggy's 'It Wasn't Me', in which Sting brought his vocals to the rather explicit chorus, and Shaggy ended the song with "it wasn't me, it was him", pointing to Sting as the perpetrator, triggering a chorus of raucous laughter from the rapt audience. There was the heartfelt rendition of 'Every Breath You Take' with Sting taking the lead on the classic Police ballad and Shaggy harmonising beautifully to the chorus. Secondly, the worlds of young and old came together, as 90s babies who still play Shaggy on their party playlists sang along next to older generations who witnessed The Police at the height of their fame.
None of this should theoretically work. But it worked so well. There's something about reggae, a genre that transcends age to become a collection of music that all can revel in the endorphin-rousing summer-filled nature of. And right in the heart of Birmingham, a city that celebrates diversity and community in all forms, two once very different artists came together to celebrate music's power with an eclectic, beautiful audience.