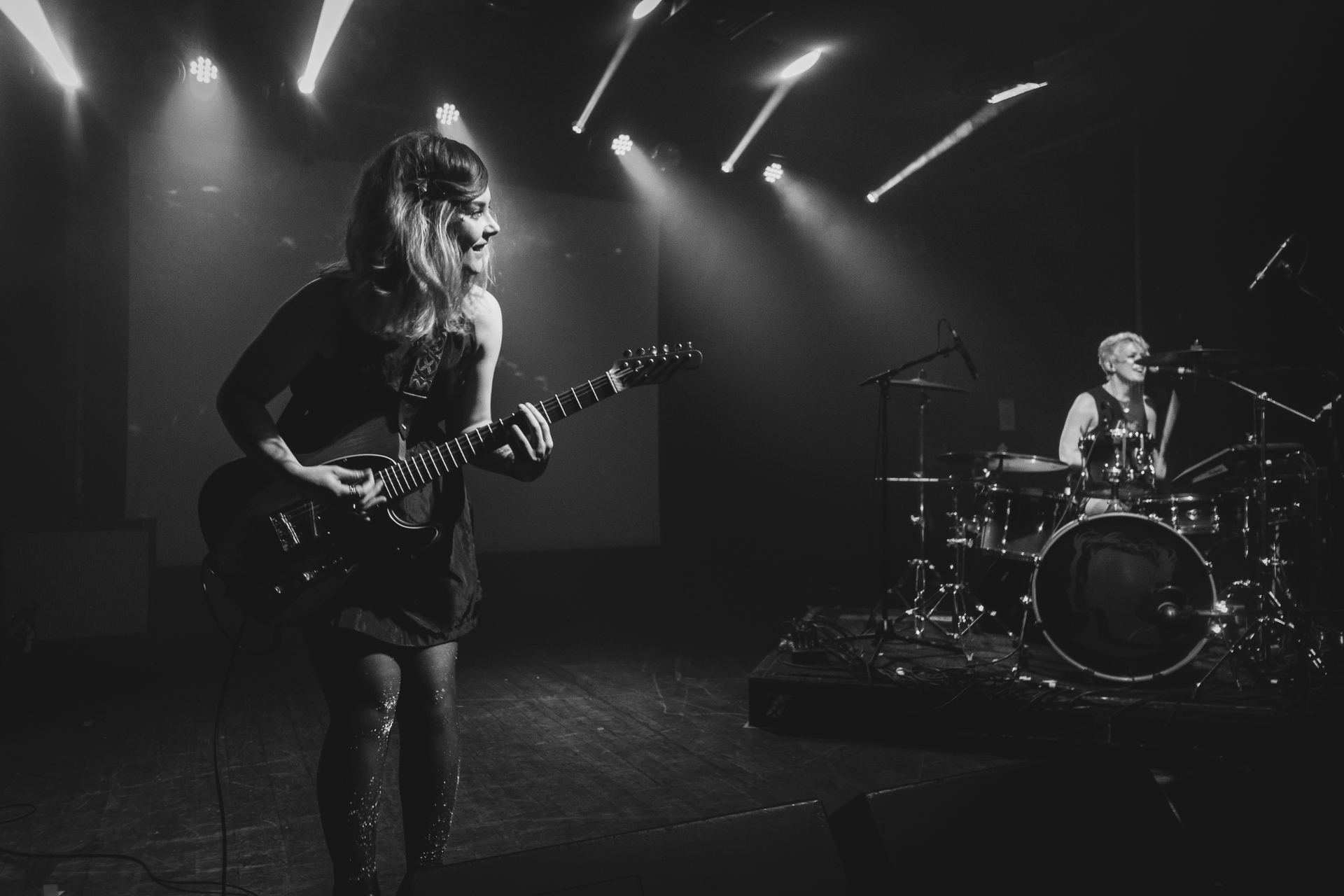 Music's Rosie Crabbe talks to Stina Tweedale of Honeyblood about touring, festivals, and female empowerment in music
Hi Stina! I'm really excited for your third album, In Plain Sight, to come out next month. How would you say it differs from the previous two?
Hey! This is the first record I'll be doing as a solo artist, so I guess it's gonna be pretty different sonically. I think that's probably the main thing that'll be different about it, but I hope there are some similarities as well, as it's still Honeyblood in essence.
Do you have a favourite track on the album?
I think my favourite track on the record is a song called 'The Tarantella'. It's a bit of a weird one; the actual song topic is a bit strange. It's a fictitious story that I made up. I like it – it's probably my favourite.
I look forward to hearing it! The artwork for the album looks really cool – what was it like being painted by Cecilia Paredes and what inspired you to do that?
I went down a kind of rabbit hole finding things on the Internet and came across her work. I was just so blown away by it – I'd never seen anything like that before. I'd seen loads of stuff where people have tried to imitate that, but Cecilia's been doing it for decades, and she's the only one I've seen who does it to such an amazing standard. It's kind of eerie in a way, and it just resonated with me so much that I had the balls to get in touch with her and was like 'Hi, I've got an album coming out, would you possibly want to do the artwork for it?' She was like 'Yeah, if you're in Philadelphia, then I'll paint you!', and I was! So I went there, and she painted me for two days, eight hours a day. I was like, 'Och it's fine, it's not that long', but it's a long time to stay very still, 'cause it's gotta be very exact, you've gotta stay in the same position so she can match you up with the fabric. I remember – because obviously I couldn't see it, as I was being painted – and then when I saw it through the camera, I was just like 'Wow!' No Photoshop, you know, it just looks incredible. Cecilia gave me a bit of info about it – it's what you call visual empathy, which means that your mind and your eye want to connect the dots – even though it's not actually perfectly aligned, and it isn't camouflaged in a sense, you want to believe it is, so your brain lets it happen, which I just find absolutely fascinating.
That's so cool! So your tour's also kicking off next month, and your schedule looks really busy! What would you say is the best thing about touring?
I just love meeting people who enjoy the music, really. You know, you make this thing in such an insular world, and as an artist, you do sometimes forget that people actually listen to it and enjoy it. So I guess my favourite thing is when people sing the words back, I can't fault it. It really is one of the most amazing feelings in the world, to have people really resonate with the music so much that they know the lyrics.
I saw you at the Electric Ballroom back in 2015 and it was amazing, so I really hope to catch you on this tour. And what's the worst thing about touring?
Lack of sleep possibly. It's the long days, and we have to travel a lot. Luckily I can sleep in literally any moving vehicle, so I don't really have a problem. But I guess I'm small, so people who are taller might have a bit more difficulty sleeping in a van or on a plane, but I just curl up, so I'm fine. Maybe also diet – touring definitely takes its toll on what you're eating. Not being able to cook my own food is a big one. It's not too bad though!
You're also playing Latitude and Citadel festivals this summer, both good ones for guitar music – what's different about playing a festival?
Festivals aren't technically your show, you're there as part of a bigger audience – maybe people are there to see you, but maybe they're not, and they're waiting for someone else to come on. It's usually more of an energetic show, and we're not often there for very long. There's not much waiting around – you get on stage, play and then leave again, but it's usually very exciting. My favourite thing about festivals is that you bump into loads of bands that you may have seen the previous year. For the last couple of years we just keep on bumping into JAWS. We're always on and they'll be after us, and we're always like, 'Hey! Nice to see you again after a year,' because we literally always play the same festival circuit as them. We also release albums at the same time, I think they're about to release one as well, so they'll be doing the same rounds as us. But it's kind of nice, because you can bump into people that you maybe haven't seen for a while, and you make a lot of friends with bands who live in different parts of the country. That's a really good thing about festivals.
Do you have a favourite festival, either that you've played at or been to?
I really enjoyed Pohoda Festival – we played it in 2016, and it was amazing. I just thought it was really funny that it had been going for the same number of years as T in the Park, but it's still going, and T in the Park isn't any more. It's in Slovakia, and there was just such a great vibe there – it was lovely and sunny as well. I think it rained once, but I'm used to going to Scottish festivals, where it's never sunny! I like Citadel and Latitude as well – we just kind of enjoy it,
whatever festival we play. If the weather's bad, it can be really terrible, but I guess it's part and parcel – I think British people kind of expect British weather. If we were anywhere else in the world then maybe it'd be more of an issue!
Are there any other bands or artists that you'll try and catch at Latitude or
Citadel?
Yeah, but we're playing the Saturday at Latitude, which is a shame because Slaves are on Sunday. I love Cat Power so much – I hope she's playing the same day as us, because she's such an interesting one to have at a festival. She could do an intimate auditorium show, a music hall sort of show, and it'd be beautiful, and everyone would be quiet, and listening to her voice very softly, or it'd be a bit rocking! I think she's diverse as a performer. There's loads of good bands on, like the Magic Gang, The Big Moon, Julia Jacklin, and Jenny Lewis as well. I bumped into Jenny Lewis at Radio X the other week, and she's one of the reasons why I play guitar, and why I got into more American styles. But I just sat there and I didn't have the guts to go and speak to her, it was so sad! She gave me a little smile – I've met her before as well, but I didn't want to go up to her and be like 'Hi, I've met you' – I met her at T in the Park, years ago, but yeah, I felt like a total idiot! So afterwards I tweeted her and said she'd had a big influence on my music. But she's playing Latitude – there's so many good ones. You always make a list, though, and we'll be loading out or sound checking when someone good's on!
Is there anyone you'd love to collaborate with someday?
I have no idea, actually! I don't do many collaborations, I write songs for other people – usually friends. Off the top of my head… who knows? Any of those artists, actually; Cat Power, Jenny Lewis, that'd be pretty good. Cat Power I'd say would be my number one, that'd be pretty awesome.
What advice would you give to someone who wants to start a band?
Don't practise too much! I think the music industry is changing so quickly – when I started out just seems like such a long time ago now. I would never now make a CD as a demo – we did a cassette tape, in a kind of kitschy, cool way – not because it was so long ago! Cassettes are back in. But I guess just making sure you write songs that are quite heartfelt, because that can sometimes be something that's missed out with the whole 'trying to be in a band' thing. Just remember that the songs are the most important part of that. And choose your band, the people you play with, wisely!
Do you have a specific process for writing your songs?
I do, but I try and do things differently each time. I bought a piano last year, even though I didn't really know how to play piano, and I wrote a song on it, I tuned it up a bit – I don't like always doing the same thing, I like to change things up a bit. Sometimes I write lyrics first, sometimes I have the melodies and I'll sing them into my phone, then come up with the music afterwards. It's always differed; it very much used to be that I'd sit with the guitar and play along with it until something came up in my head, but actually I don't really do that anymore, it's all changed a little bit. But I do know everything in my head 'til it's all done, so I have the full song with the instruments there and then take that into the studio. The song doesn't actually become the song until it's actually recorded for the album, I don't think.
Is music what you've always wanted to do?
Well, I went to uni and studied economics and social history, so… I don't know, I was always in a band when I was at uni, and music is my first love, I guess. I've been given the opportunity to do it, so I'm gonna do it, and I feel very lucky to be in the situation that I'm in, that people wanna hear it as well.
A lot of your music is about celebrating female empowerment. Who are the women that inspire you the most?
I'm the tame one in my group of friends! I write a lot for my female friends – they've had such a big impact on my life and my song-writing. And also because when you're touring you don't see them, so they're very much a part of my life at home, and I guess I have this other life when I'm on tour. And my mother, as well, who's just a complete badass, really! I'm very lucky to have them all in my life.