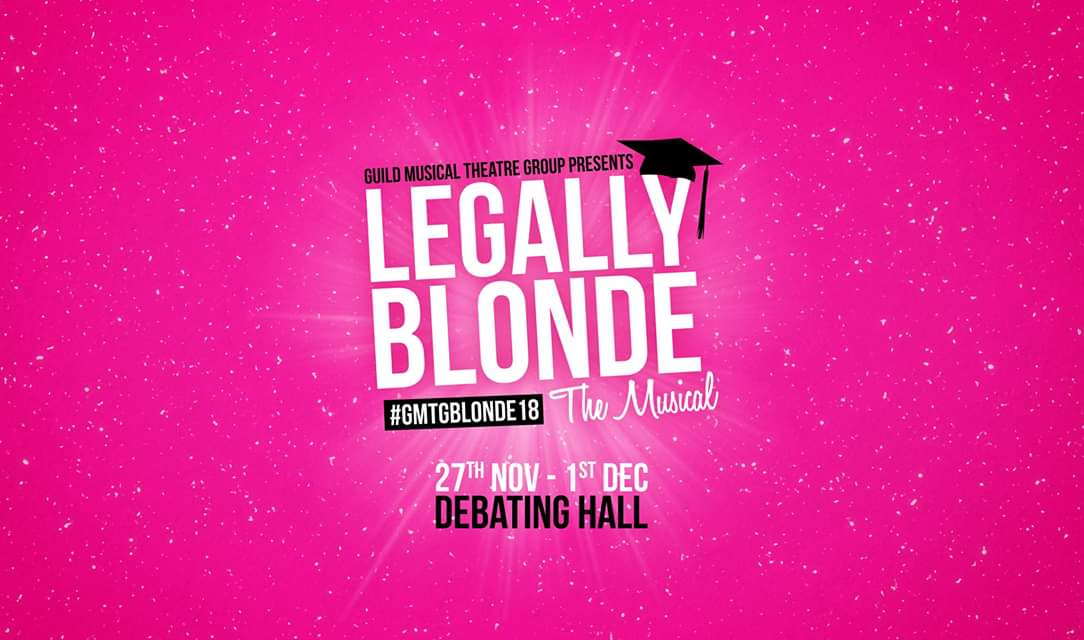 Jessica Capper reviews GMTG's production of Legally Blonde
With stunning music and lyrics by Laurence O'Keefe and Nell Benjamin, Legally Blonde is an outstanding and ambitious musical showcasing feminine empowerment. The show follows a blonde-haired girl from Malibu, Elle Woods, as she journeys to Harvard Law School, fighting to win back her ex-boyfriend but finding something quite different along the way.
As GMTG's first show of the 2018/19 year and following the rave reviews of their last 2017/18 show 'Hairspray', the cast and crew had a high bar to compete with – but GMTG did not disappoint when they revamped the Deb Hall at the University of Birmingham Guild to showcase this spectacle. Without a doubt – they blew everybody away.
The entire musical was magnificently put together at both performances I attended (opening night, and the final night), and despite at heart the show being an amateur performance, there were barely any mistakes made (a few wrong lines on the first night, but who can blame them with that crowd?), and the energy of the cast shone through in every scene and song.
There were certainly many highlights, all worth special mention. Emily Taylor was a vision in pink dresses and blonde locks as Elle Woods, flawlessly and gracefully leading the cast through both sections of this production. Her voice is something to behold, and it was no surprise that her solo's (including the Act One finale, 'So Much Better', or the emotional rendition of the title song, 'Legally Blonde') received rampant applause from her audiences. Taylor's use of subtle body language and exaggerated facial expressions were always on point to evoke emotion in the audience, and I sincerely hope to see her in more Guild Drama shows in the upcoming year.
Taylor met her match in Jacob Marshall, who played an outstanding Emmett Forrest. Taylor's voice is mesmerizing, yet Marshall managed to match her at every turn, and their voices blended seamlessly throughout the show. His ability to portray the role both emotional and comedically was spot on for a musical that blends serious issues with catchy, upbeat songs, and his rendition (alongside Taylor) of 'Chip on My Shoulder' was a favourite for the crowd and for myself.
Amongst the other cast members, Helen Parsons shone as Paulette, providing excellent comedic value to this production, whether that be with her lines, or her facial expressions and dance movements. Despite seeing the show twice during its five-night run, Parsons portrayal never failed to make me laugh, and her striking vocals captivated the audience every time she was given the chance to showcase it. Gabby Songui must be commended for her role as Brooke Wyndham; the sheer stamina she showed whilst belting out a musical number and skipping through a workout routine blew everyone away, while Rob Russo charmed as a suitably smarmy Professor Callahan.
Not only were the cast exceptionally talented, but the choreography and use of the costume, set and props further added to the perfection of this show. The Delta Nu's (Meg Russon, Lizzy Ives, Annabel Parsons, Zoe Farrow, and many others) consistently displayed beautiful routines in expressive synchronisation, popping up from behind stairs, screens, or sometimes even from hidden spots behind rows of seats. While some of the set pieces were clearly difficult for members of the cast to move during transitions between scenes, it did assist in setting the atmosphere of Harvard Law, Paulette's salon, or Elle's dorm room. The smaller props (a martini glass, a golden thong and an abundance of pride flags to name a few) and beautifully designed costumes simply added more wonder and atmosphere.
I would like to sincerely congratulate the entire cast and crew for all their hard work in creating this production – to Thomas Kershaw-Green as the exceptionally talented director, Alice Brown as the equally talented musical director, Lauren Shirley as the incredible choreographer, and their entire creative team. Each one of them fully deserved the standing ovation the show received on their final night. We can only hope the remaining GMTG productions of the 2018/19 year can live up to the spectacular Legally Blonde has achieved – we'll have to wait and see!