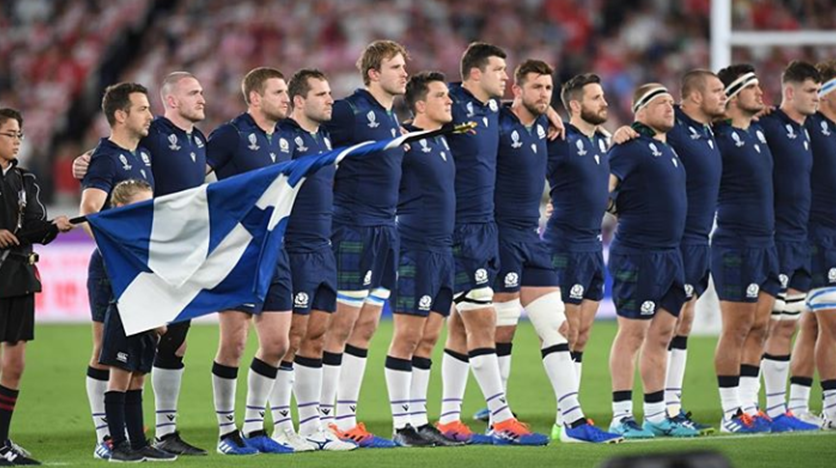 With Scotland failing to reach the knockout stages of the Rugby World Cup, Dan Hague assesses where things went wrong and what is next for Gregor Townsend's men
The Rugby World Cup claimed its first Tier One casualty before the end of the group stage, as Japan bettered a desperate Scotland side and sent them on the first flight back to Edinburgh. Scotland went into the game needing to win by an eight-point margin. However, a disciplined and accurate Japan first-half performance meant that for victory Scotland had to overcome too great a deficit.
The Scottish public had high expectations of their team coming into the tournament. However, they were rudely disabused of any notions of grandeur in their opener against Ireland. Falling to a 27-3 defeat, questions were asked of the team's senior players. John Barclay was dropped; and if not for an injury to reserve scrum-half Ali Price, Greig Laidlaw may have gone the same way.
In some respects, this harsh reaction led to a much improved Scotland. They comprehensively dispatched Samoa and Russia in their following two games. Their defence looked strong as they did not concede a point, winning 34-0 and 64-0 respectively.
Despite Scotland's improvements, the Irish all but popped the balloon of rising Scottish optimism when they fell to the host nation Japan. A clinical Japanese performance in which they prevented Ireland from scoring a point in the second half meant that Scotland needed a victory against the hosts to progress from their group. They also had to either deny an excellent Japanese side a bonus point or earn the additional four-try point themselves.
If only to add to the drama, a typhoon was closing in on Japan. World Rugby, to protect both the players and the fans, had to decide whether or not to cancel the fixture. This would have meant a 0-0 draw sending Japan to the quarter-final by default and Scotland back home.
In spite of the typhoon, the Japanese side braved three feet of water to arrive at their training session, by contrast, the Scottish team remained indoors. It is a mark of the difference in attitude between these two teams that the squad who had the most to gain from the game being cancelled were the team that trained.
【日本代表】
本日、キャプテンズランを行いました🏃🏻‍♂️🏉☔️
皆さま、台風には万全の対策を🙏🏻#rugbyjp #OneTeam #BRAVEを届けよう #RWC2019 #JPNvSCO #RWC横浜 pic.twitter.com/xGUVfmS9p1

— 日本ラグビーフットボール協会 (@JRFUMedia) October 12, 2019
Fortunately for the neutral, the game was played. However, unfortunately for the Scottish, the fixture was a disaster. In the opening five minutes, Scotland appeared to be in control. They scored early through Finn Russell and led Japan by seven points. However, a defiant Japanese team wrestled control back from the Scottish and scored three tries to conclude the first half. A Kenki Fukuoka strip and run-in on the other side of half time put the last nail in Scotland's coffin. The brave blossoms demonstrated heart and courage to dismiss a valiant Scottish fightback, finishing as 28-21 winners.
What next for Scotland? Inevitably a number of senior players will retire. John Barclay, Greig Laidlaw and Tommy Seymour are likely to depart. Coach Gregor Townsend is also under threat. Jim Hamilton has said that 'under [Gregor Townsend] Scotland have not evolved.' Nonetheless, there is a strong possibility that he will remain as head coach for the Six Nations at the start of 2020. Another bad performance there though and it could spell disaster for this Scottish team.