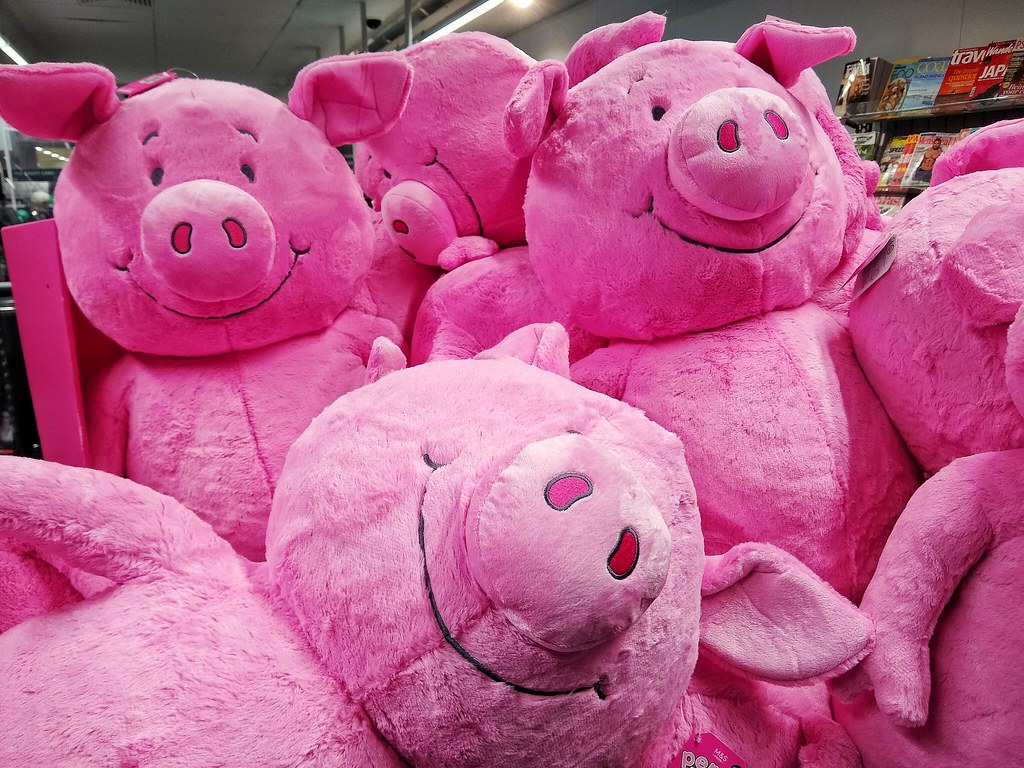 Food&Drink Writer Chloe Hyde delves into the culture of Percy Pig, a tasty treat from Marks and Spencer that has the heart of the whole nation
Even though Percy Pig first hit the shelves in 1992, the past few years have seen an incredible merchandise boom for Marks and Spencer. The original pig-shaped gummies, which are strawberry, raspberry, cherry and grape flavoured, are now just one of many Percy-related items. Other items include easter eggs, cushions, bed linen, soft toys, face-coverings, sponge rolls, ice cream, piggy banks, dessert sauce… the list is extensive, and continuously growing. Percy Pig has somehow managed to gain himself a national treasure status, becoming a household name in the UK. 
In 2019, M&S changed the formula of Percy Pig to make the whole sweet range vegetarian friendly. While there was already a specifically 'Veggie' Percy Pig option available for the non-gelatine consumers, the change allowed more people to enjoy the different variations of the sweets in their entirety. However, the new recipe divided Percy fans across the nation, with some meat-eaters angered by the news that the pig-shaped gummy sweet, no longer contains pork gelatine. Piers Morgan even discussed his distaste for the new recipe on Good Morning Britain, arguing that it was wrong for a pig sweet to not contain any trace of pig (he then goes onto say that he has never had a Percy Pig before).
Most recently, M&S have launched a £15 Easter themed Percy Pig, who fashions tall white bunny ears. Following the success of the original Percy Pig giant toy which sold out across multiple M&S stores across the UK in September, the Easter Percy Pig has already sold out online (https://www.marksandspencer.com/easter-percy-pig-plush/p/hpp60491078). It is already such a massively sought-after product, that consumers are selling the Easter versions on eBay for higher prices. 
The interest in Percy merchandise is reflected in the M&S TikTok account, amassing close to one million likes as of March 2021. Their first viral TikTok video shows a board room full of the Percy Pig toys, looking towards a human-sized Percy Pig who is seemingly leading the board meeting. Over nine thousand TikTok users commented on the viral video, some top comments including: 'M&S!! Whoever runs your Tiktok. Give them a raise for this golden content!' Some were equally quick to question the marketing strategy, saying 'Someone check on M&S', and 'This feels like a fever dream'. I have to commend M&S for their ingenuity, since it obviously has people talking about Percy and their brand. 
Marks and Spencer also have another prolific character, Colin the Caterpillar. Although sometimes overshadowed by Percy's success, the famous Colin the Caterpillar chocolate cake has been produced over 15 million times since his first release in 1990. (https://www.marksandspencer.com/c/food-to-order/not-just-any-food/mands-brands/colin-the-caterpillar) He is an iconic presence at many birthday celebrations, and in December M&S' TikTok account created a Love Actually inspired video – starring Percy Pig, Penny Pig (Percy's wife who is lemon and vanilla flavoured) and Colin the Caterpillar, helping them to promote their Percy-inspired gifts just in time for Christmas.  
Many supermarkets have tried to replicate the pig-inspired sweets, but it's just never the same as good old Percy Pig.